The Long Journey in a High School Football Season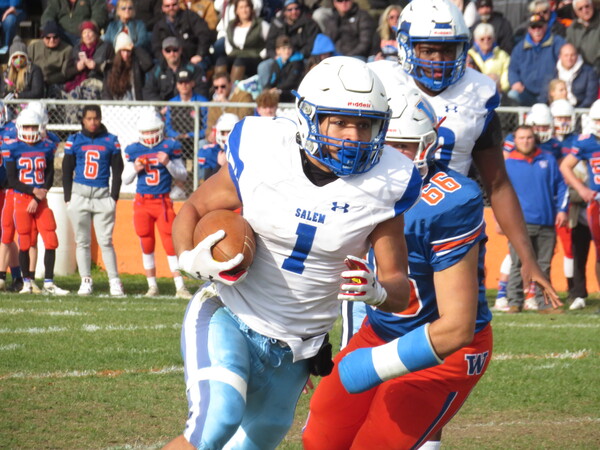 The talent, endurance and sheer effort it takes to be a football high school football champion in New Jersey (or really any state) is incredible.
Football is truly a year-round endeavor for those involved. Most teams begin weight training shortly after their season ends.
It's a sport that demands the extra work in the weight room, but also in the classroom. Football is a complex game and teams spend plenty of time learning the plays both in the offseason and once the regular season begins.
The season itself is a long one for those who take it to the limit.
Take Millville for example.
The Thunderbolts began their season by competing in the Battle by the Bay, a showcase in Ocean City, where a South Jersey team played in at least one of games over a three-day period.
Millville's season opened on Aug. 28 with a 31-28 win over North Jersey power Union. The season ended with a 45-35 win over Winslow Township in the South/Central Regional Group 4 championship at Rutgers on Dec. 5.
This opening game with Union should have given an indication as to how powerful Millville would be.
Union would not lose another game on the field. The Farmers saw their season end due to COVID. Union canceled its Group 5 North 2 semifinal game with Paterson Eastside after four players tested positive for the virus.
So that was truly a powerhouse team that Millville beat.
The Thunderbolts' only loss was to St. Augustine, 31-17. St. Augustine might be the best team in South Jersey, although Millville was the highest ranked South Jersey team in the NJ.com state Top 20 entering the regional competition.
High school teams are able to practice informally after the school year end. The players don't practice in pads, but many teams meet at least a few days or nights a week. The weight room also remains open all summer.
NJSIAA teams were officially allowed to begin practice on Aug. 12.
So Millville and many other teams had nearly four months of practices and games. In a sport so physically demanding as football, that is a lot of commitment that is needed.
Salem, another school that won a regional title with a 34-8 victory in the South/Central Group 1 game over Woodbury, also began its season in that Ocean City showcase.
The Rams beat Camden, 22-20 in Ocean City on Aug. 28 and concluded their season with the Regional title win over Woodbury on Dec. 5 at Rutgers.
Cedar Creek, which ended its season with a dramatic 35-34 win over Woodrow Wilson in the South/Central Group 3 championship on Dec. 4 at Rutgers, also began its season in August.
The Pirates played in the Battle By the Bay, but had their game moved from Ocean City to Camden Catholic, due to field conditions at Ocean City. Cedar Creek scored a 52-0 win over Scotch Plains on Aug. 29.
Of the four regional champions from South Jersey, only Haddonfield didn't begin in August, but the Bulldogs opened close enough, with a 23-14 win over Pleasantville on Sept. 2. Haddonfield concluded its season Dec. 4 with a 28-27 victory over Point Pleasant Beach.
No doubt that the hard work paid off for the regional champions, but there are teams that didn't win regional titles that had just as long seasons.
All sports take dedication, but due to the physical nature of football, more training is demanded, which is why the weight room is such an important component for any successful team.
Now all the football teams finally get to take a breather, but all indications are that for the top programs, the rest won't be long as there are many that have already begun preparations for the 2022 season.
Article continues below
---
advertisement


---
Author:
Marc Narducci
Archives
---
Just Getting Started
Shawnee's Joe Kessler Continues his amazing run
Sixers offer hope for Philadelphia sports fan
On the Horizon
New key rules for seeding high school boys & girls basketball teams
2022 Annual Resource Directory
Setting the Standard: Top CEOs/CFOs 2022
Tax-Saving Tips
Early story lines in the South Jersey boys' basketball season
South Jersey Soccer Coaches Association names the best of the best
Is Jalen Hurts the Eagles QB of the Future?
South Jersey Coronavirus (COVID-19) Developments (January 14)
Big Season for Timber Creek grad Devin Leary of N.C. State
Camden-Lenape highlights the best of South Jersey boys' basketball
Just Getting Started
More...