Close Call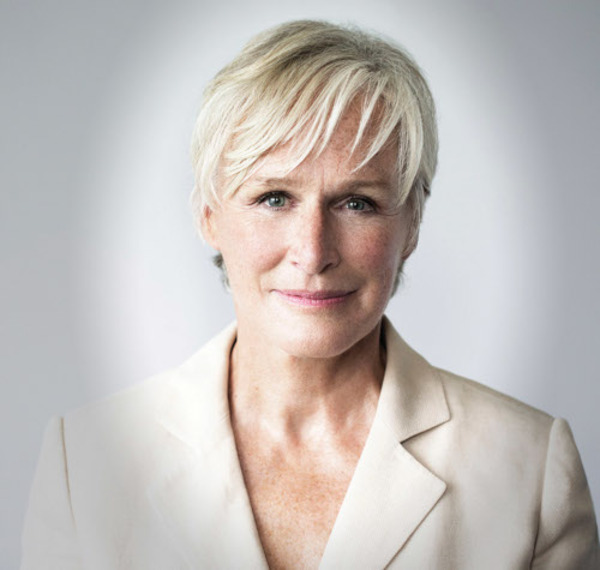 Glenn Close is truly in a class by herself.
There are few film, stage and television actors who have portrayed such a wide range of unforgettable characters and consistently done so at such a high level of excellence and critical acclaim.
In fact, Close has won more than 70 acting awards over four decades, including three Golden Globes and three Emmys.
Her remarkable career serves as a great example of what it means to stay relevant and succeed in a highly competitive and ever-evolving show business industry.
Her stellar film roles include her first, The World According to Garp (opposite Robin Williams), Dangerous Liaisons, 101 Dalmatians, The Big Chill, Hillbilly Elegy, and of course, Fatal Attraction.
She is known for her Tony Award-winning roles on Broadway in The Real Thing (1984), Death and the Maiden (1992) and Sunset Boulevard (1995), which made such an impact that she has long wanted to revise the cherished role as Norma Desmond.
On television she made her mark with Rose Byrne in Damages and is currently performing opposite Niv Sultan in the riveting Israeli spy thriller Tehran, streaming on Apple TV +. Close joined the cast for a pulse-pounding mission set against the complex and emotional dynamics of two countries at war.
"I almost passed out when I heard that Glenn was joining the cast for Season Two," says Sultan. "Initially, I was really stressed and nervous. But then I got her energy, I got her strong eyes, I got this amazing powerful strength that she brings with her. I remember feeling, 'OK, this is something remarkable that I've never done before.'"
Sultan describes Close as "a very sweet, humble and happy person." But that all changes when the camera is on her. "Suddenly she's very scary," she recalls. "It brought out something much more vulnerable and insecure in my performance. I felt like a child in front of her which brought out an interesting side of my character, Tamar."
Another aspect of Close's work ethic is her willingness to tackle personal and professional challenges head-on, especially co-founding a nonprofit to help dispel the stigma of mental illness and encourage those in need to get help. She spoke to South Jersey Magazine about that important mission, along with her latest on-screen performance and why being a mother is the role she is most proud of.
SJM: What was it like playing a spy for the first time in Tehran?
Glenn Close: For me, it was about the mental discipline of it and for the character to never panic because that's probably the most dangerous place to be. I think what stands out to me is all the secrets that one has to have and also the mental discipline that one has to have.
SJM: What were the highlights of making your new series?
GC: I found the whole thing wonderful, totally new to anything I had done before. The highlight? I think near the end everything was so intricate. The highlight was being able to pull off Farsi reasonably well. I'm not so sure I learned Farsi, rather I learned to make the sounds of Farsi. It's a beautiful language and to really prepare I should have been studying for a year but I only had two months. In the beginning, it was about training my mouth to form words in a different way than you do with English. To play an English woman who can speak a little Farsi was such an interesting experience.
SJM: How did you prepare for the work in Tehran?
GC: Every day, seeing what Farsi I had to speak. And then going over it and over it the night before, and then going over it with a coach in my camper before. Then having two people on set listening with the microphone and with their headsets and correcting me. On top of that, there was the acting. It was a great place. You put yourself in an insecure place.
SJM: What drew you back to television?
GC: You get millions of more people potentially seeing a series than you do if they have to go to a movie house.
SJM: Why did you want to be part of Tehran?
GC: The opportunity to do several things that I had never done before. The scripts were terrific, and the character is someone originally from the U.K. I got to speak Farsi, and I had never before shot a project in Greece.
SJM: What was the overall experience of Tehran like?
GC: All of the actors in the ensemble are formidable. They all had many layers. The good guys are not so good and the bad guys are not so bad, and anything that shows the messy gray area of life is going to attract my attention.
SJM: What is happening with the movie adaptation of the play Sunset Boulevard and you reviving your part of Norma Desmond, which you played on Broadway?
GC: It is getting nearer. Believe it or not, we are getting closer.
SJM: Looking back, what would you say you are most proud of in your life?
GC: My daughter, Annie. She is a lovely woman, a dynamic individual, and much fiercer than I am. I am always very proud of her.
SJM: On a personal note, what do you do when you are stressed or when you just need to take care of yourself?
GC: I do transcendental meditation and I have a mantra. I do not do it every day, but I can do it just for a matter of minutes and I can quickly feel my mind relaxing. So, I find that incredibly helpful.
SJM: Please tell me about your important role as the founder and chairperson of Bring Change to Mind, which focuses on raising awareness of mental illness.
GC: I'm speaking out about this because mental illness is a global family affair. One in four of us is affected by mental health issues in one way or another. What a staggering statistic. Anything that affects one in four of us has to be given serious thought at every level of our society. We ignore it at our own peril, because the lack of serious thought and serious action is resulting in disastrous consequences. Mental illness is an integral part of the human condition.
SJM: How is your involvement in mental health awareness a family matter?
GC: More than a dozen years ago my sister Jessie somehow got the courage to say to me, "I need help. I can't stop thinking about killing myself." Her bravery in actually saying that out loud changed both of our lives. With the right help, my sister was diagnosed with bipolar disorder at age 51.
SJM: How did your upbringing thwart your sister from asking for help?
GC: Jessie and I are the 12th generation of a stiff-upper-lipped [background]—pull up your socks, don't talk about it, suck it up, work hard, don't complain and always polish your shoes. We are Connecticut Yankees with absolutely no vocabulary for mental illness. It simply wasn't an option. From my parents' generation on backward, going to a psychiatrist was unthinkable.
SJM: What about your work has been focused specifically on younger people among whom we see some incredibly high prevalence of mental stress and mental illness?
GC: It's been an incredible journey with these Bring Change to Mind clubs because it has become our focus, as well as it should be. I think the high school years, and we're starting to slowly go into middle school as well, can be really hard whether you have mental health challenges or not. I think kids today know how to talk to each other. It's really important to have places where they can talk to each other.
That's what these clubs are all about. We have 400 clubs now with about 20,000 kids. You have to be able to pay for somebody to sustain it and to keep checking on it. The thing that was thrilling for me during the lockdown was the national Zooms that we had with kids from all over the country from these clubs. They just moved me to my core because of their willingness to talk so openly about what they were dealing with. Again, that ability to feel safe and to feel supported is integral to being able to get help and develop a support system around you.
SJM: What were these young people telling you?
GC: They were talking about the difficulty in talking to their parents about stress, anxiety and depression. The kids have it because of the competition now. I think the world is a much more daunting place and they are under a tremendous amount of pressure. I think we need to have a genuine grassroots committed group of citizens to make sure that they're taking care of the whole community. If not, I can bet you that the people who are losing out are the people who are dealing with mental health issues.
SJM: Mental illness plays a huge part in one of your most famous roles from Fatal Attraction, in which you played a woman so obsessed with her married lover that she will stop at nothing to possess him.
GC: Yes. I played several characters who in many ways perpetuated the stigma around mental illness, mainly Alex Forrest in Fatal Attraction, who was terrified and violent. But even then, in my research with psychiatrists, I didn't interpret her behavior, and neither did they, as someone with a possible mental health problem. Which, in retrospect, was undoubtedly true.
When it came to my own life and family, mental health illness had nothing to do with me. I didn't see my family much during my sister Jess's teenage years. Into adulthood, Jess was considered the wild one. She walked out of school in ninth grade and refused to go back. [She had] multiple suicide attempts starting at 16. Unbelievably the idea that she might be something other than irresponsible never occurred to our family. I am thankful every day that she is still with us.
SJM: What have you learned in your years as a mental health advocate about why some of us, as friends and family, may not recognize in people that we love that they need help?
GC: I think it's a stigma. I think it can be scary and people can be very wary about approaching somebody whose behavior they think has changed. But you don't have to have all the answers. I think what's really important is to ask the question, "Are you OK?" And then together figure out how to get help. I learned something from doing a Town Hall with Anderson Cooper from somebody who knew what they were talking about, that you can say, "Are you OK?"
SJM: How did the pandemic change you?
GC: Coming out of this pandemic has made me feel that I am part of something much bigger than just myself. I've been very aware of my common humanity. This has helped me tremendously to face moments where I think I need to pull back; I need to fill my cup before I try to reach out to others. It's about getting support from people around you, which is very helpful.
Article continues below
---
advertisement


---
Author:
Debra Wallace
Archives
---
Who's Who in Health Care
Former Shawnee star Doolittle Calls It A Career
Camden County College welcomes Baseball Hall of Fame
South Jersey Football Games of the Week
Out & About
QB Ronnie Borden is Back in the Game
Should fans be worried for the Phillies bullpen?
South Jersey Football Games of the Week
A look at South Jersey's Top H.S. Girls' Soccer Teams
Out & About
Eagles will be fine after close call in opener
High School Football Games of the Week
Is it Super Bowl or bust for the Eagles?
What's New in South Jersey?
From New Jersey to Nashville
More...