What's Trending?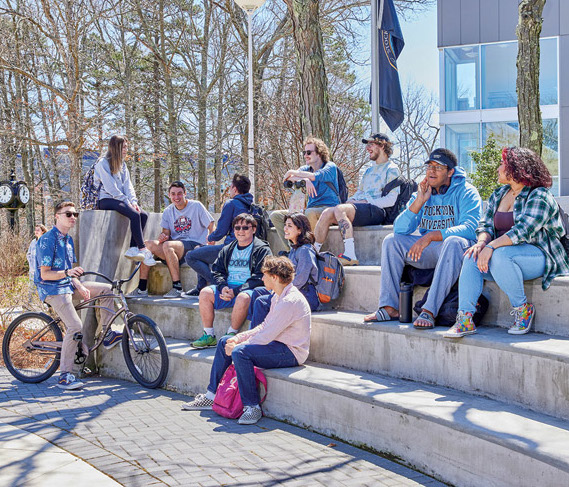 According to the U.S. Census Bureau, college enrollment plummeted to record lows in 2020. The drastic drop was largely attributed to the COVID-19 pandemic and marked the lowest enrollment rate in about 15 years. Now, two years later and in the end stages of the pandemic, this trend has yet to shift gears. In fact, from the spring of 2020 to the spring of 2022, there was a 7.4% decrease in enrollment nationally, accounting for roughly 1.3 million students. What is causing this continuous decline and how are South Jersey schools fairing the trend?
South Jersey Magazine spoke with representatives from local universities of all sizes to find out how the nationwide trend is impacting their undergraduate enrollment.
Contributing Factors
Many people either considering a college education or in the midst of receiving one veered away from the process because of the tremendous impact that the COVID-19 pandemic had on higher education. For some, going thousands of dollars into debt just to sit behind a screen learning virtually through Zoom wasn't worth it when you consider that money was once being shelled out for the full, in-person college experience. For others, the long days of lockdown in 2020 allowed them to find what they're most passionate about and figure out how to turn those passions into sustainable careers, no degree required.
In fact, according to the census bureau, over 4.4 million new businesses started up in 2020, which is the highest number on record. The entrepreneurial era didn't end in 2020 but rather strengthened with a new record-setting high of 5.4 million new business applications in 2021.
While the COVID-19 pandemic played a huge part in students' lack of interest in higher education, it wasn't the only reason for the inevitable trend. Variables like the "gig economy" and career options with baseline high-school diploma requirements have been highlighted in recent years. What's more, various jobs in the trade industry from HVAC technicians to construction work and beyond have enjoyed a recent resurgence as attractive ways to make a living without incurring college debt.
Weathering the Storm
Fortunately for the South Jersey schools that we talked to, every single one is well on the path to returning to some sense of normalcy, and they all credit accessibility to their continuous success.
Bob Heinrich, vice president for enrollment management at Stockton University, says that the Ocean County university prevailed because of its availability throughout the pandemic and its vigorous recruitment efforts afterward.
"We maintained the opportunity for students to still visit us in person and, for the most part, we still maintained in-person classes, with the exception of the spring of 2020. We resumed in-person classes in the fall of 2020 and were able to bring students to the campus who were prospective students for future semesters," Heinrich says. "[During] last year's last recruitment cycle, we were able to get back out into the high schools and also attend in-person college fair events that had actually been stopped for a few years."
Heinrich says that these events allowed Stockton to increase its applicant pool, which is up "significantly" compared to last year. The university saw a 15% increase in first-year students from 1,358 in the fall of 2021 to 1,563 in the fall of 2022, marking "one of the largest first-year classes in the history of the institution."
Dr. Michael A. Cioce, president of Rowan College of Burlington County (RCBC), says that while the Rowan University partner school "slightly outperformed" the rest of the state, it was still "negatively impacted."
RCBC had a similar approach to Stockton University in combatting the effects of the pandemic. Cioce says that the community college hosted multiple on-campus events to get students involved and acclimated to the school, including a "welcome back barbecue" in late August with hundreds of students and family members in attendance.
"I think people are just ready to get on to the next chapter of whatever this post-pandemic landscape entails. And I think there's a hunger for in-person learning," Cioce says.
As for Rowan University, it was one of the few universities that actually thrived through the pandemic. According to Joe Cardona, Rowan's spokesperson and vice president for university relations, first-time freshman enrollment is 2,585 students for the fall of 2022, an 18% increase from a year ago. The university's total enrollment is 19,080 students, which marks a 2.56% increase from last fall's 19,080 students.
Rowan's advanced online courses and accessibility largely contributed to the school's perseverance. Cardona says that the university's preparation for the inevitable demographic cliff, a drastic drop in the traditional college-age population, put the school in an advantageous position.
"We've been putting a lot of things into place over the last five years, just for this exact occasion, and the pandemic really expedited things," Cardona says. He explains that Rowan University unintentionally planned for the pandemic by increasing and improving its online courses to cater to less traditional students.
"A lot of schools have online education, but they don't have the diversity of programs that are of interest. Not only do people find that it's easier to go online and it works with their work schedules, but also they find that, with our programs, we have a lot of degree completion opportunities."
New Jersey vs. the Nation
According to the National Student Clearinghouse Research Center, New Jersey was with the majority of states that saw a decrease in college enrollment in the fall of 2020. Since the height of the pandemic, the state has seen a steady decline in enrollment rates, going from 358,630 students in the fall of 2020 down to 339,232 students by the fall of 2021. Furthermore, the state's springs semester numbers were noticeable worse than the rest of the nation, dipping from 340,637 students to 317,972.
The tide has yet to change and the majority of the nation is still fighting the uphill battle and grappling with the aftermath of COVID-19, but it's only a matter of time before colleges across the country bounce back and realize their new normal.
Article continues below
---
advertisement


---
Author:
Katie Francis
Archives
---
Who's Who in Health Care
Camden County College welcomes Baseball Hall of Fame
South Jersey Football Games of the Week
Out & About
QB Ronnie Borden is Back in the Game
Should fans be worried for the Phillies bullpen?
South Jersey Football Games of the Week
A look at South Jersey's Top H.S. Girls' Soccer Teams
Out & About
Eagles will be fine after close call in opener
High School Football Games of the Week
Is it Super Bowl or bust for the Eagles?
What's New in South Jersey?
From New Jersey to Nashville
Frustrating times for Millville's Mike Trout
More...