St. Augustine's Paul Rodio joins the 1,000th win club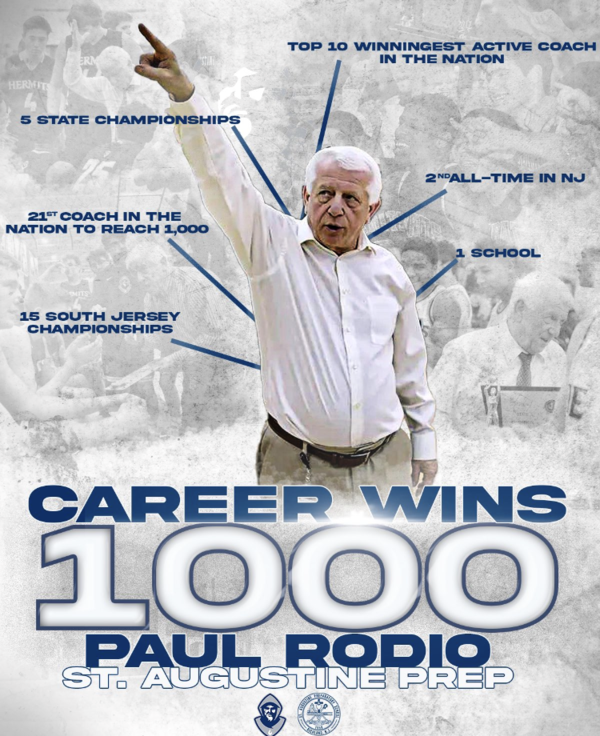 Paul Rodio has long established his legacy as one of the great South Jersey coaches in any sport of all time, but if anybody needed to be reminded, his latest milestone sure spells this out quite emphatically.
Last week Rodio earned his 1,000th career win as St. Augustine's basketball coach. He became the second coach in New Jersey history after Bob Hurley of now-closed St. Anthony of Jersey City. Hurley is in the Naismith Memorial Basketball Hall of Fame. That's the type of company that Rodio is keeping.
"It is overwhelming," Rodio told SouthJersey.com about the milestone. "The longevity of it, how many people are a half-century in the same place and how many kids have I touched their lives, that is the important part?"
Rodio is also the director of alumni relations and a history teacher at St. Augustine. The 70-year-old Rodio is in his 46th year as head coach, taking over as a 24-year-old.
During his time, he has guided the Hermits to five state championships and 15 South Jersey titles. He is the 21st coach in the nation to reach 1,000 wins.
Besides his ability to motivate and his expertise at x's and o's, maybe Rodio's greatest trait over the years has been his ability to adapt. Coaching in 1977 when he took over as head coach and coaching today, are entirely different.

Article continues below

---
advertisement


---

"When I started in the '70s, there was one way to do things and in the 80's it began to change and in the 90's AAU became big," Rodio said. "Even today, I don't like what the NJSIAA has done for us with scheduling, it seems like we're playing every other day and things are so jammed, but you have to adapt, but that is the way life is."
Rodio has been around so long that he has coached grandchildren of players he originally coached.
He not only enjoys the challenge of fielding the best teams and helping his players improve as ballplayers, but also guiding youngsters in their development off the court.
"I have had hundreds of kids who come in as immature 14-year-olds and watch them emerge as men when they are leaving and that is very exciting," he said.
This year St. Augustine is again among the top teams in South Jersey. The Hermits began the week 10-1. What has made Rodio's record more impressive is that he always attempts to play the most difficult schedule.
This year he will be facing two of the top teams in New Jersey, Camden and Don Bosco Prep, just to name a few. No doubt in those two games, the Hermits will be the underdogs.
"I relish that, "he said of the underdog role. "I would rather be playing those teams because our kids really get something out of it."
The other thing that has kept Rodio at a high level all these years is his passion. He still loves doing the grunt work that leads to winning year in and year out.
"I still love doing this," he said. "Once you get tired of scouting and going to see other teams and doing your homework, then you might as well get out. I still feel good about what I am doing, but you are always adapting."
And in his case, still winning after all these years.
Photo Courtesy St Augustine Twitter
Author:
Marc Narducci
Archives
---
Who's Who in Health Care
Former Shawnee star Doolittle Calls It A Career
Camden County College welcomes Baseball Hall of Fame
South Jersey Football Games of the Week
Out & About
QB Ronnie Borden is Back in the Game
Should fans be worried for the Phillies bullpen?
South Jersey Football Games of the Week
A look at South Jersey's Top H.S. Girls' Soccer Teams
Out & About
Eagles will be fine after close call in opener
High School Football Games of the Week
Is it Super Bowl or bust for the Eagles?
What's New in South Jersey?
From New Jersey to Nashville
More...