It's Embiid's time for MVP and it shouldn't be close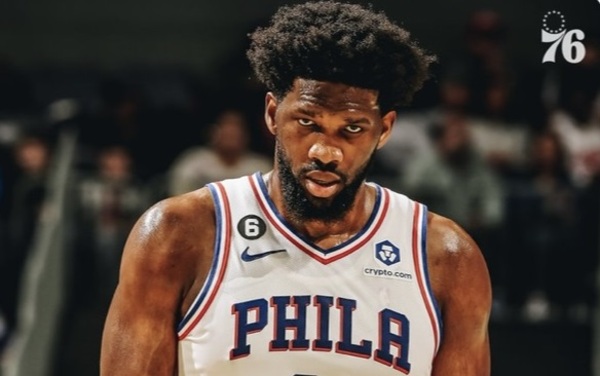 Joel Embiid appears to have finally cracked the MVP code. For most of this season, he has been an outsider in the discussion, but his recent play has now made the 76ers center the favorite to win the award.
There are many who felt that Embiid, who finished second in voting last year to Denver's Nikola Jokic, should have won the award in 2022.
They wouldn't be wrong and that is not to disparage Jokic.
So many times people want to tear down one player to make their point about another.
Why can't people realize the situation for what it is – that both Jokic and Embiid are generational centers?
Just becoming one supports Embiid's case for MVP (as this writer has) doesn't mean that Jokic has to be criticized. He is one of the best passing centers in NBA history, a nightly triple-double threat.
In addition to winning the past two MVPs, he has been an All-Star selection for five consecutive years.
This season (entering this week) he was averaging 24.8 points, 11.8 rebounds and 9.9 assists, while having an insane 70.1 true shooting percentage, which takes into account, two-point field goals, three-point field goals and free throws.
He has also led Denver to the best record in the Western Conference.
His argument for the MVP is a strong one.
Another former two-time MVP, Milwaukee's Giannis Antetokounmpo, should also be in the discussion.
Entering the week Antetokounmpo was averaging 31.4 points, 11.9 rebounds and 5.1 assists. Unlike Jokic, where there are defensive concerns, Antetokounmpo is a major contender for NBA Defensive Player of the Year, an award he won in the 2019-2020 season.
His Bucks also entered the week leading the Eastern Conference, although nobody should be surprised if Embiid and the Sixers overtake Milwaukee.
Now we come to Embiid, who has finished second to Jokic in the MVP voting in the previous two seasons. Embiid, who led the NBA in scoring last season (30.6 ppg.) is doing so again. He is averaging 33.5 points, 10.2 rebounds and 4.2 assists. Embiid shoots 85.5 percent from the foul line and he attempts 11.8 free throws per game.
Where Embiid has it over Jokic is on the defensive end. He is a candidate for the All-Defensive team. While Embiid may not be quite the defender of Antetokounmpo, he is a much better shooter than the Bucks forward.
Entering the week Embiid entered the week leading the NBA in Player Impact Estimate (21.4). Jokic was second and Antetokounmpo was fourth. This is a metric that gauges a player's all-around contribution to the game.
Embiid is also playing some of his best basketball of the season. In his first nine games that he played in March, he was averaging 36.1 points, 8.8 rebounds and 2.4 blocks while playing just 33.7 minutes per game. In these nine games, he shot .627 from the field, including .458 from three-point range. And of course, the Sixers are playing their best basketball of the season.
All three players can make a strong MVP argument, but Embiid has enjoyed the best all-around season.
After close calls the previous two years, it's his time to earn his first MVP award and the way he's playing it should be by a considerable margin.
Photo courtesy: 76ers Twitter
Article continues below
---
advertisement


---
Author:
Marc Narducci
Archives
---
Who's Who in Health Care
Camden County College welcomes Baseball Hall of Fame
South Jersey Football Games of the Week
Out & About
QB Ronnie Borden is Back in the Game
Should fans be worried for the Phillies bullpen?
South Jersey Football Games of the Week
A look at South Jersey's Top H.S. Girls' Soccer Teams
Out & About
Eagles will be fine after close call in opener
High School Football Games of the Week
Is it Super Bowl or bust for the Eagles?
What's New in South Jersey?
From New Jersey to Nashville
Frustrating times for Millville's Mike Trout
More...