A Lot on Her Plate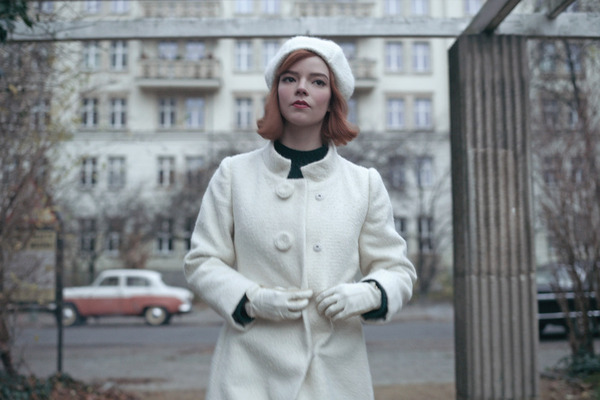 Anya Taylor-Joy has a hearty appetite, both on and off the screen.
At 26, when many actors are just getting their footing, the charming Taylor-Joy is winning awards, leaving her indelible mark on movies in a variety of genres and making lifelong friends in the entertainment world.
Most recently she portrayed a young woman in The Menu, a dark comedy about a couple, Margot and Tyler (Nicholas Hoult), who travel to a coastal island in the Pacific Northwest for a memorable and disturbing dinner.
The thrilling meal takes place at an exclusive restaurant, Hawthorn, where the celebrated, reclusive chef, Julian Slowik (Ralph Fiennes), has prepared a lavish tasting menu for his special select guests.
Some dishes are served with a heaping amount of angst, and this is certainly the case with The Menu, a wicked thriller that takes our senses on a wild cinematic ride. Taylor-Joy also recently starred in The Northman and had previous star turns in M. Night Shyamalan's Split and its sequel, Glass.
Born in Miami and raised in Buenos Aires and London, Taylor-Joy is the youngest of six children. She left school at 16 to pursue an acting career and has never looked back. She says she is inspired by books, movies, music and her love for fashion.
After small television roles, she made her film debut with a leading role in The Witch in 2015, followed by the black comedy Thoroughbred. She won the Trophee Chopard at the 2017 Cannes Film Festival.
Taylor-Joy has since appeared in the fifth and sixth seasons of the British television drama Peaky Blinders, and played Emma Woodhouse in the period drama Emma, which gained her a Golden Globe nomination.
She is best known for her stunning performance as a chess prodigy in the Netflix series The Queen's Gambit.
The series is about introvert Beth Harmon, who is orphaned at the age of 9, and discovers and masters the game of chess in the late 1950s and 1960s after being taught by an unlikely source. Throughout her newfound encounters with fame, she learns that child stardom comes at a price.
The riveting series also explores important elements of the period such as sexism and untreated mental illness through the lens of one woman's chess career. Beth eventually finds herself rising through the ranks of competitive chess while still battling the demons of her tragic past.
Her truly stunning performance earned Taylor-Joy both Golden Globe and Screen Actors Guild Awards, and she was nominated for an Emmy.
Orlando Family Magazine spoke with Taylor-Joy about her thriving career, the different parts she is attracted to, and how she bonds with her co-stars.
How did you initially see the screenplay for The Menu?
It's a tricky script. I signed on not knowing what the final product would look like and it was exciting to me because I was curious to see how it turned out. I knew that the people involved were great people to collaborate with and to take that leap of faith with.
Did you know the work of director Mark Mylod before The Menu?
Yes, I was a huge fan of Succession and I knew he would be able to take these characters who are unlikeable for so many reasons and somehow create a story where you cared about not necessarily what happened to them but care about the situation. It was just surprising that I even felt some sort of heartbreak for some of the characters, and that's Mark's special gift.
The film was shot chronologically. How did that affect your performances?
I believe it helped us immensely. There's a specific turning point in the film where things start to get darker; dramatically darker. Up until that point, we'd been having this nice, if, odd, dinner party, and then the way that this scene was shot was so visceral I think it shocked all of us when it happened, and that sort of led us down the new tone of the film.
All we initially know about your character is that she couldn't care less about this fancy food and that she's not supposed to be there. What was it like working with Ralph Fiennes in the scenes when the chef takes particular interest in your character?
What can I say about Ralph? He's the most phenomenal actor. Whatever he wants to transmute on screen, it happens, so of course, as an audience member, you will feel this formidable presence and fear whenever he's there. Maybe it was our characters, maybe it's the way we both approach acting, but all of our scenes together felt so warm and intimate even when we were being quite rude to each other. When the stakes are pretty high, I always just felt really comfortable with him. I felt like I had a very generous dance partner and we were both enjoying that bizarre intimacy. We had a really great time together.
Tell me about getting the part for The Queen's Gambit.
I had just finished reading the book and was nearly late for the meeting. I ran through the streets of London's Soho area to the restaurant and shouted out to [director and series creator] Scott Frank, "It's not about chess and she has to have red hair!" It felt really good that we were on the same page and that everyone was seeing the story beyond chess.
How much chess did you know before making the series?
None. Absolutely no experience at all. I loved having a look inside this rather secretive world that I knew nothing about. I also felt a great responsibility to the chess community to tell this story right, and to fill every aspect of my character. From the feedback I received after the series aired, I believe I succeeded. The chess community appreciated the show and that makes me extremely happy. I am extremely proud of this series.
Speaking of streaming series, do you have any streaming guilty pleasures?
A few years ago, I got into The Great British Bake Off. I don't know what it was about it that attracted me because I don't bake and I can't cook. I have nothing culinary about me other than I like food. It's so deeply satisfying and it calms me down.
How do you see your characters?
They are all badass in their own way. I love resilience and other qualities like this that are important for us to emulate.
What is a perk of your acting career?
Making people laugh or cry because I have evoked emotion or moved them.
What would you do if you could not be an actor or performer?
A travel journalist, visiting amazing restaurants and devouring the best food around the world. Or working with animals. I adore big cats.
We have seen you in period movies, horror films and black comedies. So, overall, what kind of movies are you attracted to?
I appreciate various genres, but I wanted to make Emma, for example, because I am a major fan of period movies and Jane Austen, and I had seen the other incarnations. I took notes and I just kept writing sweet and lovely, beautiful, and funny. A couple of tears were shed.
Why is that?
Because you fall in love when they're falling in love. I truly loved making it. The first conversation that [director] Autumn de Wilde and I ever had, I'd always been very intrigued by a comment Jane Austen made about Emma: "I've written a character that no one but myself will much like." I thought that was fascinating.
But I'd seen a lot of period dramas where the women were very charming and very sweet, and very easy to love. As a lover of the book and as someone who has read the book multiple times, Emma can be sharp, acerbic, brat-like, or difficult to like at times.
I wanted to do the character justice by presenting her in that way from the beginning of the movie [so] you had somebody that you almost wanted to reach into the screen and shake, and then you could actually watch her grow into a more humble and gracious human being. I thought that journey was very important.
Was there something specific—being in England and being with this group of actors and these beautiful surroundings—that you learned about yourself while making Emma?
Oh, completely. On the first day of rehearsals, I was so nervous because I was going into a room full of all of my heroes, and I was supposed to lead the ship. That was intimidating, but at the same time, everyone was so kind, so gracious and supportive that I really found my feet quickly.
I think I learned more about self-confidence. Because when you're Emma in Emma, that's a lot of work. When you get to the end of that filming period, you can sort of immediately look back on it and say, "I did that work. I can be proud of that and I gave my best." I think she gave me a bit of confidence. I can say that about several of my subsequent roles as well.
Why do you think Emma and Jane Austen are still so relevant to girls and young women in 2023?
I think a lot of it is youthful hubris, and I don't think youthful hubris will ever go out of style. Every year we have a new group of young people who think that they know how to lead their lives, and they think they know how to interact with others. Only [by] going out into the world and venturing a bit further than what they're used to can they figure out all of these social norms. Do they understand that? No! It's important to make mistakes and grow from them, and essentially become more of yourself in a bigger sense of the word.
I also think that Emma has a good heart, but it doesn't always necessarily come out that way. There are moments where I think everyone in the audience can think, "I have either been an Emma or I know an Emma in this moment and in this situation."
When you get back to your real life and away from all the trappings of a movie, is it difficult?
Well, I often go from one project to the next. I finished Emma, had one day off, and then went straight into filming Edgar Wright's Last Night in Soho, which is a completely different world from Emma, but also totally immersive.
So yes, the first day on that set I was like, "Where am I? What is going on? What is my name?" I went from 1815 to the 1960s, to a very different character, to a very different look. My corset was gone. I just sent pictures to the whole cast of Emma going, "You'll never believe where I am right now!" I was in London Soho in the 1960s.
After leaving that movie and that period behind, are you now reading Jane Austen, going back in history, or thinking about wanting to know more about those times?
I am such an avid reader, that I kind of had my period of all of this. I first read Emma when I was 11 and then revisited it when I was 15, and then again before I started filming the movie. I've always been fascinated by the period. I think that's what it is with Regency, isn't it? There isn't a king happening at that current moment in time, so that's interesting in and of itself. I've always been a very wide reader in everything, but I do love historical books.
Are you able to keep in touch with your movie co-stars and why is that important to you?
Absolutely. These people are now essential to my life. From Emma to Queen's Gambit, and The Menu, all of them are the most fabulous people. We have a very active WhatsApp group that has all of us on it, and it's a very entertaining place. You can go to sleep and you'll wake up and there'll be all kinds of notifications and we have a lot of fun.
Why do you want everyone to see your recent movies?
The world has been a pretty scary place for a while and to have two hours or so of escapism is really important. And it's nice to have different kinds of entertainment on the screen. So, just watch, savor, and enjoy!
Click here
to subscribe to the free digital editions of
South Jersey Magazine
To read the digital edition of
South Jersey Magazine
,
click here.
Article continues below
---
advertisement


---
Published and copyrighted in
South Jersey Magazine
, Volume 20, Issue 1 (April 2023)
Author:
Debra Wallace
Archives
---
Who's Who in Health Care
Former Shawnee star Doolittle Calls It A Career
Camden County College welcomes Baseball Hall of Fame
South Jersey Football Games of the Week
Out & About
QB Ronnie Borden is Back in the Game
Should fans be worried for the Phillies bullpen?
South Jersey Football Games of the Week
A look at South Jersey's Top H.S. Girls' Soccer Teams
Out & About
Eagles will be fine after close call in opener
High School Football Games of the Week
Is it Super Bowl or bust for the Eagles?
What's New in South Jersey?
From New Jersey to Nashville
More...