Nick Spaventa has enjoyed quite a career for GCIT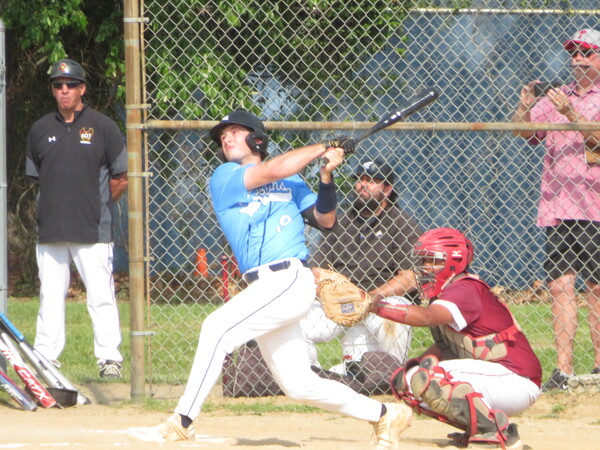 Gloucester County Institute of Technology (GCIT) senior shortstop Nick Spaventa has been one of the catalysts this season in helping the Cheetahs become one of the most improved teams in South Jersey.
In fact, during his career, the program has continued to show an upward trend while competing in one of South Jersey's most competitive conferences, the Tri-County Royal Division.
GCIT began the week 14-9, assuring its first winning season since going 11-10 in the 2012-2013 season. Spaventa missed his freshman season when it was canceled due to COVID. Coach Robb Eppolite said Spaventa would have been a starter that year.
As a sophomore, GCIT went 4-15 and last season the Cheetahs were 11-14. This season has included many big wins. First, a victory over Kingsway, who finished second in the Royal Tri-County, then a victory over Royal and Joe Hartmann Diamond Classic champion Gloucester Catholic. GCIT went 6-4 in division play, two games behind champion Gloucester Catholic.
GCIT also qualified for the South Jersey Group 4 playoffs, which began this week.
"With this program we have, we have seen progress each year and really just about every week," Spaventa said. "Every year it feels like it's brought it a step further and it has been really satisfying."
Spaventa has been a clutch player throughout his career. He entered the week with a .391 career batting average and 81 hits according to NJ.com. Remember, this was without a freshman season.
"Throughout his career he has always gotten big hits, that is what he does," said GCIT coach Robb Eppolite. "He hits the ball hard and he takes every at-bat extremely seriously and he is a student of the game."
Spaventa will continue his education and baseball career at University of Pennsylvania.
"Once I got the opportunity to go there, I just thought that's definitely where I was going to go, I wouldn't think of going anywhere else," said Spaventa, who said he will probably major in economics. "It's close to home, a great baseball program and obviously a great school."
He has been so intent on attending Penn, that he made his choice early in his sophomore season.
This year Penn won the outright Ivy League title for the first time since 1995. Spaventa has seen his future team play and he is duly impressed.
"I think the team they have right now and some of the plays they made, I am just in awe of what they are doing," he said. "It's such a higher level of baseball, they play really well, and it has been impressive."
He will be joining that talented team and while he is looking forward to it, he'll always have great memories of being part of a group of players that helped turn around the GCIT program.
"There have been a lot of good memories here," he said. "I am going to miss it a lot."
Article continues below
---
advertisement


---
Author:
Marc Narducci
Archives
---
Who's Who in Health Care
Out & About
QB Ronnie Borden is Back in the Game
Should fans be worried for the Phillies bullpen?
South Jersey Football Games of the Week
A look at South Jersey's Top H.S. Girls' Soccer Teams
Out & About
Eagles will be fine after close call in opener
High School Football Games of the Week
Is it Super Bowl or bust for the Eagles?
What's New in South Jersey?
From New Jersey to Nashville
Frustrating times for Millville's Mike Trout
High School Football Games of the Week
Hammonton's Kenny Smith off to a quick start
More...