The Ladies Who Lead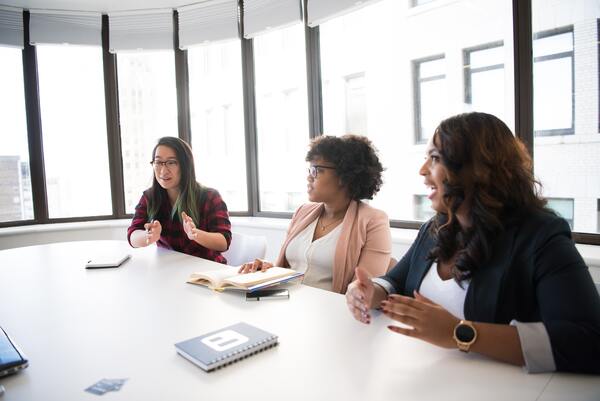 No one understands the unique challenges of succeeding in business as a woman quite like other women do. Fortunately, South Jersey is lucky enough to have plenty of female success stories who are willing to share their experiences, insights and a hand to help the next generation blaze their own professional trails.
Kirsten M. Toler, CPA, CGMA
Managing principal, KMT Consulting, LLC
Toler is the managing principal of KMT Consulting, a relationship-based tax compliance and advisory practice in Collingswood. She feels fortunate to have gained her knowledge working for both regional and large CPA firms and multinational corporations, as well as utilizing those skills for many years in both consulting and ultimately her own practice.
Finding a work/life balance…
The best way to strike any balance is being mindful of healthy boundaries. During my career, I worked an alternative work week when my children were younger. I used the day I didn't work each week as an opportunity to volunteer at my daughters' school library. To this day, they both remember being so happy to see me every library day. I was clear with my workmates that those days I was off the clock; I worked with amazing people who honored that, as my work product on the clock was just as focused.
On her early learning experiences…
Believe it or not, it was a mix of times when I was supported and times when I was dramatically NOT supported. The times I was most supported, I grew and learned collaboration and respect for team members collectively and individually, which I could carry into future roles and find success. The times I was not supported, I learned what I DIDN'T want to do, either as a team leader or relative to the environment. It's in those challenging moments that I found out more about who I wanted to be and then carried that into my next adventure.
Ellen Wirth
President & CEO, MEND Inc.
Wirth has focused her three-decade career on affordable and subsidized housing at both for-profit and nonprofit developers and managers in New Jersey and Pennsylvania. At MEND, Wirth brings her experience and success in engaging and leading teams, reorganizing and restructuring staff to increase productivity, and analyzing operational policies and practices to improve the organization's performance.
A formative female mentor…
After leaving my first job out of college, where I worked for 15 years, Pam Monroe was my immediate supervisor. She eased my transition from government to the private sector, consistently demonstrated the skills of an accomplished leader, and inspired me to seek leadership opportunities in work and various professional associations.
Finding a work/life balance…
A work/life balance is not always easy to achieve, and can be particularly challenging if this is not something viewed as important by your employer. There definitely is a trial-and-error process in finding the organization that values each team member and recognizes that the "job" is not everything. There will always be challenges in the workplace that will require more time than maybe you would like. As long as this is not a permanent situation, work and free time should, on average, balance out. In valuing your free time, it is important to remember when at work, you should be "at work" and focus on the tasks at hand. Your employer will not respect your personal activities and interests if you allow free-time activities to interfere with completing tasks and assignments both accurately and on time.
Avani Bharucha, CPA, MBA

Article continues below

---
advertisement


---

Associate partner, Baratz & Associates, P.A.
Bharucha provides closely held business and individual tax clients with tax planning, tax compliance and financial reporting services. She is committed to delivering services that meet each client's unique objectives, from overseeing large financial teams to teaching the basics of accounting software.
Advice for women early in their careers…
Be yourself, be confident, focus on your work and set goals that help you advance! Maintaining authenticity is crucial, so refrain from altering your personality to please clients, coworkers or superiors. Don't waste time worrying what others think, and silence your negative inner voices; focus your energy on work that satisfies your passion. Set specific goals to improve the hard and soft skills necessary to take you to the next level.
Finding a work/life balance…
That balance is achieved through trial and error, and finding a like-minded support system can help. Recognize your limitations and don't be ashamed to ask for help. Designate separate times for work and to be with family. Prioritize your tasks to be efficient during work hours and avoid being constantly available around the clock for non-urgent matters. Set expectations with clients and colleagues from the beginning—most of the time, they will appreciate your honesty!
Her personal mantra…
I follow the 100% rule: I give everything I've got and strive to do my best, both at work and personally. I make every effort to understand the task, do it correctly from the beginning, and avoid shortcuts. This helps me earn clients' and colleagues' trust and respect, as it demonstrates my integrity and care.
Jo-Ann Weiner, EA, CFE, CTRS, NTPI Fellow
Founder, J. L. Weiner & Associates, LLC
When she isn't running her forensic tax accounting practice or dedicating herself to the various organizational board roles and memberships she holds, Weiner oversees Women, Words, and Wisdom, a nonprofit she created to inform women about issues affecting them so they can make beneficial life choices, and to raise scholarship funds.
A formative female mentor…
Many years ago, early in my career, a female manager who became my mentor took me under her wing and propelled me forward by recommending me for a technical position, which I used to springboard my career.
Advice for women early in their careers…
Accept every opportunity, even accept the less attractive jobs that no one wants. Work to find solutions for the more challenging opportunities. You will not only stand out, but also will be respected. That is how you learn—by rolling up your sleeves and digging in. It will make you stronger.
Her personal mantra…
There is a poem by S. H. Prayer that I have always looked to and tried to live by. Here is a portion of it: "When faced with a decision, make that decision as wisely as possible. Remember the moment of absolute certainty never arrives. That way you can look forward with confidence and back without regrets."
Jill Ross
Chief Experience Officer, First Commerce Bank
Ross brings 28 years of experience in financial-service leadership to her current role, which includes being responsible for customers' journeys and experiences. In 2021, she launched a financial therapy business and brings that ideology to First Commerce Bank. Ross also volunteers for the Girl Scouts of Southern/Central NJ.
A formative female mentor…
Early in my career and then again a little later, I worked for Denise Kassekert, who seemed to understand me at a young age and supported me along some windy paths. She displayed a wonderful example of work/life blend, is not afraid to think creatively and is a tremendous sounding board. She's now an executive coach!
Finding a work/life balance…
It was trial and error. I find it works more as a blend involving my family in work events when it makes sense, and making sure both are priorities. I may take an afternoon to be a room parent but then attend a work event in the evening. It's more of a 24/6 schedule so I am available enough to make it a blend. I do try to schedule blocks of time to focus on each area for quality time.
Advice for women early in their careers…
You carve your own path and not everyone will understand it—that's OK. Ask for advice but do not take all of it, as not all advice given to you is the right advice for you. Consider it, but only you can determine what to take and what to leave.
Rebecca Ting
Senior Vice President, NAI Mertz
Ting has over 25 years of corporate real estate experience, producing leasing and sales transactions in excess of $100 million, as well as receiving broker recognition awards from Brandywine Realty Trust and Liberty Property Trust. Ting is one of three women to serve as the Society of Industrial and Office Realtors' NJ chapter president.
Advice for women early in their careers…
If you can envision your goals, you can achieve them. Keep focused on where you want to be and stay steadfast, and if you believe it, you can achieve it.
Finding a work/life balance…
Balancing work life when my family was young was a juggling act since there was less flexibility 40 years ago. Thankfully, my extended family was there to help by being the village it took to help with our busy childrens' schedules. It created long-lasting bonds that my girls now have with their aunts, uncles and cousins. … You have to like what you do, as work is the biggest part of your waking day. I love the work I do as a commercial real estate agent, as I help companies find their new workplace environments, listen to what is important to them and help them find what works.
A formative female mentor…
My mom was a model figure in my life, as she taught me that anything is possible—but family is first. She instilled in me values of hard work that will get you there. Never rely on anyone but yourself to get you to where you want to be.
Nancy Mozzachio
Owner, Sine Qua Non (SQN) RE Advisors
Mozzachio has over 25 years of diverse commercial real estate (CRE) and executive management experience. In 2017, she formed CRE advisory company Sine Qua Non RE Advisors, providing expertise in areas like leadership, development, leasing, acquisition and operations. Mozzachio also heads a mentor program for women at Temple University-Fox School of Business.
A formative female mentor…
My best friend, Ann Sachs of Ann Sachs Consulting, has been an incredible support system and mentor throughout my career. She consistently points out the many times I took calculated risks to advance my career and can clearly see both sides of a situation, even if my view is clouded. She is an exemplary businesswoman in her own right, and her encouraging and thoughtful words always cause me to reflect and feel grateful to have such a brilliant mind by my side.
Advice for women early in their careers…
Be a sponge. Raise your hand and volunteer for projects. Ask many questions: You are not expected to know everything at this stage so use your voice wisely and ask, ask, ask. Work hard to improve your listening skills, which will serve you well throughout your entire career.
Her personal mantra…
I believe in the power of being a perpetual learner. Being curious allowed me to learn about capital markets even without a finance degree. That's why starting my podcast, "The Mozzachio List," made sense: I knew learning about others was critical to my growth, allowing me to read about great companies and leaders and apply what I learn.
Melanie Santos Grant
Owner, Melanie Grant LLC
Grant is a growth-strategy expert with over 20 years of professional experience. She has been trusted by CEOs and divisional presidents of Fortune 200 companies and local startups alike, advising a number of family-owned businesses and partnerships on international expansion strategies, as well as best practices regarding operational efficiency and profitability.
Advice for women early in their careers…
Show up and be your best self—and recognize that some days, you may not be feeling like you are your best self and know you need a community of other women or like-minded people to let you have that space. We are seeing more women lead, and lead successfully; for women just starting out, it is a real gift. It makes it more real and possible. There has been a delay in women in leadership positions, and a lot of unconscious bias of what leadership looked like.
A formative female mentor…
I've had a lot of great role models, and one is Melanie Willoughby. She sponsored an internship when I was in Eagleton Fellowship while at Rutgers, when she was then the president of the NJ Retail Merchants Association and I was her intern. It was important to have another woman leader who you could just have a conversation with. She's been a great friend and mentor to me ever since.
Her personal mantra…
There are seasons in my career when certain phrases would keep me going, and at this point it's "Do no harm." It's almost like if you can't help, don't hurt.
Liz Lawler, CCM, MBA
Associate, Group Manager – Program Management/Construction Management, T&M Associates
Lawler is a certified construction manager with 20 years of experience as an owner's representative and construction manager. She oversees multi-million-dollar new construction and renovation projects from design through closeout for clients in vertical construction markets. Lawler is chair of the growing committee for Professional Women in Construction's Philadelphia chapter.
On her early learning experiences…
Early in my career, before electronic transmission, I collected project closeout documents, which I stored in a box labeled "Trash" but had folded down the flap, thinking this was enough. One morning, the box was gone, taken by the cleaning crew. I was in panic mode. My boss calmly encouraged me to figure out how to fix it. I swallowed my pride, called the contractor and asked for help. He reprinted all the documents. It taught me to be careful, deliberate, honest and to address mistakes immediately—but projects are team efforts, and you never know who you'll have to ask for help.
A formative female mentor…
Growing up, my mom was a full-time nurse, mom and household manager. She supported my dad in his career while making sure that my sister and I had everything we needed, from homemade desserts to ironed uniforms and unconditional love. Her expertise in her field, work ethic and ability to love and encourage are unmatched. She demonstrated that if you work hard and care about what you are doing, you can do anything. She has supported me all my life and is still my No. 1 cheerleader and sounding board.
Author:
Amy Kodrich
Archives
---
Who's Who in Health Care
The Big Impact of Small Businesses
Money Matters
Power 50
Finding Some Financial Footing
2023 Book of Lists
Ready to Mingle
20 Under 40
Made With Pride
Standing Out in the Crowd
Good Neighbors, Strong Communities
Staying Ahead of the Curve
An Uneven Present
Managing the Ups and Downs
A Sound Strategy
More Articles