Van Gogh and Gauguin together again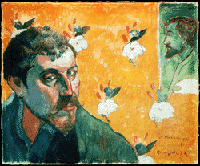 CHICAGO ... The stormy eight-week collaboration between artists Vincent Van Gogh and Paul Gauguin is remembered largely for its end, when Van Gogh suffered a breakdown and cut off an ear.
Until now, maybe. The Art Institute of Chicago later this month unveils an extensive exhibit, "Van Gogh and Gauguin: The Studio of the South," which seeks to broaden perceptions about the two geniuses and their work at Arles, France, in the autumn of 1888.
The much-publicized show runs through Jan. 13.
"I think we've done a lot of research to try to move beyond seeing the relationship in terms of blacks and whites and in terms of a one-act play, that they (simply) met and worked in Arles. (People) will see it in a more nuanced way ... it's a narrative that has several acts," said Art Institute curator Douglas Druick, who helped hatch the idea six years ago following a study of Gauguin.
Van Gogh (1853-1890) painted feverishly, using thick streaks of oil colors to capture the scenes before him, including his trademark sunflowers. Gauguin (1848-1903) relied on imagination and used paint more sparingly, as he developed his own exotic mythology of spirits and noble savages.
Yet the two European innovators shared some similarities ... they both took up painting relatively late in life ... and admired each other's work. And so they agreed to share a studio for a year in the south of France, ostensibly to set up a colony of progressive artists.
Things didn't go as planned. The fragile Van Gogh and the self-absorbed Gauguin were the proverbial odd couple and quarreled frequently in their cramped lodgings, famously known as "The Yellow House," part of which will be recreated for the exhibit.
Druick says their relationship was more complicated than "poor Vincent and mean Gauguin," a characterization cemented in narratives, such as the 1956 biopic "Lust for Life" starring Kirk Douglas and Anthony Quinn. In fact, after their falling out, the artists continued to communicate by letter or third parties until Van Gogh's suicide in 1890.
And some of their post-Arles works are telling. Van Gogh let his imagination rule in an expressive 1889 work, "The Starry Night." Gauguin, spending his final years ailing in the South Seas, painted "Sunflowers on an Armchair" (1901), a nostalgic reference to Van Gogh and their time at Arles. Both pieces are on loan for "The Studio of the South," which already shows signs of being the hottest cultural ticket at the Art Institute since the museum attracted nearly 1 million people in 1995 to view a rare collection of Monet paintings during a longer run.
Organizers estimate the latest show will realize its capacity audience ... estimated at 800,000 people ... before the 130 works collected here, mostly paintings, depart for a second and final appearance at the Van Gogh Museum in Amsterdam, Holland ... Chicago's partner in the venture. After that, the pieces will be scattered across the globe to their respective homes.
Special timed and dated tickets are required ($10 each on Tuesdays, $20 all other days) to view the 21 galleries comprising the exhibit. Some days have sold out.
"If you were to ask a member of the general public for the names of five artists ... I'm willing to bet Van Gogh would be in there," said Eileen Harakal, the Art Institute's executive director of public relations. "Van Gogh captures the public imagination like very few other artists seem to do. Gauguin also is very well-known, maybe not as well-known."
The joint exhibit "is going to be a very interesting story of these two colorful characters and the brilliant work they did together," she said. "That's never been done before."
Tickets are available through the Art Institute by calling (312) 930-4040 or online at Artic.Edu or through Ticketmaster.
(c) Copley News Service
Article continues below
---
advertisement


---
Author:
Mike Ramsey
Archives
---
Harry`s Here
Memoir recalls courtship in Dachau
Mr. Smith goes to Hollywood
Moises Kaufman
And now ... the rest of the story
Finally, a time for Grandma
Homing in on Homer`s distinctly American flair
Gidget is back, and she`s original
Ego tours: rock and roles
Springtime for Brooks
The cradle does rock
Behind their music
Fluid approach to architecture is hallmark of modernist
New American plays mirror transitional theme
Putting a face on a prewar Germany
More Articles