SJ Schools: Highland Reg. HS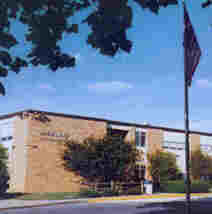 Highland Regional High School, better known as the Home of the Tartans, provides a well-rounded education and several athletic and co-curricular opportunities to students in the Gloucester Township area. Highland offers an extensive education program through the Honors track and also offers the COMPASS leadership program where students learn organizational skills and gain experience in public relations techniques. The students become Navigators and aid a selected group of underclassmen through their first year of high school.
Highland is proud to house some of the most dedicated students in South Jersey. Congratulations to the following students and their achievements for the 2002-2003 school year:
The Highland swim team beat the odds and swam to victory this year ending their season with several swimmers ranking high. The team lost their place to practice halfway through the season when the CYO had to close due to an emergency. Without practice, Len Castiello, Jen Lynch, and Karen Custodio still ranked in first place and diver Brandi Kavaliauskas still won most of the meets. Congratulations to these exceptional students!
The most important thing in your high school career is to maintain a good academic standing. Although this can be quite challenging due to involvement in extra curricular activities and sports, Highland recognizes the top sport each year for achieving a high GPA. The winner for this year was the Varsity Girls Basketball Team earning a combined GPA of 3.95! Other honorable mentions go out to all of the other winter teams including Indoor Track, Swimming/Diving, Boy's Basketball, Cheerleading and Wrestling earning a combined GPA of 3.324 for the winter season.
In March, the Girls' Indoor Track Distance Medley Team competed in the Nike Indoor Classic National Meet in Maryland. The girls finished within the top ten, an outstanding ranking considering that this was their first national tournament. The girls raised the bar for all local teams due to their performance and look forward to an exciting season next year.
The NJ unit of the International Association for Jazz Education named the Highland jazz band #14. The band recently performed at he Overbrook High School Jazz Festival on March 14th, earning a superior rating by winning against schools that have jazz as a course 5-days a week, not a co-curricular activity. Congratulations to these talented musicians and their present and future accomplishments.
The Highland Biology I Team ranked first place in Region #29 of the New Jersey Science League and is also ranked #9 in the state. Congratulations to these promising new scientists who will surely make a difference in the world.
Highland clubs provide a forum for students to participate in several activities to enrich students and benefit society. The following are some interesting activities Highland club members have participated in this year:
The National Honors Society was busy this year raising money for worthy causes through their Bunny Grams, the Teacher Trivia Challenge and tutoring Lewis Middle School students. In February, members took part in the Trivial Pursuit Challenge to raise money for the St. Jude Children's Research Hospital. The organization raises money to treat rare forms of cancer in children and lodging for parents to stay with their child. For the past five years, the Trivial Pursuit Challenge has achieved tremendous success, raising $1,720 this year in entry fees and an additional $300 in donations and profits from the Teachers Trivia Challenge.
The Highland High School Interact Club plans annual projects to serve the community in conjunction with the local Rotary Club. This year the club raised almost $1,000 in the "Trick of Treat for UNICEF" helping to support immunization programs for polio across the world. In November, the club provided Thanksgiving dinner to more than 53 local families and in December, they collected more than 100 toys for local children. In March, the club traveled to Wissahickon River to pick up litter and plant trees to help preserve the environment. The club also collects donations for the "Smiles Across Miles" campaign to help children get surgery to correct facial deformities. Interact participants help make the community a better place and are great role models for future students.
The Highland Spring Renaissance Rally, held in March, displayed the terrific talent of renaissance card holding students through 'Tartan Idol' a take off of the popular TV show American Idol. Students were awarded in categories such as Thirst for Knowledge and Most Courageous. Prizes included prom tickets and Great Adventure tickets. Master hypnotist SKYLR topped off the evening as he mesmerized the audience.
Highland Regional High School is located on 450 Erial Road in Blackwood. For more information, contact (856) 227-4100 or visit www.bhprsd.org/Highlandrhs.
Article continues below
---
advertisement


---
Author:
Melissa Samuelson
Archives
---
A TALE OF THREE WEDDINGS
Timber Creek's Leary heads to Illinois
One of Us
Truer Words Have Been Spoken
A Thriving County
Executive Q&A
A Man of Many Faces
Super Women
Vocal Leader
Seeking Acceptance
The Business of Health Care
Mommy's Gone Viral
Singles: December 13
2017 Men of the Year
The Weekender
More...