Famous Folk of Burlington County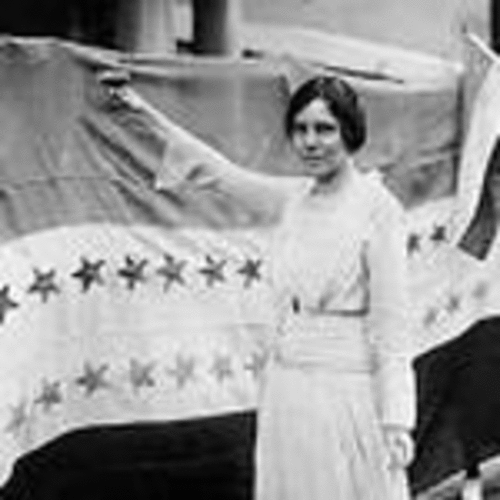 There are many historic figures that have played important roles in the development of the communities and organizations of South Jersey. Some are widely know, and some not so much. Among the shining stars from our area are James Birch, a mass-producer of carriages; Susan Boudinot Bradford, a leader in Burlington County social circles; and James Kinsey, a shining star in the legal system.
James H. Birch
James H. Birch established a carriage repair shop in Burlington in 1862. His business was so successful that in 1865, he purchased the High Street mansion which had previously been occupied by governor Joseph Bloomfield and his family. Behind the house, Birch built a factory to mass-produce carriages. A patron of the arts, he opened a 1200-seat opera house on High Street next to the mansion. Birch's business continued to expand, and by 1900 his factory covered 15 acres, with a staff of hundreds making more than 200 models of carriages for export worldwide. Birch's techniques for the mass production of carriage bodies attracted the attention of Henry Ford, who asked Birch to manufacture bodies for his new automobiles. Although his son urged him to accept Ford's offer, Birch declined, believing that the automobile would never replace horse-drawn carriages.
The rest, as they say, is history. Birch's carriage factory went out of business in 1918, and the Birch Opera House closed in 1927. Even Birch's son, James Jr., met with sorrow, as the first husband of Marguerite V. Burton. Not all was lost, though - Birch's third son, Thomas, served as U.S. Minister to Portugal from 1913 to 1922. Today, rickshaws and carriages produced by the Birch carriage factory are preserved in the collections of the Burlington County Historical Society and the City of Burlington Historical Society.
Susan Boudinot Bradford
Daughter of Elias Boudinot, Susan Boudinot Bradford was the wife of William Bradford, a Colonel in the Continental Army during the Revolution, Pennsylvania state attorney general, justice of the Pennsylvania state supreme court, and U.S. Attorney General under George Washington. Tragically, her husband died at the age of 40. When her father retired to Burlington in 1804, Susan accompanied him to his new home, a mansion standing on 10 acres of land. After her father's death in 1821, she continued to occupy the house, and was recognized as a leader in Burlington's social circles. Her closest friends included Alexander Hamilton's widow Elizabeth and first lady Dolly Madison. In all, Susan Boudinot Bradford lived in Burlington for 47 years, until her death in 1851. James Kinsey Born in 1731 in Philadelphia, James Kinsey was instrumental in New Jersey's transition from colony to state. His father, John K. Kinsey, had served as Speaker of the New Jersey Assembly before moving to Philadelphia and holding the same post in the Pennsylvania Assembly. The elder Kinsey also served as Chief Justice of the Pennsylvania Supreme Court, led the Quaker Party, and was Clerk of the Philadelphia Yearly Meeting. Both were descended from John Kinsey, one of the founders of Burlington.
James Kinsey
Like his father, James Kinsey studied law, was active in the Society of Friends, and a political leader. He studied law, passed the bar in 1753, and by the 1770's was well-known attorney. In 1772, he was elected to the New Jersey assembly. He opposed Royal Governor William Franklin, who lived across town, and in 1774, started the Burlington Committee of Correspondence, to turn public opinion against King George III. James Kinsey married twice. His first wife was Phoebe Wood. After her death, he married Hannah Decow of Burlington. His children were John, James, Philip, Thomas, Charles, Ann, Mary, and Hannah.
Kinsey was elected in September of 1774 to the Continental Congress, but as a Quaker, chose to resign in November of 1775, rather than swear an oath of allegiance. He continued his legal practice, and was appointed Chief Justice of the Supreme Court of New Jersey in November 1789, serving in that office until his death in 1803. Kinsey is buried in St. Mary's churchyard in Burlington, and his portrait has hung in the New Jersey capitol building in Trenton. Kinsey's house, built in 1770, was sold after his death by his wife Hannah. Located at 38 West Broad Street, the house now serves as Lodge 965 of the Loyal Order of Moose.
© SouthJersey.com 2015. All rights reserved. This article or parts thereof may not be reprinted or reproduced by any other party without the express written consent of SouthJersey.com. For more information, please call 856-797-9910.
For more South Jersey History, visit our South Jersey History page.
Article continues below
---
advertisement


---
Author:
Editorial Staff--SouthJersey.com
Archives
---
A TALE OF THREE WEDDINGS
Timber Creek's Leary heads to Illinois
One of Us
Truer Words Have Been Spoken
A Thriving County
Executive Q&A
A Man of Many Faces
Super Women
Vocal Leader
Seeking Acceptance
The Business of Health Care
Mommy's Gone Viral
Singles: December 13
2017 Men of the Year
The Weekender
More...