Don't Get Cheated at the Pump!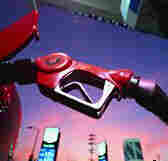 With the last holiday weekend of the summer upon us, and more people taking to the road, the Camden County Division of Consumer Protection urges motorists to be vigilant at the gas pump.
"We want residents to know what steps they can take to protect themselves against possible unfair practices at fueling stations, where gas prices are expected to go up again within the next couple of weeks," said Freeholder Carmen Rodriguez, liaison to the Camden County Department of Health & Human Services-Division of Consumer Protection/Weights & Measures.
The division, which regularly inspects all of the 240 gas stations within the county, offers residents this advice when stopping for gas:
• Get out of the car. Check that the gas pump is set at zero before any gas is pumped, and make sure you're getting the octane rating you requested – regular, plus or super, whose prices vary.
• Before you pay, make sure the pump shows the dollar amount you requested or, if you're filling up, make sure the amount the attendant says you owe is the same that appears on the pump. Also check the amount by multiplying the number of gallons you received by the per-gallon price. Be sure this amount shows as the total due.
• If you pay by credit card, always check your receipt before you drive away to make sure the billed amount is the same as what appears on the pump. This is especially important at stations where credit card transactions are processed manually at machines located away from the pumps.
Camden County weights and measures officials are always working behind the scenes to protect consumers from unfair practices, Rodriguez said, noting that less than 13 percent of the countywide stations have ever been charged with a violation. "About 90 percent of those violations involve required equipment maintenance, not meter tampering," Rodriguez said.
In the event of any kind of discrepancy, whether within the county or beyond, residents can call the Camden County Division of Consumer Protection/Weights & Measures at (856) 374-6001.
"Call us and report it even if you think the needle on your gas tank didn't move as much as you thought it should after you got gas. And, if you feel you've been cheated at a station while traveling outside of Camden County, call us and we'll give you the number where to get help," Rodriguez said.
Article continues below
---
advertisement


---
Author:
Press Release-Camden County
Archives
---
A TALE OF THREE WEDDINGS
Timber Creek's Leary heads to Illinois
One of Us
Truer Words Have Been Spoken
A Thriving County
Executive Q&A
A Man of Many Faces
Super Women
Vocal Leader
Seeking Acceptance
The Business of Health Care
Mommy's Gone Viral
Singles: December 13
2017 Men of the Year
The Weekender
More...