Last Patrol Run to the Battleship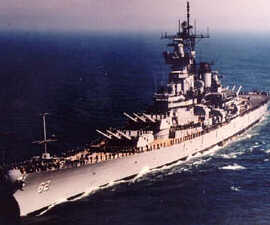 More than 2,500 motorcycle enthusiasts will participate in the 3rd annual Last Patrol Motorcycle Run to the Battleship New Jersey on Sunday August 27th. Cyclists will ride through South Jersey to the Battleship, where the Run ends with a festive street fair complete with refreshments, music, vendors, and a custom motorcycle show. The Run is scheduled to depart from Gloucester County College at 11:15am, and the street fair at the Battleship begins at noon and goes until 5:00pm. This event will take place rain or shine.
Street fair vendors include: custom bike builder Doug Keim of Creative Cycles, See-It-Shine, American Cycle, Bruce Martin, Rick's M.C. Goods, A&R Discounts and more. Live music, bike and tattoo contests and food vendors will also be featured at the fair, which will extend from the Battleship promenade along the Delaware River to Wiggins Marina.
Space is still available to participate in the ride. The registration fee is $15 per rider, $10 per passenger, which includes a tour of the Battleship. Registration starts at 9:00am at Gloucester County College in Sewell, NJ. See www.lastpatrol1.com or call 856-784-5632 for details.
LAST PATROL INC. is an all-volunteer, non-profit POW-MIA Awareness and Veterans organization. Located in South Jersey, The Last Patrol INC has helped raise money for veterans, veteran homes and other various veteran needs. For the past two years the group has organized the "Run to The Battleship",
which has raised over $33,000.00 for the Battleship New Jersey. The money is raised from the fee to ride in the parade, T-shirt sales, and donations from individuals and local businesses.
Located on the Camden Waterfront across the river from Center City Philadelphia the Battleship New Jersey Museum and Memorial offers guided and self-guided tours daily, beginning at 9 a.m. with the last tour departing at 5 p.m. In addition to daytime tours, families and youth groups can spend the night aboard the Battleship as part of the overnight encampment program. Guests experience dinner and breakfast served from the chow line in the crew's mess, a tour of the ship, a ride on the 4D flight simulator and the opportunity to sleep in the bunks that the crew of the USS New Jersey once did. Special group packages and event/meeting space are available. For more information, call 856-966-1652 or visit www.battleshipnewjersey.org.
Article continues below
---
advertisement


---
Author:
Press Release-Battleship New Jersey
Archives
---
A TALE OF THREE WEDDINGS
Timber Creek's Leary heads to Illinois
One of Us
Truer Words Have Been Spoken
A Thriving County
Executive Q&A
A Man of Many Faces
Super Women
Vocal Leader
Seeking Acceptance
The Business of Health Care
Mommy's Gone Viral
Singles: December 13
2017 Men of the Year
The Weekender
More...