Along the California coast museums reveal surprising gems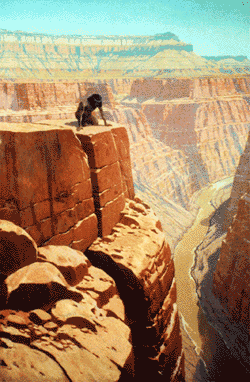 Populous cities and big museums: They are an inseparable pair. In America, for instance, what would New York be without the Met, the Modern and the Guggenheim? Los Angeles, without the Getty?
Smaller cities and towns, however, don`t spawn museums of this size. There is a law of proportion to the size of a town and its showcase.
There are collections along the coast of California that justify the virtues of smallness several times over. Other venues, even when quirky or disappointing, possess things that make you glad you went anyway. And go I did, to several - on a summer trek traveling south from San Francisco to San Diego, visiting varied collections along the way. (Los Angeles and Orange County weren`t part of the plan, since they are regular reviewing territory.)
Architect Philip Johnson, also a prolific art collector, once said, "Museums have taken the place of churches in our culture." One could counter that they`ve also become a leisure-time alternative to malls, bookstores and coffeehouses, secular more than spiritual lures. But the showcases on my journey aren`t the entertainment complexes that institutions like the Met or the Getty have become. To apply Johnson`s metaphor, they qualify as chapels rather than churches or cathedrals of culture - places that move us without overwhelming the senses.
Following this logic, I avoided museums along highways 1 and 101, venues that don`t qualify as off-the-beaten-track, such as the San Jose Museum of Art and the Santa Barbara Museum of Art.
The modestly scaled sites I did invariably visit display works that a larger museum wouldn`t, a quality that turns out to be one of their major virtues. We look at one work at a time, not as some sort of collective entity we call art with a capital A. Someone can get more out of looking closely at a single object in a small museum than by dashing through the Louvre.
Have you ever seen one of Armin Hansen`s passionate renderings of Monterey fishermen - which call to mind Steinbeck - on the walls of a major urban museum? Probably not. But you will see his work at the Monterey Museum of Art and will likely be glad you did. Have you heard of Juan de Flandes? Probably not. But there`s a wonderful little "Portrait of an Infanta" (15th century) by him at the University Art Museum on the UC Santa Barbara campus.PAINTING ADOBES
Historical painters have been getting their due recently, in intelligently curated exhibitions that have made generous use of permanent collections at three of the relevant museums along the California coast. These shows have a healthy afterlife, too, in that many pictures seen temporarily are also part of the larger life of each museum.
The best of these efforts, "Paintings of the Monterey Adobes: A Walking Tour," just completed a long run at the Monterey Museum of Art at Civic Center. It fused past and present by illustrating how many artists, from Monterey and beyond, interpreted picturesque structures that survive. After viewing the paintings, one could see the buildings, exploring the gap between image and existing architecture. Walk outside its doors and you`ll find historic buildings down the street or a short drive away.
This theme would simply be a clever gimmick, if the paintings weren`t compelling as paintings. Evelyn McCormick, whose training and early career was cosmopolitan, made Monterey`s adobes a central theme of her work. Although her renderings are precise, the pictures aren`t only documentary. They imbue everything with a distinctive awareness of light.
If she was the soul of this exhibition, then Charles Rollo Peters was its nocturnal spirit. Turn-of-the-century tonalist painters, known for their moody, loosely applied pictures, often favored night scenes. Peters` "Casa Castro - Monterey" (circa 1904) is a vintage example, with the building reflected in the lake waters by its side and its single lighted window.
The way that show not only resonated with the town`s history, but played off of the collection, was wonderfully cogent. The casa that Peters (among others) painted still exists; it`s incorporated into a stately estate with lush flower gardens called the Monterey Museum at La Mirada. Paintings and objects are part of the domestic decor. They then extend, smoothly, into a series of galleries, designed by the influential postmodernist Charles Moore, which contains additional pictures by McCormick, Peters and other Monterey artists who made a regional impact between 1910 and 1950.FLOWER MAN
In contrast to Monterey, Santa Clara was never a magnet for artists, but the area had its eminent postimpressionist, Theodore Wores. The Triton Museum of Art in Santa Clara has been making the case for him in a large way, with the recently completed exhibition "Theodore Wores: Works From the California Years" that filled much of its galleries and will live on in the form of an exhibition catalog, with an essay by respected art historian William Gerdts.
Wores spent time in Japan in the 1890s, specializing in landscapes punctuated by delicate displays of flowers, but California was his home.
"Japan holds nothing half so lovely as our own Santa Clara Valley," he told the San Francisco Chronicle in 1923.
His handling of paint could be stiff, but when nature gave him the right setup, he made memorable pictures. Flowers, depicted like delicate tracery or lacework, give life to such pictures as "Spring Blossoms of Los Gatos" (1925). They swell like small waves in "Blue Lupines of the San Dunes of San Francisco" (undated), a landscape that reminds us how much more nature there was in California a mere eight decades ago.
Many of Wores` paintings, though they belong to the city of Santa Clara, are in the care of the Triton Museum. This kind of exhibition demonstrates how a museum can use its holdings well and serve its community without turning parochial in the process.
A major San Francisco museum, or any other large institution, is unlikely to give Wores a retrospective. He is an inconsistent artist, and yet, he clearly had a gift for plein-air painting. The loveliest of his paintings remind us that minor artists produce winning pictures. Monet may have been the master of atmospheric florals, but Wores, too, understood their poetic qualities.DESERT PALETTE
Fernand Lungren, featured in depth at the University Art Museum of UC Santa Barbara, is to Southern California what such painters as Hansen and Wores are to the northern part of the state: an artist who gives regionalism a good name. He studied in Philadelphia with the greatest 19th century American realist, Thomas Eakins, painted in London and Paris and worked in New York. But after he came West in 1892, both the Southwestern landscape and Pueblo Indian culture became his passions.
He was one of the first painters to capture the light, the palette and the grandeur of the Grand Canyon. His style, though influenced by impressionism, is a more hard-edged response to the outdoors.
After a visit to Egypt in 1900, he dedicated himself to painting the deserts of the American West. Although he willed more than 300 works to UCSB (which was Santa Barbara Teachers` College when he died in 1932), they have never been seen in a major exhibition. "Afterglow in the Desert: The Art of Fernand Lungren" marked the reopening of the renovated, revamped galleries of the museum in May. Although the show is closed, it will have another venue that fits his subjects: the Palm Springs Desert Museum, from Jan. 20 through March 24.REINCARNATIONS
The permanent collections of the museums I toured are often younger than histories of the California artists in them, just as with these shows of late 19th and early 20th century painters. The Monterey Museum of Art, for example, was created in 1959. The University Art Museum at UC San Deigo was born the same year. The Triton is established in 1965.
The exception to this youthful venue scenario is the Iris & B. Gerald Cantor Center for Visual Arts, which opened in 1891. The new moniker marks a new era. The former Leland Stanford Junior Museum, as it was designated, reopened its doors in January 1999, after a 10-year hiatus triggered by damage from the Loma Prieta earthquake. During that time, there was a thorough renovation and considerable expansion.
The Cantor Center has less of a regional focus than the other visited museums because its origins are different. Jane Stanford funded the museum as a memorial to her son, who died in 1884 at age 15 from typhus. He had collected ancient Egyptian, Greek and Roman objects and they became the nucleus of an encyclopedic collection. This focus, greatly expanded, still endures. Think of the place as a kind of mini-Metropolitan and you`ll have a good idea of the variety of art it features.
The history of the Cantor Center is surprisingly rocky for an institution at such a prestigious academy. It was forced to close temporarily, in 1945, after years of neglect, and it wasn`t until the early `60s that it became a respectable showcase again. For all that turmoil, the collection is remarkably good. One vital reason: The couple with their name on the building are the major American collectors of Rodins, and the museum owns many of his major sculptures - "The Gates of Hell" (1880-1900) and "The Thinker" (1879-89), among several others.
Additional reasons arrive in smaller, more subtle forms. Joseph Derby of Wright embodies the Romantic fascination with the power of nature, in the dark mountains clouded sky and fiery eruption of "Vesuvius From Posillip by Moonlight" (circa 1774). An atypical Georgia O`Keeffe, "Seaweed" (1927), is much more richly painted than most of her characteristic skulls and flowers.
Like all collections that aspire to the encyclopedic, the pleasures of this one are richly varied. There`s a remarkable little James McNeill Whistler etching in one gallery, "The Doorway" (1880), which is both precise and ethereal. The continuities of realism across the centuries are brought into focus by seeing a Tang dynasty horse (618-906) and Duane Hanson`s fool-the-eye figure of a worker, "Slab Man" (1976).ACROSS THE CENTURIES
In a more modest way than the Cantor Center, UCSB`s University Art Museum cuts across time. In its Courtyard Gallery, bathed in natural light, are works that travel across centuries. "Landscape With Birds," painted in the 17th century by Dutchman Melchior de Hondecoeter, is so odd that it would be unlikely to find its way to the walls of a major urban museum. He gives art history a delightfully comic twist, placing numerous avian species in one picture that wouldn`t be found together in nature. The painting shares space with another by the late Joan Mitchell, the dramatically large "Sunflower" (1970), in which she displays her keen fusion of impressionistic light and expressionistic brushwork.
The museum`s other galleries, for the inaugural installation of the permanent collection, demonstrated a clear-headed approach to balancing the regional with the international, and past with present. A group of drawings, with an eye toward architecture, transported the viewer from a waterfall at Tivoli, drawn by Piranesi in 1761, to a conceptual if also charming look at Santa Barbara`s Ambassador Hotel, long gone, rendered by George Washington Smith in 1921.
A room is given over to the Renaissance, with paintings that remind us that not only masterworks are moving. The so-called "Master of the `40s" did "Portrait of a 62 Year Old Man" in the 1540s, setting the subject`s well-lined face above a dark cloak and against a deep-green background.
Around the corner is a space dedicated to contemporary art. Currently on view: Deborah Kass` "The Warhol Project." She redoes his iconic pictures to express Jewish, feminist and lesbian themes.CURIOSITIES AND ARTIFACTS
Two modest-sized spaces, at either end of the route, are remarkably similar in spirit and problems. Santa Clara University`s De Saisset Museum, founded in 1950, and the Ventura Museum of History and Art, which assumed its present form in the 1980s, both create unsatisfying balances between art and history.
Although the majority of objects in the De Saisset`s collection are fine art, the decorative objects and archaeological artifacts get a floor to themselves. The top level is mostly dedicated to traveling shows and not the art collection.
Still, paintings that are part of the display straddle the fence between history and art: itinerant Italian painter Leonardo Barbieri`s dignified portraits of Francesco and Feliciana Pacheco, done between 1852 and 1853. Disappointingly, the signage doesn`t tell us much about them even though they were a prominent local family.
The most intriguing historical art in the collection is relegated to drawers in a cabinet, easy to overlook: Edward Curtis` sensitive and elegant portraits of Northern California Indians. These relate to one ambition of the museum, which is to chronicle the history of the state, from the time when American Indians alone populated this land to the early 20th century. The presentation of these pictures, though inappropriately low-key, can`t undermine the power and poetry of these pictures.
As at the De Saisset, art can be found among the artifacts at the Ventura Museum. In the middle of a permanent exhibition tracing the history of Ventura County, a handsome little folk picture surfaces. In 1876 or thereabouts, Joseph Lee painted the "Schooner San Buenaventura. The early lumber vessel is pictured in choppy seas and a nicely worked clouded sky.
Aside from Lee`s painting, art is relegated to the lobby and auxiliary spaces this summer; the temporary exhibition space chronicles the 25 years of Ventura College. Just inside the museum doors, look left or you`ll miss a painting worth scrutinizing: Jessie Arms Botke`s "White Peacocks and Copade Oro" (1938). They come to life in her canvas, which pushes realism toward a stylized variety of patterning that flirts with art deco. (The museum owns several works by Botke and her husband, Cornelis. Each has been the subject of a show.)
Figurines by George Stuart, a history buff turned self-taught sculptor, have a permanent gallery onto themselves. At the moment, it`s the gods, goddesses and creatures of ancient German lore and mythology that fill this space. They are painstakingly detailed, but you can`t help but see them as a fascinating but strange pageant of dolls. Next up: figures from American history.A WORLD APART
There is no public art museum along the central California coast. The Hearst Castle in San Simeon is a space of a different order: a private dream made public. And the San Luis Obispo Art Center is a cross between a community gallery and a museum, but it is mostly the first.
The Art Center`s collection is small: about 40 works by area artists. Arne Nyback, the best of them, was the guiding spirit of the center until his death nearly a decade ago. He was a confident realist. But few other artists who exhibit at the center seem to be working at his level. They remain curiously untouched by any of the major developments in contemporary art.
These artists are clearly happy making this kind of work; the space has a friendly, energetic spirit. But as long as exhibiting artists are content to remain mainly detached from the larger art world, it will inevitably be provincial.
There is no sign that San Luis Obispo will aspire to create an art museum any time soon. Perhaps there is simply no genuine demand for one, except among people who are willing to head north or south to the museums along the California coast.ALL THE STOPS ON THE MUSEUM TRAIL
Here`s a list of museums covered on my trek down the California coast:
Iris & B. Gerald Cantor Center for Visual Arts - Address: Stanford University, Lomita Drive and Museum Way, Palo Alto. Hours: Wednesday-Sunday, 11 a.m.-5 p.m.; Thursday, 11 a.m.-8 p.m. Admission: Free. Telephone: (650) 725-2775. Web site: http://www.stanford.edu/dept/ccva/
Triton Museum of Art - Address: 1505 Warburton Ave., Santa Clara. Hours: Tuesday, 10 a.m.-9 p.m.; Wednesday-Sunday, 10 a.m.-5 p.m. Admission: Free ($2, requested donation). Telephone: (408) 247-3754. Web site: http://www.tritonmuseum.org
De Saisset Museum - Address: 500 El Camino Real, Santa Clara. Hours: Tuesday-Sunday, 11 a.m.-4 p.m. Admission: Free. Telephone: (408) 554-4528. Web site: http://www.scu.edu/
De Saisset Monterey Museum of Art at Civic Center - Address: 559 Pacific St., downtown Monterey. Hours: Wednesday-Saturday, 11 a.m.-5 p.m.; Sunday, 1-4 p.m. Admission: $5; $2.50, students; free to children younger than 12. Telephone: (831) 372-7591. Web site: http://www.montereyart.org
Monterey Museum of Art at La Mirada- Address: 720 La Mirada, Monterey. Hours: Wednesday-Saturday, 11 a.m.-5 p.m.; Sunday, 1-4 p.m. Admission: $5; $2.50, students; free to children younger than 12. Telephone: (831) 372-3689. Web site: http://www.montereyart.org
San Luis Obispo Art Center - Address: 1010 Broad Street at Monterey, downtown San Luis Obispo. Hours: Daily from 11 a.m.-5 p.m. until Labor Day weekend; Tuesday-Sunday,11 a.m.-5 p.m. thereafter. Admission: Free. Telephone: (805) 543-8562. Web site: http://www.sloartcenter.org
University Art Museum - Address: University of California Santa Barbara campus, next to the University Center. Hours: Tuesday, 12-8 p.m.; Wednesday-Sunday, 12-5 p.m. Admission: Free. Telephone: (805) 893-2951. Web site: http://www.uam.ucsb.edu
Ventura County Museum of History and Art - Address: 100 E. Main St., downtown Ventura. Hours: Tuesday-Sunday, 10 a.m.-5 p.m. Admission: $4; $3, seniors; $1, children 6-17. Telephone: (805) 653-0323. Web site: http://www.wemha.org
(c) Copley News Service
Article continues below
---
advertisement


---
Author:
Robert L. Pincus
Archives
---
Van Gogh and Gauguin together again
Harry`s Here
Memoir recalls courtship in Dachau
Mr. Smith goes to Hollywood
Moises Kaufman
And now ... the rest of the story
Finally, a time for Grandma
Homing in on Homer`s distinctly American flair
Gidget is back, and she`s original
Ego tours: rock and roles
Springtime for Brooks
The cradle does rock
Behind their music
Fluid approach to architecture is hallmark of modernist
New American plays mirror transitional theme
More Articles