All the Amenities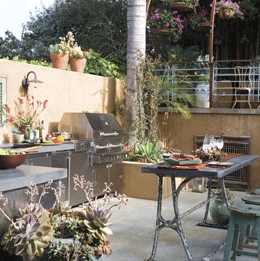 …From the pages of House & Home…
Today's outdoor kitchens have everything you could imagine
There's nothing like cooking on the grill this time of year. The smell of hotdogs and burgers permeating the air is a summertime staple. But nowadays homeowners are creating much more luxe outdoor living spaces that include complete outdoor kitchens with all the bells and whistles. These outdoor cooking and eating spaces are also allowing homeowners to extend their outdoor time well beyond the summer season.
Bringing the inside, out
"If you're an outdoor person, you want to do everything you can to extend the amount of time you're able to be outside," says Steve Compton, owner of CKC Landscaping, Inc. "An outdoor kitchen allows for just that. Whether it's a simple grill island or a full-blown kitchen, it's a great way to spend more time outside."
Of course most homeowners want much more than a space to grill. They want an entire outdoor living area. "It's no longer good enough to just have a spot for the old grill," explains Bill Wilson of Amazing Decks. "Outdoor kitchens will actually expand the living space of the house creating a flow between the kitchen inside and the deck. For example, when you have company over, where do they congregate? The kitchen area. It doesn't matter how big your house is, everyone gathers in the kitchen. The outdoor kitchen with an eating area is a great way to extend this gathering space into the backyard."
But the grill is certainly important. Wilson says that a typical outdoor kitchen includes a "forever" grill. "The old grill was just good for cooking mediocre steaks and chicken but the forever grill has the technology of searing, grilling, or smoking just about any food you can think of," he says. "Since it is outdoors, you don't have the limitations that inside cooking can have because smoke and steam can disperse in the air. The outdoor forever grill needs to be extremely durable because it is usually installed in granite and cannot be easily replaced. That is why they are manufactured from high quality stainless steel. Most outdoor stainless steel grill heads are warranteed for a lifetime."
Bill Pennella of Pennella's Landscape Designs, LLC, agrees that the trend these days is to bring the inside, out. Having all of the amenities outside adds a lot of benefit. "It is having the convenience of what we use inside and bringing it outside," Pennella says. "Entertaining outdoors used to mean running in and out of the house for things. But outdoor kitchens now have warming drawers, trash bins, doors and drawers, icemakers and ice storage, refrigerators, beverage centers, sink, faucets, and even outdoor TVs."
Diane Marrazzo of Marrazzo's North River Landscape says that some of the outdoor kitchens they've created have used the same indoor kitchen tiles and accent tiles in their outdoor backsplashes as a means of tying an element from the inside to the outside. "We have a client whose indoor kitchen boasted three kinds of granite and used one of those granites outside to tie the indoors to the outdoors," she says. "Often times these grilling islands and outdoor kitchens are smaller in size than the indoor kitchen so to keep it creative and interesting, different heights of counter can work beautifully."
Many homeowners do opt for granite for their outdoor countertops. After all it is natural stone that comes from the outdoors. "You're dealing with a product that comes from the earth so it's hard, durable and a great complement to an outdoor living area," says James Freeman of Colonial Marble & Granite. "People like it for its beauty but it also accomplishes functionality. In other words, you could put down a wood top but it won't stand the test of time. Natural stone will."
John Keller of Sequoia Supply & Sequoia Outback says that many of the outdoor kitchen spaces include bars. "We sell a lot of stools to go around the outdoor bar area," Keller says. "People can spend the day swimming or enjoying their backyard and then take a seat at the bar to have a drink and relax. It goes along with the whole trend of turning your backyard into another room of the house. It increases the square footage and helps people get even more enjoyment out of their home."
Cover up
In order to get so many amenities safely outside, many homeowners are adding covered structures to their outdoor kitchens. "A lot of the outdoor spaces we create incorporate freestanding or attached overhead structures and we're bringing in plumbing for gas lines and outdoor electricians to run electric," says Sam Waddell, president of SLS Landscaping. "In the end, you are able to have all the comforts of the inside, outside. That even includes flat-screen televisions and outdoor fireplaces."
By adding an overhead structure, you're also able to greatly extend the use of the space, adds Waddell. It offers protection from the elements so that you can enjoy the space even on a rainy day. Space heaters or fire features can also throw heat and help you extend the seasonal use. "On a year that has a fairly mild winter, you could pretty much use an outdoor kitchen year round," Waddell says.
It's important to think about where your home is situated in terms of where it makes most sense to put a structure, adds Compton. "For instance, if someone has southern exposure in their backyard, and few trees, we certainly would consider adding a pergola or a solid roof structure in order to provide the ability to enjoy that area even in mid-July when it can get very uncomfortable in the hot sun," Compton says. "Adding a structure also allows us to install ceiling fans underneath and keep air flowing. We can also add cooling elements like misters. If you're going to invest in an outdoor living space you don't want to have to go inside because it's too hot. Similarly, in cold weather, we can use space heaters to keep it warm."
Let's eat out(side)!
Chances are if you're investing in an outdoor kitchen, you also want to enjoy your food outdoors. That's at least half of the fun. But there are some important considerations to take if you plan to create the ideal outdoor eating area, says Rick Urie of Ambler Fireplace & Patio. "Being comfortable while enjoying your meal is very important," Urie says. "Having a nice large patio table to spread out is nice, but you'll also want to have a large patio umbrella to protect you from the sun."
"Shade is a commodity with the sun and sporadic storms getting stronger each year," adds Marrazzo. "Shelter from the weather to entertain, relax, cook, and eat in comfort and safety are all relative and important factors when considering covering.
Cabana covering, retractable or stabilized awnings, or decorative open pergolas—perhaps grown with vine such as wisteria or trumpet vine—all provide individualized need. How covered the space is may come down to budget as the primary factor."
While there are a lot of amenities to consider with your outdoor kitchen, ultimately it comes down to doing what works best for you and your space. You want an outdoor kitchen and eating area that you can most thoroughly enjoy. "It's all about being with family and friends and enjoying the outdoors," Urie says. "Nice weather, good food, and enjoying friends and family are what life is all about."
RESOURCES
Amazing Decks
Ambler, Pa.
Flemington, N.J.
(800) 220-3275
AnotherAmazingDeck.com
Ambler Fireplace & Patio
Ambler, Pa. | (215) 643-5100
Colmar, Pa. | (215) 997-7300
AmblerFireplace.com
CKC Landscaping, Inc.
West Chester, Pa.
(610) 436-1810
CKCLandscapingInc.com
Colonial Marble & Granite
King of Prussia, Pa. | (610) 994-2222
Harrisburg, Pa. | (717) 774-2110
Philadelphia, Pa. | (215) 732-7800
ColonialMarble.net
Marrazzo's North River Landscape, Hardscape & Rain Water Harvesting
Wycombe, Pa.
(215) 598-1412
MarrazzosNorthRiver.com
Pennellas Landscape Designs, LLC
Towaco, N.J.
(973) 299-1143
PennellasLandscape.com
Sequoia Supply (Hatfield, Pa.)
Sequoia Outback (Warrington, Pa.)
(866) 650-DECK
DeckSupplies.com
SLS Landscaping, Inc.
Lumberton, N.J.
(609) 518-5263
SLSLandscape.com
Published (and copyrighted) in House & Home, Volume 14, Issue 12 (June, 2014).
For more info on House & Home magazine, click here.
To subscribe to House & Home magazine, click here.
To advertise in House & Home magazine, call 610-272-3120.
Article continues below
---
advertisement


---
Author:
Lindsey Getz
Archives
---
A TALE OF THREE WEDDINGS
Timber Creek's Leary heads to Illinois
One of Us
The Weekender
Hometown Flavor
Hoop Dreams
Symon Says
Food & Drink: Raise a Glass
Off the Ice
Rewarding Work
Dig This
The Berlin Cemetery
A Southern Mansion
Fire on the Morro Castle
Pine Barrens Fire of 1936
More...