Decked Out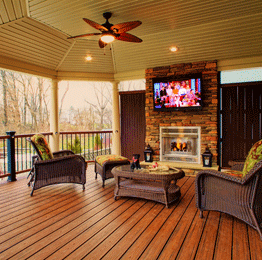 …From the pages of House & Home…
Adding a few amenities will help you make the most of your outdoor living space.
When it comes to home improvement projects, homeowners are increasingly considering the potential right in their own backyard. A deck or patio is a good base when it comes to relaxing and entertaining, but it's the various options that can be added to this space that really make it a true outdoor living area.
"Homeowners truly want an outdoor living room," says Randy McHenry of McHenry Deck Builders in Spring City, Pa. "They want to add covered roof areas, TVs, hot tubs and of course, a grilling area. It makes a great extension of their home and brings the family together."
And it's fast becoming a local trend. We spoke with some other area professionals about what trends they are seeing in this popular category.
Protection
During hot days on your deck, it's unavoidable that you and your guests will need some relief from the glaring sun and resulting heat. Umbrellas are only a temporary solution to stay shielded from the sun in the hotter months; and experts say homeowners are requesting more permanent solutions that will extend the life of their deck, but also be aesthetically pleasing.
"I have been out on decks and patios that are too hot to enjoy on a sunny day," says Craig Kershner of Jake's Greenhouse and Garden Center in Sinking Spring, Pa. "Landscaping around the deck or patio will help provide shade, but another very attractive addition would be a pergola. This can provide as little or as much shade as you decide, and can even be designed with retractable options."
Bill Wilson of Amazing Decks in Ambler, Pa., and Flemington, N.J., says covered spaces add to a space's enjoyability throughout the year.
"Most people work all week long in an office or indoor environment, so the weekend and evenings they want to enjoy the outdoors," he says.
Another thing homeowners might consider is privacy. It can be hard to truly relax on your deck when you see your neighbors keep glancing over. Robyn Farrelly of Mid-Atlantic Retractable Screens in Frazer, Pa., says homeowners might add a screened-in porch to their outdoor living areas for several reasons.
"Sitting in screened-in areas lets you enjoy the sights and sounds of nature without being bothered by flies and mosquitoes," she says. "Phantom Screens also have an option for privacy mesh, which allows for air flow but provides privacy from neighbors. They can enjoy sitting, reading, eating or just daydreaming and not be observed by the neighbors."
Entertaining
Most people think of a barbecue as the main source of entertainment on a deck. And while it's difficult to resist a good steak cooked on the grill during the summer months, homeowners want more than just a grill. They want a full-blown kitchen. James Freeman of Colonial Marble & granite in King of Prussia, Pa., says, "we're finding more people are forgoing extravagant vacations and turning their own homes into an oasis of sorts. The outdoor kitchens especially are in demand with all of the functionality of a regular kitchen, with sinks, grills, ice makers, and countertops."
For anyone curious about what type of material is ideal for an outdoor countertop, Freeman suggests natural stone, which holds up particularly well to the elements. "These stones are formed in the earth, so we're taking a product that is naturally found outdoors and using it there. With basic maintenance, it will outlive most customers."
He adds that a new trend he has seen is for the stone to have a finish called "leathering" or "brushed." "This gives the counter a textured feel as opposed to a smooth polished finish," Freeman says.
Paul McKeon of McKeon Concrete & Masonry in West Chester, Pa., says his company has built grill islands, outdoor bars and recently, pizza ovens. "These are usually incorporated above an outdoor fireplace," he says. "We are able to do it all custom, without the use of pre-fabricated kits, so something like this will really blend in with the flow of the outdoor space and the rest of the house."
Of course, it's not all about cooking outdoors. Besides the grill, most Americans tend to gather around the TV. "It seems as though when everyone comes over to watch the game, they are crammed into a small living area," says Wilson. "It makes sense to install a TV on the deck so guests can enjoy the outdoors while watching the game."
Manufacturers now make TVs specifically to be used outdoors, ones that reduce glare from the sun and can withstand elements such as humidity, rain, dust, and cold air.
But as your guests gather around outside, you'll need seating options. McKeon says sitting walls are worth considering. "Beyond providing seating, we can build it so the seating area is private, but we can also incorporate some design elements, like planters so you can plant flowers there, which will also add to the level of privacy," he says.
John Keller of Sequoia Supply and Out Back in Warrington and Hatfield, Pa., says furniture chat sets have been a popular seller for the past few years. "These chat sets are usually put around fire pits or cocktail tables," he says. "They are lounge chair types, love seats, or curved sectional sofas. It makes it feel more like an outdoor living room."
For furniture that will hold up to the outdoors, Keller says solid PVC furniture will last, but you sacrifice when it comes to aesthetics. "Cast aluminum or wicker will last longest," he says. "There are cushions and vibrant fabrics you can add to make them more comfortable, and we always recommend covering the furniture when not in use to extend its life."
Warmth
Of course, with all of your guests outside, you want to keep them comfortable. Whether there's a chill in the summer air or it's a brisk November day, the right fire features can warm up the space perfectly.
Alexis Rettinger of Rettinger Fireplace Systems in Voorhees, N.J., points to outdoor fire features, which provide both warmth and ambiance. "At our own home, we use our outdoor fire pit and fireplace all year long," she says. "At Thanksgiving, the family ends up outside with a few blankets sitting by the fire."
Rettinger says fire features can also be incorporated into the design of a deck or patio with the help of landscape architects, but another option is a fire table. "These are really becoming popular. It's another area to sit and entertain, and they come in different shapes," she says. "And unlike some other fire features, these tables are safe to go on a wooden deck."
Bill Lecorchick Jr. of Legends Home Improvements in Monroe, N.J., suggests radiant heaters, which emit an impressive amount of heat. "We built a deck with a covered roof area and installed radiant heaters in the ceiling," he says. "Everything was finished in mid-December and I sat outside with the homeowner with only a sweatshirt—no coat—watching a movie in 25 degree weather." He adds that heavy canvas curtains can be hung around the covered area to help keep the warm air in. "With the right set up you can enjoy this space throughout the winter."
However, it's important to consider the safety risks involved with fire features, especially with a gas fireplace, Wilson says. "The gas line has to be sized properly for the unit and it must be rated for outdoor use. Plus, there are certain manufacturer requirements that need to be followed," he says.
Our experts say whatever amenities or features you plan on adding to your outdoor living space, be sure it fits your lifestyle and flows with the rest of the property.
RESOURCES
Amazing Decks
Ambler, Pa. and Flemington, N.J.
(800) 220-3275
AnotherAmazingDeck.com
Colonial Marble & Granite
King of Prussia, Pa.
(610) 994-2222
ColonialMarble.net
Jake's Greenhouse and Garden Center
Sinking Spring, Pa.
(610) 670-8595
JakesGreenhouse.com
Legends Home Improvements
Monroe, N.J.
(732) 955-6321
LegendsBuilt.com
McKeon Concrete & Masonry
West Chester, Pa.
(484) 889-6231
McKeonRestoration.com
McHenry Deck Builders
Spring City, Pa.
(484) 369-1261
McHenryDecks.com
Mid-Atlantic Retractable Screens, LLC
(An authorized Phantom Screen dealer)
Frazer, Pa.
(610) 647-4902
PhantomScreens.com
Rettinger Fireplace Systems
Voorhees, N.J.
(856) 753-5300
RettingerFireplace.com
Sequoia Supply
Warrington, Pa.
Sequoia Out Back
Hatfield, Pa. (866) 650-DECK
DeckSupplies.com
Published (and copyrighted) in House & Home, Volume 15, Issue 2 (August, 2014).
For more info on House & Home magazine, click here.
To subscribe to House & Home magazine, click here.
To advertise in House & Home magazine, call 610-272-3120.
Article continues below
---
advertisement


---
Author:
Liz Hunter
Archives
---
This Old House
Moving Up
Vacation at Home
Glamorous Grilling
Increasing Curb Appeal
An Infinite Palette
Home & Garden: Garage Envy
Home & Garden
Home & Garden
Home & Garden: Backsplash
Healthy Through the Heat
Inside Out
Popular Paving
Home & Garden: Ahead of the Curve
The Outdoor Tour
More Articles