Color Me Happy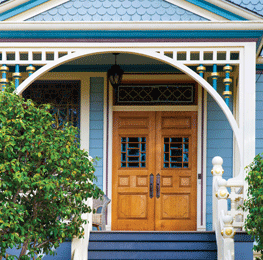 …From the pages of House & Home…
Homeowners are letting their personality shine through by embracing color on their house's exterior.
When homeowners find the exterior of their house in need of a facelift, changing up the color can make a big difference. Each year, professionals in the paint industry launch new colors that are on trend. We asked our local experts about the colors that are cropping up in our region this season: neutrals and grays, or bolder choices? What colors can homeowners experiment with without offending the neighbors? If a house has interesting characteristics, like a stone or brick façade, what colors complement those best? How about colors to match a roof?
Here's what we found out: Whether it be neutrals, earthy tones or cool greens, grays and blues, homeowners are using color on their home's exterior to show their true colors—and personality.
Kimberley Slater, designer at Best Drapery and Design Inc., says that changing up the exterior paint color on your home is a great way to give it a fresh new look.
"Changing the paint color on your exterior affects the aesthetic of your exterior immediately; just as in your interior, it will give you a fresh updated look," she notes. "If the exterior has not been updated in a while or faded due to sun, an update of color of paint can make your exterior look almost new. Changing color to a new color on trend can also update your look with the neighboring houses on the street. It's like putting on a new dress—you feel great and … want to show it off."
Slater says this season, she is seeing softer, yet deeper tones such as taupes, green-gray tones and muted slate blues. She also notes that color choice often depends on geographic location. "In the area where there are many beautiful older homes, [such as] Haddonfield, you see many of those neutral and gray tones; but then you will see the pops of accent colors on the Victorian homes," she explains. "I see people taking less risks and keeping neutral for resale purposes."
Demetri Pispitsos, owner of Roma Painting, says color can really transform your living space. "We're doing a couple of residences now where the paint color is really bringing more life to their house. And it's causing their neighbors to take notice," he notes.
When it comes to paint colors, he says that homeowners' unique tastes really come into play.
"If it's within reason, it's show¬ing people your personality and who you are," he notes. "This year, trends for colors are cycling back to earthy tones—rustic reds, rustic brownish-reds. We're also doing some houses that have greens. I'd say earthy colors, tans and khakis, the earthy rustic reds and also the blues and greens [are big now."]
Homeowners are also taking more risks when it comes to color. "I would say some people are doing things that are a little more bold and out of the ordinary, they are not following expected social norms [regarding exterior paint colors]; they are stepping outside the box," he says. "You are seeing a lot more of that." Falling out of favor this season are yellows, as well as the traditional white exterior with black shutters, Pispitsos says.
Taking risks or playing it safe when it comes to a home's exterior really depends on the owner's personality—but don't expect the neighbors to keep quiet if you choose a bright color or two, says Craig Brennan, owner of Brennan's Custom Painting.
"As far as customers taking risks, it depends on the owner's personality most times. We did a large home in the fall that had five colors, including a bright red, orange and yellow," he explains. "It was rather bold, but they loved it. Not all their neighbors did, however; and when doing an exterior, you are enhancing the neighborhood also, so expect an opinion."
Brennan also says that a typical colonial style home should have a maximum of three different colors, while a Victorian style home lends itself to a larger variety.
Experts also say when considering a new exterior color, pay attention to the home's unique features, such as a brick or stone façade and roof color.
"When selecting colors you want the tone to coordinate with the natural elements," Slater says. "If the stone or brick has a cool tone, a paint color with a cool tone works best. The same applies with warmer tone elements. I find it best also to look at the surrounding homes and those colors. You want to make sure the color, though it may stand alone, still coordinates with the homes on the street. You don't want to be the Smurf-blue house that sticks out like a sore thumb."
Homeowners are also taking this awareness of a home's features to the next level. "We are doing a residence now where [the homeowner] had some new landscaping, including a nice brick patio out back and a curved patio out front," Pispitsos notes. "She actually changed her trim and front door colors to an earthy red brown to match somewhat the brick color, which made perfect sense to me. [As far as roof color], people are choosing colors that are going to complement their roof."
Brennan agrees. "I work color schemes through with my customers by extenuating the existing colors on their home that they should work with, [such as] brick, stone work, roof colors, style of home," he says. "One thing I tell them is to step onto the sidewalk or street and view it from a distance as this is where most people will view their home, and [make sure] that the colors work together in harmony."
RESOURCES
Best Drapery & Design Inc.
Cherry Hill, N.J.
(856) 429-2242
BestDraperyAndDesign.com
Brennan's Custom Painting
Pitman, N.J.
(856) 589-5895
BrennansCustomPainting.com
Roma Painting
Newark, Del.
(443) 406-7270
RomaPainting.com
Published (and copyrighted) in House & Home, Volume 15, Issue 12 (June, 2015).
For more info on House & Home magazine, click here.
To subscribe to House & Home magazine, click here.
To advertise in House & Home magazine, call 610-272-3120.
Article continues below
---
advertisement


---
Author:
Rachel Morgan
Archives
---
Advertise with SouthJersey.com
Shawnee High School
Acting Natural
Middle Township High School
Audubon High School
Cumberland Regional High School
African American Heritage Museum
Apple Pie Hill
Attractions: N. Pemberton RR Station
Johnson's Corner Farm
Lumberton's Air Victory Museum
Lucy the Margate Elephant
Tuckerton Seaport & Baymen's Museum
Emlen Physick Estate
Cape May's Washington Street Mall
More...