Collingswood High School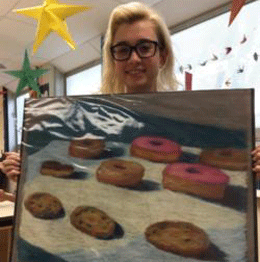 Collingswood High School serves about 850 students in grades nine through twelve from the Collingswood, Oaklyn and Woodlynne school districts. With a school of such a small size, Collingswood High School staff has the ability to get to know each student on a personal level, identify their individual strengths, and encourage them to get involved with school activities.
According to the school's website, the school offers a variety of academic avenues for students to explore, as well as opportunities for recreation, leadership and service. In addition to the traditional courses in Mathematics, English, Science and History, Collingswood High School offers electives in the areas of Business Law, Accounting, Child Care and even Cartooning.
Collingswood High has a ninth grade transition program for incoming freshmen. This year-long program provides freshman with many skills required to be successful high school students, as well as opportunities to build teamwork, literacy and organizational skills. Other recent additions to CHS include a computer technology lab, a writing coach and continued involvement with the Delaware Valley Minority Student Achievement Consortium.
Just some of the activities at CHS are Student Council, PAWS TV, Spanish Club, Stage Crew, Variety Show, Human Relations Committee, Peer Mediation, Art Club, Prayer Club and Drama Club.
Congratulations to CHS junior Julianna Daly (pictured). She was selected as the Congressional Art Competition winner to represent the NJ 1st District. Julianna will travel to Washington, DC with her family on June 24 for a special awards ceremony and her work in chalk pastels will be on display in the Capital for the next year.
Collingswood High School boasts an excellent music program. Music activities include Choir/Chamber Choir, Madrigals, Orchestra, Band, and Jazz Band. The Collingswood HS Marching Band has won regional championships in recent years and is well known throughout the area. Follow the Collingswood band on Twitter at https://twitter.com/collsband.
The high school also offers an extensive athletic program for students, including football, soccer, field hockey, cross country, tennis, cheerleading, basketball, wrestling, swimming, bowling, baseball, softball, track, golf, lacrosse and volleyball. Recent athletes of the month and athletes acknowledged on the school's website include Dionna Nelson, Molly O'Neill, Adam Hunt, Lauren Glaze, Monica Parson, Taylor Perkowski, Morgan McConnell, Rebecca Hall, Norma Woods and Dominique Hunt.
Congratulations to the following students who will be playing sports at the collegiate level: Lauren Glaze – softball at Rutgers Camden, Rebecca Hall – field hockey at Kean University, Molly O'Neill – lacrosse at Kutztown University, Rachel Galante – field hockey at Towson University, Kelly Rodgers – field hockey at Widener University, Ray Taylor – baseball at Rutgers Camden, Drew Harper – track at Rutgers Camden, and Jordan Wallace – football at Kutztown University.
The Collingswood girls and boys Varsity crew boats both won bronze medals at the Cooper Cup Regatta on Sunday, April 26. Congrats!
The Collingswood High School Athletic Hall of Fame provides more than $65,000 in scholarships each year to student athletes. Annually the group holds its induction banquet. This year's event was attended by over 400 alumni and friends and inducted seven individuals and four teams. To learn more about the organization, visit http://www.collingswoodathletichalloffame.org/index.htm.
Collingswood will be running a Summer Teen Theatre Program from June 15 – July 16. The camp is open to Collingswood High School students as well as teens from the surrounding areas. This year's camp is at capacity but don't forget to come out and see their production of Little Shop of Horrors July 15 or 16. See the website for complete details: http://www.collingswoodteentheatre.com/.
Collingswood High School is located at 424 Collings Avenue in Collingswood. For more information about the school, call 856-962-5701 or visit hs.collingswood.k12. nj.us.
© SouthJersey.com 2015. All rights reserved. This article or parts thereof may not be reprinted or reproduced by any other party without the express written consent of SouthJersey.com. For more information, please call 856-797-9910.
For more information about what's going on in our local schools and what today's students are up to, visit our South Jersey Schools page.
Article continues below
---
advertisement


---
Author:
Meghan Shott
Archives
---
Advertise with SouthJersey.com
Shawnee High School
Acting Natural
Middle Township High School
Audubon High School
Cumberland Regional High School
African American Heritage Museum
Apple Pie Hill
Attractions: N. Pemberton RR Station
Johnson's Corner Farm
Lumberton's Air Victory Museum
Lucy the Margate Elephant
Tuckerton Seaport & Baymen's Museum
Emlen Physick Estate
Cape May's Washington Street Mall
More...