New Certificate Prog. at Rutgers-Camden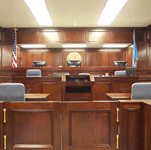 As law students continue to face uncertain futures due to a tough job market, students at the Rutgers School of Law–Camden are receiving a competitive edge through a new Professional Development Certificate Program.
The program allows students to graduate with not only the legal skills, but also the business and client development skills they need to run a successful practice in any setting.
"This program supplements the legal knowledge that students obtain in class with legal practice skills such as understanding how to practice in various practice settings and legal areas, as well as other issues related to developing a law practice," says Angela V. Baker, associate dean of students and career planning at the Rutgers School of Law–Camden.
Classroom work focuses on learning how to approach legal analysis and learning particular areas of law, and skills courses allow students to practice cross-examination, closing arguments, and writing a complaint. Clinics and externships provide an opportunity for students to actually work for judges, or represent clients and appear in court. But the Professional Development Certificate Program focuses on the other skills necessary to be a lawyer, like networking, client development, and interactions with attorneys and judges.
"In this highly-competitive job market, participating in the program gives students the opportunity to make themselves stand out by showing their initiative and desire to learn," says Kate Reilly, a third-year law student from Jersey City. "These events also expose students to practitioners, making them excellent networking opportunities."
There are 16 different programs scheduled for the fall semester, each lasting between one and two hours. Some of the programs are presented by the Career Planning Office at Rutgers–Camden, and some are co-sponsored by groups such as the Business Law Association or the Health Law Society.
First-year law students are required to attend two professionalism programs each semester. Second- and third-year law students must attend at least six programs per year and at least two per semester. The programs cover practice areas (like environmental law and immigration law), practice settings (small firm, large firm, solo practice), professional development skills, and job search skills.
"Many law students are uncertain what practice areas they may be interested in pursuing, and although the school provides classes covering many areas, time constraints and scheduling conflicts often make it difficult for students to gain meaningful exposure to the realities of different practice areas," Reilly says. "These events can provide that exposure and help students focus in on areas of interest."
At the end of each academic year students who attend the required number of programs will receive a Professional Development Certificate. More information is available online at here (camlaw.rutgers.edu/programs-and-events).
Article continues below
---
advertisement


---
Author:
Press Release--Rutgers-Camden
Archives
---
In Good Health
2017 Executives of the Year
Superior Sandwiches
Raise a Glass
Impressive New South Jersey BBall HOF class
The Promise of Public Transportation
Empowering the Next Generation
Singles: January 3
River Revitalization
Spreading Cheer
Singles: December 27
Winter Retreat
Are Holiday Parties Back in Favor?
Support System
Singles: December 20
More...