Surflight Theatre Earns Innovator Award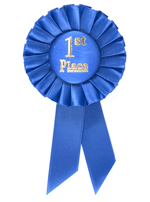 Surflight Theatre, located in Beach Haven, New Jersey, is the proud recipient of the Cultural Access Network of New Jersey Innovator Award. The award was in recognition for their outstanding leadership, dedication and commitment to cultural access for 2009-2010.
The Award was presented on June 21st, 2010, during a recent Sensitivity Training Session, presented by the Cultural Access Network of NJ, a co-sponsored project of the New Jersey Theatre Alliance and the New Jersey State Council on the Arts/Department of State, a Partner Agency of the National Endowment for the Arts. This project provides state-wide information about accessible venues, performances and cultural events along with a wide range of resources to assist the state's cultural community in their efforts to reach out and better serve people with disabilities. Visit their website culturalaccessnetwork.org for more information.
Additional sponsorship support provided by Discover Jersey Arts and JerseyArts.com
For more information, go to surflight.org.

Author:
Press Release
Archives
---
In Good Health
2017 Executives of the Year
Superior Sandwiches
Raise a Glass
Impressive New South Jersey BBall HOF class
The Promise of Public Transportation
Empowering the Next Generation
Singles: January 3
River Revitalization
Spreading Cheer
Singles: December 27
Winter Retreat
Are Holiday Parties Back in Favor?
Support System
Singles: December 20
More...