New and Improved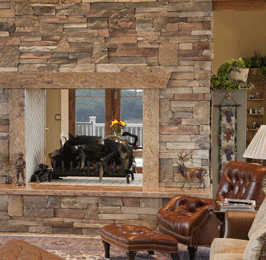 …From the pages of House & Home…
Granite and tile aren't just for countertops anymore.
There was a time when granite countertops were seen as a luxury, while tile was a simple way to cover the walls in a shower or bathtub—and both were expensive alternatives to laminates. But with changes in price and installation options, granite and tile are becoming more accessible than ever, and are making a serious impact in the design of homes everywhere.
"Granite has come a long way in the past decade. The process of getting them out of the mountains, polishing and cutting the slab, has gotten more efficient and subsequently more affordable," says Fran Isaacson of Holod's Kitchen and Bath. "And tiles of all sizes and colors are becoming way popular right now. People are doing full glass or incorporating glass into stone or field tiles into their kitchens, bathrooms and backsplashes. The possibilities for both are endless."
A break in tradition
With granite and tile becoming more accessible and more affordable, homeowners and contractors alike are branching away from the traditional countertops and bathtubs and creating new luxury designs throughout the home.
"Granite looks rich and classy, and its use is not limited to countertops," says Sean Ercan of Modern Design Center. "Other popular areas include additional kitchen and bathroom surfaces, sinks and pool floors. A decorative touch of granite won't go unnoticed."
Granite fireplaces are another new trend that can really tie a home together. "I've done several fireplace surrounds in granite and they look great, especially when you're opening up a kitchen into the family room," says Robin Murphy, a certified kitchen consultant with Bath, Kitchen & Tile. "People like to have similar stones, and they typically have the granite in the kitchen done at the same time as the fireplace surround, so you get similar stone colors throughout the home."
While tiles may be revisiting tradition through material, the look is turning kitchen trends upside down. "We've seen a return of mosaics but with all new designs," explains Noula Karagiorgos, who handles business development for Cosmos Marble & Granite. "A lot of people prefer the traditional subway style, but the mosaics that people are putting behind the stove really make their cooking area [pop]."
And while granite tends to be too slippery and hard to maintain as a floor, tile is becoming a better flooring option than ever. "There are pros and cons to using tile," says Karagiorgos. "It's a lot easier to clean, and if you have pets it's a lot more durable and stands up to damage. And it keeps the house a lot cooler."
Tile companies now make glass tiles that resemble hardwood flooring, but are much more convenient than the wooden variety. "The hardwood tiles can cover entire homes. Clients are really impressed by the color variations as well," says Bath, Kitchen & Tile sales manager Reggie Fitzgerald. "It may look like a wood, but it can have beige and lime. It doesn't need to be refinished and is a similar price to that of hardwood. And in a kitchen you get direct traffic patterns that may not work with traditional hardwood that work with these tiles.
"People worry about spilling or damaging hardwood floors in a kitchen, so you can get the look of wood with a maintenance-free tile. The same applies to bathrooms: There's no warping to worry about."
"Tiles have endless choices of colors, shapes and textures," says Ercan. "You can easily combine them with other products like glass or metal for a better look, and create different patterns to create a sophisticated look in any room."
Something new
But it's granite and tile's color and texture variations that are really reshaping the possibilities of home design. "Color is a big factor in all decisions," says Daniel Morrell, copywriter and social media manager for All Granite and Marble Corp. "We see people going with whites or grays primarily, and then choosing something bolder as an accent piece. You definitely have to pick to match your color scheme, because it is a permanent decision."
Elaine Messer, design sales specialist with KOL Kitchen & Bath, says that the best way to incorporate color into a home is through natural stone variations in granite, complemented by additional color through tile. "I do find lighter, brighter colors becoming a much requested look in all rooms of the home."
The newest innovation in granite is a technique called leathering, which removes the shiny finish of the stone to create an actual leather feel and look to the granite.
"When you leather it, the colors that are deeper within the stone are enhanced," explains Karagiorgos. "By removing that surface layer you can see deeper into the stone and see the colors that go deep into the stone. It works anywhere from a vanity to a kitchen counter—anywhere you can really put granite. It's like touching leather, but the look is particularly impressive."
Tile backsplashes behind stoves, in bathrooms and even in home bars, by fireplaces and bedroom vanities can take a granite renovation to the next level. "The backsplash is like the jewelry of the room," says Isaacson. "As younger people start buying homes, I definitely see a cleaner aesthetic becoming the trend. A lot of people are doing simple, clean designs. You used to see a lot of fancy items incorporated into their mosaics, but now they are clean and still beautiful."
Getting outside
While the developments in granite and tile have changed, the reliability is still there. Both products have long shelf lives with little maintenance, making them very appealing for outdoor use. It ties in perfectly to the newest outdoor trend of backyard kitchens and living rooms.
"Covered kitchens are more popular than ever," says Fitzgerald. "People are starting to understand the longevity that they can get out of granite. They will go with granite countertops and install their grills and sinks right into the countertop."
Granite even serves a purpose in cooking. "You can use granite for grilling," explains Morrell. "It can withstand heat for up to 1650 degrees Fahrenheit. You can get a smaller piece of granite that matches your counters and put it right on the grill, so you can fry an egg or cook on a flat surface."
When it comes to tiling an outdoor kitchen or even a space around a pool or backyard lounge area, certain tiles hold up better to the local climate, like tiles that are frost proof and can withstand freezing and heat. "We recommend full body tiles," says Ercan. "These tiles won't disappoint the owners for both design options and durability purposes. Both granite and full body tiles can stand against heavy traffic; they will still shine after many years of use."
No matter what your goals are for your home, it seems like the possibilities are endless with granite and tile as the foundation.
"Even though granite and tiles bring natural and timeless beauty to your kitchen and bathroom, at the end of the day you want to see colors, contrast and harmony in all of your living spaces," says Ercan. "A gorgeous granite top or a wonderfully designed tile floor must still blend in smoothly with your cabinets, vanities, showers, and furniture. … When you combine all of these, you will have the 'wow' factor."
RESOURCES
All Granite and Marble Corp.
Ridgefield Park, N.J.
(201) 440-6779
Marble.com
Bath, Kitchen & Tile
Wilmington, Del.
(800) 261-0792
BathKitchenAndTile.com
Cosmos Marble & Granite
Huntingdon Valley, Pa.
(215) 947-2820
CosmosMG.com
Holod's Kitchen and Bath
Lafayette Hill, Pa.
(610) 828-1220
HolodsKitchenAndBath.com
Istanbul Granite
Warminster, Pa.
(215) 444-9773
IstGranite.com
KOL Kitchen & Bath
Cherry Hill, N.J.
(856) 857-1430
KOLKitchenBath.com
Modern Design Center
Cherry Hill, N.J.
(856) 288-1300
ModeCen.com
Published (and copyrighted) in House & Home, Volume 15, Issue 12 (June, 2015).
For more info on House & Home magazine, click here.
To subscribe to House & Home magazine, click here.
To advertise in House & Home magazine, call 610-272-3120.
Article continues below
---
advertisement


---
Author:
Erica Bauwens
Archives
---
In Good Health
2017 Executives of the Year
Superior Sandwiches
Raise a Glass
Impressive New South Jersey BBall HOF class
The Promise of Public Transportation
Empowering the Next Generation
Singles: January 3
River Revitalization
Spreading Cheer
Singles: December 27
Winter Retreat
Are Holiday Parties Back in Favor?
Support System
Singles: December 20
More...