Shawnee High School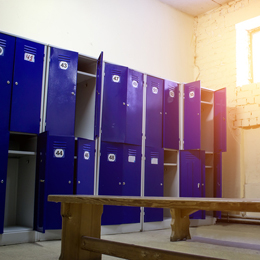 Shawnee High School is a public high school in Burlington County and is part of the Lenape Regional High School District. Dedicated in 1971, the school serves students in ninth through twelfth grade from the Medford Lakes and Medford Township areas. In 2009, the school completed a second construction project in its history that included a new auditorium, as well as new art and band rooms, and science labs.
The Mission of the Lenape Regional High School District, "as a leading innovator of student-centered education, shall be to develop students who are and feel academically prepared to succeed, who will be competitive in a changing global economy, and who will humanely and effectively interact socially and politically in a culturally diverse society". Passionate teachers work to individualize curriculum to the student needs in a safe and substance free environment with leading edge technology.
Shawnee offers a rigorous program of study with levels of instruction including Honors, Academic, Modified Academic, Basic and Special Education. Course requirements include four years of English, three years of Math, three years of U.S. and World History, three years of Science and two years of a World Language.
Congratulations to Shawnee January Students of the Month: Kei'Ayrrien ("KJ") Johnson, Alize Alvarado, Samantha Davies and Avery Epstein.
Eleven Shawnee students were recently selected to perform with the All-South Jersey Band or Orchestra this month. The best student musicians in the southern New Jersey region come together to perform at Rowan University. Shawnee students Jun Choi, Aditya Deshmukh, Jacob Engime, Sam Feldcamp, Grace Gibson, Carl Hauser, Andrew Lee, Catherine Madewell, Peter Rushing, Connor Tamaki, Ian Willoughby auditioned and were selected to participate.
Shawnee offers many clubs and activities to students including Aeronautics Club, African-American Club, Art Club, Biology Club, Chess Club, Chorus, Debate Team, Drama Team, FBLA, French Club, German Club, Jazz Band, Literary Magazine, Media Tech Club, Newspaper, Peer Leaders, Photo Club, SADD, Spanish Club, Student Council, Technology Club, Yearbook Club and many others.
The Shawnee Chapter of Future Business Leaders of America recently participated in regional testing and thirteen members are state finalists. Kim Czekay, Gianna DiMona, Sam Divney, Jack Dugan, Ryan Feast, Natalie Filip, Mark Gross, Chris Herman, Jason Jarecki, Eddie Moriarty, Andrew Ozazewski, Greg Papp and Colin Yearly all qualified for the FBLA State Competition scheduled to take place in Atlantic City in March.
Sports offered at Shawnee include Cross Country, Field Hockey, Gymnastics, Soccer, Tennis, Football, Basketball, Swimming, Wrestling, Track, Bowling, Baseball, Golf and Lacrosse.
Congratulations to the school's December Sportsmanship Honorees: Matt Balzan, Timmy O'Hanlon, Justin Lubin, Jack Cahill, Jada Robinson, Cameron Morgan, Mark Miller, Meghan McMullen, Tara DeSpirito and Victoria Vricella.
Renegade basketball players this season include Gia Flamini, Molly Baechler, Erin Wicker, Cam Morgan, Olivia Schuck, Sierra Sanson, Jess Pratt, Ciana Viccarhelli, Lauren Lodge, Dani Hubbs, Jackie Lopardo, Isaiah Burrows, Ryan Heine, Drew Brennan, Luke Mather, Max Rebstock, Kane Feudtner, Pat Kernan, Daevon Robinson, Sean Heine, Connor Deveney, Dean Noll, Alize Alvarado, Tim Reilly, Nazir Powell, Jonathan Searcy, Aidan Favell, Jeremy Fisher, Max Gussen, Patrick Kernan, Tommy Kane and Travis Guaracino.
Are you an alumnus of Shawnee High School? Visit the alumni website at www.shawneealumni.org to learn about upcoming events and reunions, and to reconnect with former classmates.
Keep up with events and news on the Shawnee Renegades by following their Twitter account at https://twitter.com/SHSRenegades.
Shawnee High School is located at 600 Tabernacle Road in Medford. For more information about the school, call 609-654-7544 or visit lrhsd.org/Shawnee.
© SouthJersey.com 2017. All rights reserved. This article or parts thereof may not be reprinted or reproduced by any other party without the express written consent of SouthJersey.com. For more information, please call 856-797-9910.
For more information about what's going on in our local schools and what today's students are up to, visit our South Jersey Schools page.
Article continues below
---
advertisement


---
Author:
Meghan Shott
Archives
---
Advertise with SouthJersey.com
Acting Natural
Middle Township High School
Audubon High School
Cumberland Regional High School
African American Heritage Museum
Apple Pie Hill
Attractions: N. Pemberton RR Station
Johnson's Corner Farm
Lumberton's Air Victory Museum
Lucy the Margate Elephant
Tuckerton Seaport & Baymen's Museum
Emlen Physick Estate
Cape May's Washington Street Mall
Maple Shade High School
More...