The Foundation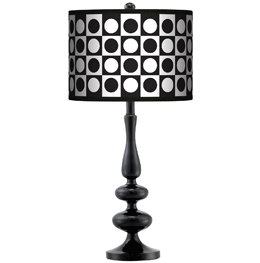 …From the pages of House & Home…
Home Front: Black & White
So often in our day-to-day décor decisions color is something that guides us. We wait for each year's hottest color to be announced and we scramble to adopt it into our own homes. This month we're celebrating the most natural of color combinations—black and white. It's a pairing that works in any room, on any budget, and will never go out of style.
Spotlight
This bold black and white dotted lamp (pictured) brings a classy and worldy elegance to any setting, lending a 1960s nostalgic pattern to a modern day amenity necessary in any room. The Black And White Dotted Square Giclee Paley Black Table Lamp will be a hit with any guest, accentuating great company as well as lighting the room. (Available at LampsPlus.com for $99.99) —Andrew Anastasio
Marvelous Marble
If you're searching for that special something in your living space, look no further than the Fletcher Credenza with Marble Top from Crate and Barrel. Crafted from acacia wood, hand wire-brushed, topped with black stain and a white marble top, this mid-century credenza features two drawers and open shelving, making it ideal for use as a media console or a place to display and store collectibles. (Available at CrateAndBarrel.com for $999)
Wall Worthy
Take your wall from humdrum to "wow" with this design-forward Fretwork Trellis wallpaper. The geometric pattern is reminiscent of Moroccan art and architecture, creating a clean and contrasting finished product. When installed in a room full of bright colors this wallpaper is sure to attract much-deserved attention. (Available at BallardDesigns.com for $79)
Bold Border
For a dramatic statement in the bedroom, the Linden Black Border bedding set from Crane and Canopy fits the bill. Inspired by the finest luxury hotel linens, this soft duvet cover features tailored black borders that contrast with the stark white cotton sateen. When paired with matching pillow shams it creates something truly unexpected in bedroom décor. (Available at CraneAndCanopy.com for $99-139)
Hang it Up
Above: Add crisp style to your windows with this Niche Palmer Rod Pocket Curtain Panel. With a small amount of black and white print on the solid black panel, it will give the room a happy medium. Luckily for a variety of consumers—the cotton, dry clean-only panels come in eight different dimensions. (Available at WayFair.com for $380)
Simplify: Tips & products to declutter and de-stress
Storing fruits and vegetables
As we enter the summer season, more fresh fruits and vegetables will be making their way into our kitchens. If you're like most people, you may often wonder which things need to be refrigerated, which don't, and how long they'll last if stored properly. Here are a few to take away the guessing game:
Onions: Keep at room temperature on a countertop. Avoid refrigeration as it can cause onions to become mushy and bitter.
Asparagus: Trim the ends of stalks and store them upright in a small amount of water with the tops loosely covered with an open Ziploc bag.
Cucumbers: Best stored on a cool coun¬tertop, but keep away from bananas and tomatoes due to their sensitivity to ethylene gas.
Tomatoes: Avoid refrigeration at all costs. Cold temperatures will make them soft and take away from their flavor.
Lemons/limes: Store at room temp¬erature as these citrus fruits have a tendency to absorb odors in the fridge.
Peaches: Ripen at room temperature in a brown bag and then refrigerate.
Covet: Must-have products for the home
WINBOT W730
Wouldn't it be nice if we had personal robots to do all our housework? One can dream—but Ecovacs Robotics makes it a little easier with the WINBOT W730. The window cleaning robot, using smart cleaning features, is truly a set-it-and-forget-it product. All you have to do is spray the cleaning solution onto the front microfiber pad, place it onto the window where it suctions and determines the most efficient cleaning path, and away it goes. The WINBOT even comes with a safety pod and tether, two sets of cleaning pads, cleaning solution, a remote control with batteries and a power adapter. Nothing makes us happy like clean windows and more free time. (Available at BedBathAndBeyond.com for $399.99)
Who Knew?
Unusual uses for common products: Baby Powder
Babies aren't the only ones who can use baby powder— it's also great for:
Protecting your flower bulbs: Put about five of your new bulbs into a Ziploc bag with three tablespoons of baby powder and shake. This will coat the roots, protect them from rotting and from hungry garden pests.
Repelling ants: Sprinkle baby powder around your window panes and the cracks of your floor. Ants aren't fond of the smell so they stay away.
A squeaky floor? Simply put baby powder on the floor, sweep it into the cracks and enjoy the quiet.
Kids Corner: Liven up the little spaces
Toadstool Playhouse
A far cry from its fungus-inspired roots, Land of Nod's Toadstool Playhouse is sure to intrigue even the most discerning little ones. This unique play space features a door panel, two windows and mushroom gills. It's the perfect place for toad-loving boys—and girls—to imagine their own woodland world. Crafted from 100 percent cotton, exclusive of trim. ($299 at LandOfNod.com)
Bookmark: Add this to your bookshelf
Emily Schuman: Cupcakes and Cashmere at Home
Expanding on her personal lifestyle advice that her readers have come to love, Emily Schuman combines that with her expertise in interior design and home entertaining in her new book. Full of never-before-seen content, DIY design projects, and party planning ideas, Schuman shows her readers how to entertain guests easily in a newly created, inviting space.
(Abrams Image, May 2015, Amazon.com, $15.45)
Educational Elements
What to know about ... couch arm styles

Choosing a couch is about more than just comfort, it's also about style. One of the biggest determining factors is a couch's arms, which can be traditional or modern. When it comes time to choose your next couch or sofa, here are some key styles to look for:
English arm: Traditional; commonly used in antique or historic settings.
Lawson arm: Traditional; formal mix of French and English style.
Pleated arm: Traditional/contemporary; versatile in any setting.
Track arm: Contemporary; straight and narrow design lends itself to modern décor.—Houzz.com
Green Thumb
What's growing on us this month … Succulents
For the forgetful gardener, succulents will be your new pride and joy. This is a plant that can handle the summer's hot weather—even if you forget to water it. Here is everything you need to know about succulents:
Succulent background: In botany, a succulent is a plant that has thick leaves or stems that store water. These types of plants have adapted to survive in areas with low moisture and poor soil conditions, like Africa or the deserts of North America.
Care: Learning how to care for your succulent plant depends on the season—but it is easy. Warm weather means the succulent needs more water to grow, but if you forget it won't die. In the winter, succulents become dormant and only require water about once a month. It is best to keep your succulents inside during the winter season.
Outdoor succulents: Since they are nearly indestructible, succulents make for the perfect plant for dry soil or rock gardens. They still need to be watered, but allow the area to completely dry before deciding to water again in summer months.
Indoor succulents: You should place your indoor succulents as close as possible to a window. Succulents love bright sun¬¬light so they need about six hours a day. As with outdoor succulents, indoor succulents need to be watered generously during the summer.
Types: Some of the best succulents to grow are aloe vera, agave, paddle plant, tree aeonium, echeveria and many more. And remember, all cacti are succulents.
Published (and copyrighted) in House & Home, Volume 15, Issue 11 (May, 2015).
For more info on House & Home magazine, click here.
To subscribe to House & Home magazine, click here.
To advertise in House & Home magazine, call 610-272-3120.
Article continues below
---
advertisement


---
Author:
Kaytlyn Mroz; Edited by Liz Hunter & Rachel Morgan
Archives
---
Family Fun
Live from the White House
Collingswood
Stepping Up to the Plate
Local Story
Lingering Questions
Still Fresh
Under the South Jersey Sun
Riverside Retreat
Against All Odds
Like a Girl
Going Her Own Way
Fall In
Aiming to Please
Walk of Fame: Natalie Hope Sommermann
More...