On the Surface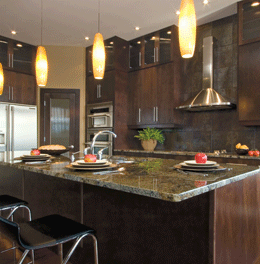 …From the pages of House & Home…
There are limitless options when it comes to kitchen countertops.
Homeowners installing a new kitchen or remodeling an existing one have nearly limitless choices for kitchen countertops. Whether it's natural stone—such as granite, soapstone or marble—or manmade materials—from quartzite to Corian—functionality and aesthetics, along with cost and upkeep, are often what dictate the product that best satisfies a homeowner's needs.
"Granite, marble and quartz are all commonly preferred materials for countertops. There are, however, differences between the three materials," explains Ayse Zivali, designer at KOL Marble and Granite in Cherry Hill, N.J.
"Granite is one of the most preferred countertop materials," says Zivali. "There is a type of granite for every taste. Some clients prefer less veining and more consistency. Others love the wild and exotic masterpieces nature created."
Quartz, an engineered stone often made to look like marble or granite, is a notch more durable than granite, but more expensive due to the labor involved with its production, Zivali notes.
Marble gives off a beautiful, serene and elegant appearance that many clients love. However, its surface is more porous, softer and more fragile than granite or quartz, making it more prone to staining when exposed to oils, acidic foods or dark wines, according to Zivali, who steers clients away from marble for the kitchen.
"When deciding which product to choose, a client should consider what kind of a look they are trying to achieve, whether it be more modern or more traditional, rustic, or more contemporary," advises Zivali. "The quartz material is probably a better fit for more of a modern and contemporary look. But depending on how one chooses to dress it up, granite can give off the same look, as well."
"Most clients come in today searching for solid surface materials, such as granite, quartz and Corian," notes Dolores Sonia, Kitchen and Bath Division Manager of Somerville Aluminum in Branchburg, N.J.
Granite offers a range of beautiful patterns and colors and is still popular. However, clients are realizing that the control of selection is not as predictable aesthetically, since each slab of granite is unique, Sonia says.
"Corian is a long-acknowledged quality product, and has improved in choice of color and pattern extensively," states Sonia. "However, the matte finish seems to deter our clients from this option."
Laminate is the least expensive countertop option. Unlike square or metal-edged laminate countertops of years ago, today's laminates offer demi-bullnose, beveled or wooden edge options and are available in a wider range of colors and patterns, including ones that replicate the look of granite, according to Reggie Fitzgerald, retail sales manager of the Bath, Kitchen and Tile Center in Wilmington, Del.
From popular to unique
Although granite or quartz are today's standards among kitchen countertops, clients also opt for less mainstream materials, depending on preference and the style of their home, says David Dilworth, director of sales and design at Dilworth Custom Design, Inc. in Phoenixville, Pa.
"Clients choose granite if they like the motion and variation that it offers. Those that prefer a more uniform look tend to choose quartz—more specifically, Zodiaq," says Dilworth. "Cambria is one of the quartz options that we use, and people have a hard time distinguishing it from granite. It is quickly becoming a close second to granite with our clients."
Other homeowners break from the norm by choosing other materials, like wood, for a cabinet countertop or island. These clients generally pick a specific wood species, such as black walnut or cherry, versus a traditional butcher block, more for aesthetics than function, treating the island more as a piece of furniture, explains Dilworth.
For clients wanting a unique look and feel, soapstone is among the less common natural stone options. Available in a range of grays and black, it has a textured surface, unlike smooth quartz or granite. "Soapstone is a different look and a tough material. It's for the customer looking to set themselves apart," says Fitzgerald. Clients might also choose to mix materials for different counter surfaces. "Size dictates whether the look of different countertop materials can be pulled off," Dilworth says. "Many clients with larger spaces do choose to use a different material on the island."
New products made with recycled materials give environmentally conscious buyers even more options, but they're typically cost-prohibitive.
Pros and cons
The main difference between a natural stone and an engineered stone or laminate is maintenance. "If a customer chooses a natural stone, such as a granite, marble or limestone, they all need to be maintained with a sealant," says Mary Lou Villei, account project manager at Keystone Granite and Tile in Huntingdon Valley and Lancaster, Pa.
Granite is available in countless patterns and colors and is known for its durability, timeless look, scratch-resistance and ability to withstand the heat of a pot directly from the stovetop.
But it needs to be resealed each year, and homeowners need to properly care for their stone by wiping up splattered grease or other spills that can leave spots or stains on the sealant.
"The great thing about natural stone is, whether you're dealing with entry-level stone, specialty stone or the most exotic stone, it offers the same strength and durability," says James Freeman, chief operating officer of Colonial Marble and Granite, in King of Prussia, Pa.
Manmade quartz countertops—often known by their brand names, such as Cambria, Silestone or Zodiaq—are comprised of resin, stone and colorants and do not need to be sealed. They offer the look and durability of a natural stone, but have some limitations not inherent to granite, according to Villei. Unlike granite, quartz can scratch if food is cut on it. And, while quartz is heat resistant up to 300 degrees, most people cook at 350 degrees so placement of hot cookware on the countertop can cause damage.
Corian is another man-made product Fitzgerald recommends for homeowners looking for countertops with a seamless appearance. It can even be manufactured with sinks made of the same materials, he notes. It's not as hard as granite, so it's more susceptible to scratching, but the scratches can be buffed out. It's also not as heat-resistant, so it needs to be protected from hot pots and pans.
The costs
Laminate is sold by the linear foot, unlike solid surfaces, which are sold by the square foot. Budget-friendly laminate starts at $30 per linear foot, but increases in cost with upgraded edge options, says Fitzgerald.
Some entry-level granites are also very affordable compared to more exotic granites or quartz, Fitzgerald says. Granite starts around $40 per square foot for an entry-level product to upwards of $200 for the most exotic stone. Corian starts at $50 per square foot, while the starting point for quartz is around $75 per square foot. Wood countertops can be very expensive, depending on the variety of wood used, he adds. "Granite pricing today is very economical, and quartz [is] costly," notes Villei. "Most people today are looking for granite; cost outweighs the maintenance for most customers."
Other considerations
Veining and color in granite is so variable that it's important to work with a manufacturer that takes into consideration the flow or movement of the stone when determining where to place the seams, notes Linda Doughty, vice president of sales and marketing at Suburban Marble and Granite of Warminster, Pa. Careful seam placement can make a countertop appear like a painting wrapped around the kitchen, with the grain of each slab moving in the same direction. The quality of the stone's finish is also important, as it often is what makes the first impression.
"Granite is available in two finishes. A polished finish results in a shiny look and often darkens the appearance of the stone, while honing is soft and matte," says Mevlut Beyan, owner of Istanbul Granite in Warminster, Pa.
But the appearance of the countertop doesn't end with the counter surface. "Tile backsplash is the most important element in the kitchen," says Beyan. "In a kitchen where a 2 by 2 mosaic backsplash is combined with the busy granite, it's hard to know what we should be looking at. Busy granite and a busy backsplash does not equal beautiful. Continuing the granite onto the backsplash is busy as well; there's enough going on with what's just sitting on the countertops. But some people really love the patterned look of granite, so if you are one of those, keep going with it."
When chosing a natural stone, Freeman has one piece of advice—view entire slabs of stone, not just samples when making your decisions. "When you look at a sample, you get an idea. When you look at a full slab, you get a vision," he says.
RESOURCES
Bath, Kitchen and Tile Center
Wilmington, Del.
(302) 992-9210
BathKitchenAndTile.com
Colonial Marble & Granite
King of Prussia, Pa.
(610) 994-2222
ColonialMarble.net
Dilworth's Custom Design
Phoenixville, Pa.
(610) 917-9119
DilworthsCustomDesign.com
Istanbul Granite
Warminster, Pa.
(215) 444-9773
IstGranite.com
Keystone Granite & Tile
Huntingdon Valley, Pa.
(215) 355-6294
Keystone-Granite.com
KOL Marble & Granite
Cherry Hill, N.J.
(856) 857-1430
KOLGranite.com
Somerville Aluminum
Somerville, N.J.
(908) 725-8401
SomervilleAluminum.com
Suburban Marble & Granite
Warminster, Pa.
(215) 734-9100
SuburbanMarble.com
Published (and copyrighted) in House & Home, Volume 15, Issue 3 (September, 2014).
For more info on House & Home magazine, click here.
To subscribe to House & Home magazine, click here.
To advertise in House & Home magazine, call 610-272-3120.
Article continues below
---
advertisement


---
Author:
Kathie Jushchyshyn
Archives
---
A TALE OF THREE WEDDINGS
Timber Creek's Leary heads to Illinois
One of Us
The Weekender
Hometown Flavor
Hoop Dreams
Symon Says
Food & Drink: Raise a Glass
Off the Ice
Rewarding Work
Dig This
The Berlin Cemetery
A Southern Mansion
Fire on the Morro Castle
Pine Barrens Fire of 1936
More...