Kitchen Envy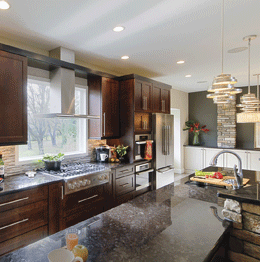 …From the pages of House & Home…
Today's high-end kitchens feature amenities that outshine any dish you cook.
Whether you're as skilled in the kitchen as the chefs on the Food Network or simply like entertaining family and friends with dinner parties and impromptu gatherings, today's luxury kitchens offer a host of amenities and new technologies that will make your kitchen the envy of the neighborhood. From professional grade appliances to pot fillers and walk-in pantries, today's kitchens leave nothing to the imagination when it comes to modern conveniences, storage space and functionality.
"Upscale kitchens today are combining luxury and technical conveniences with a modern, stylish look," says Mitch Kasper, marketing director at the Philadelphia-based Society Hill Kitchens and Custom Interiors. "We're seeing use of new technology to make the kitchen more stylish and functional, with high-end appliances like ranges and refrigerators from Wolf, Sub-Zero, Thermador and Viking; quartz and granite countertops, in addition to concrete and glass; stylish draft hoods; custom cabinetry to house and hide appliances; LED lighting to improve efficiency and create dramatic looks; and floors using plank-style tiles, wood or even porcelain."
Modern conveniences are a must in today's luxury kitchen, including restaurant-style ranges and induction cooktops, modular cooktops and double ovens, warming drawers, single-purpose refrigerators and freezers, microwave drawers, and dedicated task stations for prepping food or brewing coffee.
"High-tech appliances like speed ovens, induction cooktops and integrated coffee makers and espresso machines are often requested in high-end kitchens," says Mike Reisbord, vice president of Diamond Kitchen and Bath in Huntingdon Valley, Pa. "Speed ovens by companies like Miele combine convection, microwave and steam cooking or grilling elements in a single appliance and greatly reduce cooking speed. Some high-end appliances can even be controlled with iPad-like devices or apps that can control the oven remotely to preheat, set the timer and control cooking temperatures for different types of food," he notes.
Other experts say a balance of aesthetics and usability are what really makes a kitchen great.
"We're seeing a mix of style and functionality in upscale kitchen design," says Lisa Davis, branch manager at Ferguson Bath, Kitchen & Lighting Gallery in Cherry Hill, N.J. "Clean lines and open spaces help to combine function with beautiful design. Island seating and prep areas invite people to gather in the kitchen even when they don't have time to sit down for a meal, and modern conveniences like built-in coffee makers and warming drawers help busy homeowners who are always on the go."
Integration is the name of the game when it comes to luxury kitchens.
"Technology has improved to make appliances disappear into the cabinetry," says Conal Roney, director of marketing at Kieffer's Appliances in Lansdale, Pa. "Appliances can now be installed flush with cabinetry or be fitted with a wood front to match the cabinetry so they don't stick out at all. In addition, microwave drawers, refrigerators, dishwashers and wall ovens can fit seamlessly under countertops or within the cabinetry to create a uniform look." Mildred Camarda, a kitchen designer at General Plumbing Supply, based in Edison, N.J., agrees.
"Symmetry and balance is a top priority when it comes to designing an upscale kitchen. Clients are looking for contemporary, plain lines with a modern, straight style. But it's important to balance beauty with usability and function. Many people are integrating features such as two sinks so more than one person can prep food at a time, creating an open floor plan and making the space feel open and inviting," she says.
"The kitchen is the hub of the home, so it's important to create a layout where you can simultaneously prep and entertain," says Cindy Aman, a design coordinator at Harth Builders in Spring House, Pa.
Aman also says that many kitchen designs are driven by modern conveniences, as well.
"Many homeowners are looking for a low-maintenance, sophisticated space, with a focus on appliances and amenities that make life more convenient, like touchless faucets, pot fillers that reduce the need to carry pots of water from the sink to the stove, built-in coffee makers or coffee stations, wet bars, wine and beverage stations, roll-out drawers and plenty of storage space," she says.
"Getting the appliances off of the countertop and out of the line of view helps create a clean, uncluttered look," Roney says. "The microwave no longer has to do double-duty as a stovetop vent and can now be placed under the counter in a specially designed drawer. Appliances can also be worked into a tall wall station that can house a wall oven, refrigerator, pantry, coffee station or wine cooler, and create a more open, spacious feel in the kitchen."
The countertops themselves have become sleeker and more stylish, as well. While granite and marble remain the top choice of many homeowners, both quartz and quartzite are working their way into luxury designs.
"We're seeing a lot of requests for quartzite as opposed to granite," says Nicole Hochberg, sales manager at Imperial Marble & Granite, Inc., in Essington, Pa. "Quartzite looks like marble, but requires a lot less maintenance," she explains. "The white or light colors provide a natural stone look that's just as durable and strong as marble or granite, and it's a lot more practical."
Quartzite, formed from sandstone and quartz together under a great deal of heat and pressure, is naturally strong, resists heat and is resistant to stains. Colors range from white and light gray to deep browns and even sapphire blue. Quartz, a man-made material that is non-porous and doesn't require any sealing, is another popular, low-maintenance option for countertops.
With larger cooktops and restaurant-style ranges, draft hoods have also become more functional and fashionable. Custom draft hoods can create a focal point in the kitchen with artistic designs and decorative edging that brings a sense of individuality to an upscale kitchen design.
"We're seeing requests for custom draft hood inserts in addition to the traditional stainless steel inserts," says Nicole Henninger, a sales rep at H&H Designer Appliance Center in East Windsor, N.J. "Custom inserts can be designed using a wide range of metal options in a variety of colors, trims and finishes, whether they're mounted to the wall or over an island." The hood itself can also become a focal point of the kitchen and help the homeowner make a unique statement.
Lighting is another way to make a dramatic statement in a luxury kitchen.
"Lots of lighting can make the room feel warm and inviting," says Todd Wenger, owner of Wenger Contracting, Inc., in Chester Heights, Pa. "Lighting has also become more economically efficient, especially when using LED light strips under cabinetry, as opposed to older style fluorescent lights."
Davis of Ferguson Bath, Kitchen & Lighting adds, "We see a lot of pendant lighting over islands or a peninsula, or islands with two or three small chandeliers hanging down. Recessed lighting using LED lights also helps to illuminate and accent certain areas of the kitchen."
In addition, says Society Hill Kitchens' Kasper, "you can adjust the colors and light intensity of LED lighting to create an incredible effect. Lighting can also be used to project images or patterns onto a glass backsplash to create a unique focal point."
But Aman of Harth Builders stresses that function should come first. "No matter how stylish and sophisticated your kitchen is, form should always follow function. The design of a kitchen is all about flow and how it works for your family. Do you love to cook? Are you using the kitchen mainly for entertaining or as a family gathering space? Do you have kids who will be going in and out of the room? We work to personalize each project and put the homeowner's sense of style into the room to create a practical, functional space for everyone who will be using it."
RESOURCES
Diamond Kitchen and Bath
Huntingdon Valley, Pa.
(215) 752-4400
DiamondKB.com
Ferguson Bath, Kitchen & Lighting Gallery
Cherry Hill, N.J.
(856) 489-5620
Ferguson.com
General Plumbing Supply
Edison, N.J.
(973) 992-7800
GeneralPlumbingSupply.net
H&H Designer Appliance Center
East Windsor, N.J.
(609) 426-1111
HHAppliance.com
Harth Builders
Spring House, Pa.
(215) 654-0364
HarthBuilders.com
Imperial Marble & Granite, Inc.
Essington, Pa.
(610) 521-0130
IMGStone.net
Kieffer's Appliances
Lansdale, Pa.
(215) 699-3522
Kieffers.com
Society Hill Kitchens & Custom Interiors
Philadelphia, Pa.
(215) 238-9414
SocietyHillKitchens.com
Wenger Contracting, Inc.
Chester Heights, Pa.
(610) 496-3048
WengerRemodeling.com
Published (and copyrighted) in House & Home, Volume 15, Issue 2 (August, 2014).
For more info on House & Home magazine, click here.
To subscribe to House & Home magazine, click here.
To advertise in House & Home magazine, call 610-272-3120.
Article continues below
---
advertisement


---
Author:
Mindy Toran
Archives
---
Family Fun
Live from the White House
Collingswood
Stepping Up to the Plate
Local Story
Lingering Questions
Still Fresh
Under the South Jersey Sun
Riverside Retreat
Against All Odds
Like a Girl
Going Her Own Way
Fall In
Aiming to Please
Walk of Fame: Natalie Hope Sommermann
More...