Spectacular Surfaces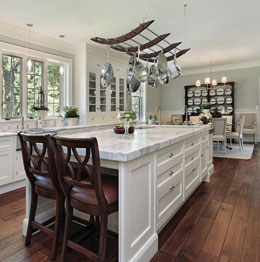 …From the pages of House & Home…
The latest kitchen countertop trends
Kitchen countertops go a long way toward setting the tone and style of your kitchen. Selecting the best material for your space may feel like an overwhelming decision, but with some research and planning, the process can be simplified.
A variety of options
While granite once seemed like the only go-to material for countertops, several other options—like slate, marble and soapstone—are emerging as worthy contenders.
However, many homeowners do still prefer the look of a natural stone. Mevlut Beyan, owner of Istanbul Granite, LLC, in Warminster, Pa., says that this year they mostly installed natural stones in kitchens than manmade products.
"The beauty of natural stone can enhance any kitchen environment," Beyan says. "Slate, granite, marble and soapstone all have specific properties that may be more suitable for certain kitchen applications. Some stones require more upkeep than others, but natural stones can enhance the beauty of the environment, giving the kitchen a refined appearance."
Soapstone has the potential to be an up-and-comer and may be seen in more kitchens, he notes."Soapstone is a smooth, matte natural stone that comes in a hue ranging from soft gray to charcoal," Beyan says. "It is one of the only natural surfaces that is not affected by acids, so spilled coffee or orange juice won't leave a stain. Soapstone is also heat-resistant."
Maintenance on soapstone is also simple. No special cleaners are needed to keep it clean. However, mineral oils can be used to enhance the stone's natural beauty, Beyan says.
Marble is another natural stone choice, but one that is not ideal for kitchens. This more porous stone is easier to stain and chip and is probably better suited for bathroom sinks or fireplaces, suggests Michael Watkins, owner of Rock Hard Granite in Newark, Del. While a beautiful option, it lacks the durability that is likely desired in a countertop material, he explains.
Quartzite, on the other hand, has that strength says Evan Karapanagiotides, design/business development at Cosmos Marble & Granite in Huntingdon Valley, Pa. Its durability and beauty make it a nice choice for kitchens, but it can be expensive, he notes.
In terms of manufactured options, Watkins says that quartz has seen an uptick this past year and will likely continue to climb in popularity going forward. This stone is durable, stylish, and low-maintenance. It also comes in a wide variety of colors. Downsides include the cost and the fact that it can be less heat tolerant than other materials.
Going with granite
Of course for many, granite is still a top choice. Linda Doughty, vice president of sales and marketing for Suburban Marble & Granite in Ivyland, Pa., believes granite will always be the best countertop choice. "It is one of the hardest rocks out there and very durable," she says. "There are many options for colors and finishes in granite and it can be used both indoors and outdoors without any limitations."
Granite is also the most budget-conscious choice, others say.
"Where budget is concerned, granite is still the best value for the dollar," adds Rich Creter, president of Flemington Granite and Architectural Supply, LLC in Flemington, N.J. "Even though some man-made products have evolved to closely duplicate the look of granite and marble, there is still an undeniable appeal in owning natural stone over something manufactured."
In terms of color, many homeowners seem to be opting for ultra-light or ultra-dark. There's not a lot of in-between. "Your old standbys like the tans are really moving by the wayside," says Watkins. "Most are either going for black or white. The black granite is a classic look that will never go out of style, so many are still opting for that."
Creter says that it's light-colored or white that he's seen as the biggest trend. "Some importers are even having trouble keeping enough in stock," he says.
Lighter colored stones help open up the room and make it look brighter, Karapanagiotides adds. "But white granites are hard to find so if homeowners are looking to go with a lighter colored stone they're probably going to opt for quartzite."
Making a choice
As you aim to decide what is best for your home, think about the big picture. "When selecting your countertop, it's best to be inspired by the space it's in," says Aslinur Karaturk, designer with Kol Marble & Granite in Cherry Hill, N.J.
"Granite definitely increases the beauty of the space and can help pull all the elements of the design together. And the durability of granite will last as long as your home so it is a good idea to use the home's style as your inspiration."
"Know your style as you select your countertops," says Karapanagiotides. "Do you prefer a modern look? Are you more classic? Or are you actually pretty country? Every stone does have a certain feel. While I believe every stone is beautiful, I don't believe every stone will suit every taste. Know the style of your room and what will fit in it. But ultimately, do what makes you happy and make your selection based on what you will enjoy seeing in your space."
Besides style and taste, it does also help to pay attention to the logistics of the room. Karapanagiotides says that you should consider the size of the room as you think about a countertop that will best suit it. A smaller room may look better with a lighter color stone that will brighten the space. A big room may already let in a lot of sunlight and look nice with a darker stone.
As you do make your selection for new countertops, remember that it will likely be a long-lasting investment. Take your time in researching the best materials for your kitchen and the right company for your needs. In the end, whatever you choose should help make your kitchen dazzle.
RESOURCES
Colonial Marble & Granite
King of Prussia, Pa.
(866) 307-6200
ColonialMarble.net
Cosmos Marble & Granite
Huntingdon Valley, Pa.
(215) 947-2820
CosmosMG.com
Flemington Granite & Architectural Supply
Flemington, N.J.
(908) 782-7773
FlemingtonGranite.com
Istanbul Granite, LLC
Warminster, Pa.
(215) 444-9773
IstGranite.com
Kol Marble & Granite
Cherry Hill, N.J.
(856) 857-1430
KOLGranite.com
Rock Hard Granite
Newark, Del.
(302) 737-9300
RockHardGranite.net
Suburban Marble & Granite
Ivyland, Pa.
(800) 979-9711
SuburbanMarble.com
Published (and copyrighted) in House & Home, Volume 15, Issue 7 (January, 2015).
For more info on House & Home magazine, click here.
To subscribe to House & Home magazine, click here.
To advertise in House & Home magazine, call 610-272-3120.
Article continues below
---
advertisement


---
Author:
Editorial Staff--House & Home magazine
Archives
---
A TALE OF THREE WEDDINGS
Timber Creek's Leary heads to Illinois
One of Us
The Weekender
Hometown Flavor
Hoop Dreams
Symon Says
Food & Drink: Raise a Glass
Off the Ice
Rewarding Work
Dig This
The Berlin Cemetery
A Southern Mansion
Fire on the Morro Castle
Pine Barrens Fire of 1936
More...