Pool Party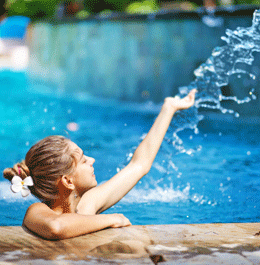 …From the pages of House & Home…
How to transform your aging pool into an inviting backyard haven.
Sure, you've got a pool, but it's not very inviting. The liner is ripped; the underwater lights don't work; and the slide from a few years ago is too small for the kids. How can you bring life back to your pool through minor repairs, a few upgrades, or even a major remodel? Experts give us their best tips to breathe new life into your pool that won't put you under water.
Popular fixes
Jason Werner, owner of EverClear Pools & Spas, LLC suggests a few small fixes that can transform the space. "There are a few smaller repairs that can be done that won't break the bank. These include replacing a liner in a vinyl pool, acid washing a gunite pool to expose fresh plaster and remove stains, and even some landscaping work," he says. "Many people don't consider how fresh plantings and redoing the planting beds can make a whole back yard look new."
Theodora Sergiou, VP of Nicholas Pools, Inc., says adding a new feature, like a waterfall or lighting, can help take your pool to the next level.
"Swimming pools can be updated with a few quick fixes. Simply adding features like a waterfall, firepot or switching out hand rails with new modern designed ones can enhance the look of your pool," Sergiou says. "Colored lights can also be retrofitted to add a little more ambiance to the pool. Switching out equipment to energy-efficient equipment can help lower the cost of running the pool." Other popular features in today's pools are benches, sundecks, a unique shape or size, as well as complementary features.
Eric Johnson of Swim-Mor Pools notes that new tile can be a transformative renovation.
"Most pool renovations include replacing coping, tile and plaster, giving a tired pool a brand new look," he says. "There are many more materials available today including natural travertine stone, glass tile and quartz and pebble finishes."
Adding major features to the pool is another option, Johnson says. "We design and install sun shelves, raised walls with water features, and gunite spas to existing pools, which are some of the most popular features we see in backyard pools today," he says.
Paul Miller, a partner and head of the service department at Clark's Pools, names some small changes that homeowners can do to revive an aging pool, such as replacing the filtration system with new energy-efficient equipment, replacing pool testing equipment, cleaning vinyl liners and plastic steps with Mr. Clean Magic Erasers, and acid-washing your plaster pool surface. Larger upgrades include removing and replacing the liner of an in-ground pool, removing and replacing the pool's concrete deck with bricks or stone pavers, even adding a spa.
Sean Meyers, co-owner of DS Pool Service, says that one popular upgrade is one that is not always so obvious.
"While not exactly visible, the pool's equipment can be upgraded as well to provide a much more efficient operating system that can actually save the consumer money in the long run," he says. "With everyone going green these days, converting to a variable speed pump is the easiest way to save significant money. Almost all of the local energy companies are providing rebates when replacing an existing pump with a variable speed pump that can almost completely offset the cost of upgrading to a new pump."
What's hot
As far as new trends in the area of pool renovation go, transitioning a pool into a salt water system is the top choice, Werner says.
"One of the most popular trends we are seeing in pools today is salt water chlorination. People are moving away from the old tablet feeder systems and replacing them with a newer system that creates chlorine by adding salt into the water. These systems generally use around 3,000 ppm (parts per million) of salt," he explains, noting that the ocean is about 35,000 ppm, so these pools are significantly less salty. "It is not an overpowering amount of salt that will make you gag if you get water into your mouth, like in the ocean. It also gives the water a softer feeling. An added benefit is a reduced chemical bill over the course of a season. The salt stays in the water. Once chlorine is created the salt doesn't get used up. The only way the salt leaves the water is through dilution, [such as] rain, or adding water when the level drops."
Colored lighting is another big trend, Meyers says. "LED pool lights can really change the way a pool looks at night," he says. "There are also water features that can be coordinated with the pool lights to provide the same lighting. There are also landscape lights that can integrate as well."
And popular features vary, depending on who is using the pool—adults or children. "Attached hot tubs to the pool are very popular [for adults]. Also, automation of the pool equipment that can be controlled from smart phones is very popular, as well," Meyers says. "[For kids, it's all about] toys galore. You name it, people have it, from basketball games to underwater darts. If it's out there, people want it for their kids."
Never too early
When it comes to the timing of making pool renovations, it's never too early to start.
"It is never too early to begin planning for a pool," Sergiou says. "Building permits now take an average of anywhere from two weeks to two months to obtain, so starting early is recommended to start a project and get on a schedule. Weather conditions also play a factor in the construction process and can delay completion, so if you are thinking about renovating or purchasing a pool, the sooner you begin the process the better."
Miller agrees. "It is never too early to start thinking about pool repairs," he says. "Many customers book in the fall and winter so that work can start as soon as possible in the early spring so they maximize their swim time."
When it comes down to it, many homeowners just want their backyard pool to serve as a retreat, a getaway right in their own backyard.
"Many pool customers are looking to create a private retreat with their backyard pool," Johnson says. "There are many new pieces of equipment that reduce time spent on maintenance, several new materials to enhance the appearance of older looking pools and major structural design ideas to completely transform your existing pool into a backyard oasis that you might see at a resort."
Resources
Clark's Pools
New Castle, Del.
(302) 834-0200
ClarksPools.com
DS Pool Service
Royersford, Pa.
(610) 948-2000
DSPoolService.com
EverClear Pools & Spas, LLC
Clifton, N.J.
(973) 879-5489
EverclearPoolsNJ.com
Nicholas Pools
Toms River, N.J.
(732) 505-0404
NicholasPools.com
Swim-Mor Pools
Mount Ephraim, N.J.
(856) 456-3332
SwimMor.com
Published (and copyrighted) in House & Home, Volume 15, Issue 9 (March, 2015).
For more info on House & Home magazine, click here.
To subscribe to House & Home magazine, click here.
To advertise in House & Home magazine, call 610-272-3120.
Article continues below
---
advertisement


---
Author:
Editorial Staff--House & Home Magazine
Archives
---
A TALE OF THREE WEDDINGS
Timber Creek's Leary heads to Illinois
One of Us
Truer Words Have Been Spoken
A Thriving County
Executive Q&A
A Man of Many Faces
Super Women
Vocal Leader
Seeking Acceptance
The Business of Health Care
Mommy's Gone Viral
Singles: December 13
2017 Men of the Year
The Weekender
More...