Camryn Manheim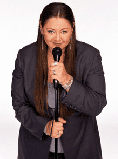 Camryn Manheim`s 40th birthday present to herself arrived two days early, on March 6, after 15 hours of relatively easy labor and 30 minutes of hard pushing at the Santa Monica-UCLA Medical Center. Milo Jacob, her healthy and happy son, weighed in at 9 pounds, 2 ounces and made his presence known with an ear-splitting scream shortly before he was placed on his crying mother`s chest.
"I was ecstatic because my whole family was there for the birth," she says a week later while feeding one more mouth, already conducting business again promoting a two-hour telefilm titled "Kiss My Act!" - which she co-executive produced and is starring in.
"It was beautiful - I never felt closer to my family ... it really brings everyone together," she continues softly. Besides her father, Jerome, mother, Sylvia, and sister, Lisa, Manheim`s "close friend," 39-year-old former Aramis Man cologne model Jeffrey Breznovar, was present at the birth. He pronounced the big baby boy a "spectacular" child, but declined to confirm or deny that he is the father.
"I am a public figure and I`m happy to talk about myself because I`m very open," says Manheim, known worldwide as compassionate attorney Ellenor Frutt on "The Practice." "If you`ve read my book ("Wake Up, I`m Fat!"), I could run for public office. It`s all there. But there are other people in my son`s life who don`t want ... (public) lives.
"I respect that, so I`ve chosen to be very confidential about it. Let`s just say that I chose to be a single mom and can say that I had my first child in my 30s," she continues, laughing. "I hope this is the first of several children. Who knows? I`m not planning on getting married soon, but I`ll say yes when offered by the right person. Meanwhile, I don`t consider being a single mom a liability."
The prospect of remaining a single mother doesn`t worry her either.
"Let`s be frank - most women are single moms even when they`re married," says Manheim pleasantly. "Maybe men are more participatory today, but my mom practically raised me alone while my father brought home the paycheck. When the time came for me to make a choice, I didn`t have to weigh it very heavily.
"I`ve always wanted children, I was just waiting for to right financial, spiritual and emotional situation to be able to handle it," she continues. "I`m working on a three-year `Practice` contract, so it`s a perfect time for me financially to have a child. It happens to be one of the best shows on television, I love my job and it`s a very baby-friendly place where I can bring the kid to work. I`ve only been doing this for a few weeks, but there is nothing more magical than being a mom."
If nothing else, the past year has been a wild ride where art imitated life and vice versa, according to the expansive actress. It started when David E. Kelley - the creator, writer, executive producer of "The Practice" - chose to write the real-life pregnancies of Manheim and Kelli Williams (Lindsay Dole) into their characters rather than hide them behind potted plants, refrigerators and school buses. After a very difficult and dangerous pregnancy, Ellenor Frutt gave birth to a baby girl, Zoe, March 18. In reality, Williams gave birth to a girl, Sarame Jane, Feb. 3.
In "The Practice," Lindsay delivered a male heir, Bobby Jr., on Feb. 18. "We cut it close on our show," laughs Manheim, who was back on the series` set two weeks after Milo Jacob`s arrival - though with a considerably reduced workload. The producers may have felt guilty for having worked Manheim very hard during the bulk of her pregnancy. "We have 22 episodes to do before the potential writers` and actors` strikes begin, and I think they put me in every scene this season until I went to the hospital," she laughs. "Not only that, they had me in cross-over episodes with (David Kelley`s) `Gideon`s Crossing` and `Boston Public` series. Well, I worked very hard and now I have Milo`s college fund. Of course, it may not be enough money for college 20 years from now."
To keep family, friends and staff safe, fairly happy and well-fed at her cozy five-bedroom home in Los Angeles, the 1999 Emmy Award-winner also earned a respectable sum last summer as the star and producer of the two-hour TV movie "Kiss My Act!" Billed as a contemporary "Cyrano de Bergerac," it is the sordid tale of Jennie (Alexondra Lee), a beautiful blonde with no talent for comedy who is fed funny lines for private and public consumption by Samantha Berger (Manheim), an overweight bartender/comedy writer who shares the bleached one`s taste in men.
Directed by Duane Clark from a script by Kevin Hench (who also co-wrote "Wake Up, I`m Fat!"), several biographical references has been built into the "Sam" Berger character. "She`s close to what Camryn Manheim was like 10 to 15 years ago," she muses. "I was a bartender in Broadway theaters for years, ride a motorcycle and know sign language. And we share many other traits. "For example, it`s kind of ironic - being a big girl - that I tried to make myself invisible at times so that people wouldn`t notice me," she explains haltingly. "When people noticed me, it was often a painful experience because they had some many judgments to pass on me. So, like Samantha, I often wore flashy, low-cut clothes and lots of jewelry to divert attention, trying to look very bold and self-assured. Inside, I was none of those things."
Since wrapping production on "Kiss My Act!" Manheim sold a feature film project to produce and star in called "The Pinch" (also by Kevin Hench) to Pandemonium, a new studio headed by Bill Mechanic. "I`m a multi-tasker who has to keep moving in order to breathe," she says, only half-seriously. "But when `The Practice` goes on hiatus (in May), I`m taking the summer off to hang out with my little guy. On the next break, I plan to do the movie."
Manheim, the youngest of three, was born in Caldwell, N.J., but reared in Long Beach, Calif., Ann Arbor, Mich., and Peoria, Ill., as her educator parents - both Ph.D.s - moved on to bigger and better teaching posts. She earned a master`s degree in fine arts from New York University, but didn`t make a dime from acting until 1995 with her one-woman Broadway show.
"My life has changed dramatically since Milo came along," she giggles. "I don`t go even to SAG or Academy Award shows anymore. Standing on a red carpet just isn`t exciting after you`ve seen the color of your son`s poop."
(c) Copley News Service
Article continues below
---
advertisement


---
Author:
Eirik Knutzen
Archives
---
Elisa Donovan
Heather Paige Kent
Greg Kinnear
Julian McMahon
Emily Procter
Robert Guillaume
Steve Irwin
Jerry Stiller
Chazz Palminteri
Richard Belzer
Alexondra Lee
Dan Futterman
Serena Scott Thomas
Dean Haglund
Ed O`Neill
More Articles