Dean Haglund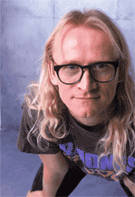 Playing computer-hacking conspiracy geek Langly on "The X-Files" spin-off "Lone Gunmen" guarantees that Dean Haglund is constantly in touch with apparent illegal aliens from distant galaxies and other highly unusual fans right here on planet Earth via his www.deanx.com Web site.
"I get some strange e-mail for sure," says Haglund, 33, who looks the part of a genuine geek with long, shaggy blond hair and really ugly frames for his prop eyeglasses. "The conspiracy theorists are always unusual, including the guy who thinks there is an entire city with back-up military runways for jet fighters under the 5 acres his house sits on. This person hears the rumbling of an underground city.
"The man doesn`t watch `The Lone Gunmen` that much, so I guess he is just trying to rally support for his underground military base - good for him," Haglund continues, dry as dust. "I also post some of the funny e-mails, including the one about taking Pink Floyd`s `Dark Side of the Moon` and substitute it for the soundtrack of `The Wizard of Oz` as soon as you hear Leo the lion roar on the MGM logo. Lots of teen-age kids tell me it syncs perfectly and is totally cool."
Haglund hasn`t tried the "Oz" bit yet ("It sounds like it was discovered by somebody on acid"), but expects to get around to it in the near future as he is a low-grade computer geek in real life.
"I know how the Internet works and get around pretty well, but I`m not a hacker," he says. "I used to answer my own e-mail, but the volume has become overwhelming since `Gunmen` hit the air. Now, after a 12- or 15-hour day on the set, all I have the energy for is to check the news, look at my stocks and look at the ratings of my friends` TV shows."
"Gunmen" was a blessed accident that climbed out of "The X-Files`" primordial ooze during its first season in 1993, according to Haglund.
"The writers came up with the weirded-out `Mission: Impossible` team for one `X-Files` episode, but had a hell of a time casting it. I showed up on the Vancouver set with about 45 other quirky-looking character actors, mostly friends of mine, and got the part along with Bruce Harwood (Byers) and Tom Braidwood (Frohike)."
Creators/executive producers Chris Carter and Frank Spotnitz only envisioned the demented trio as a small group of bodies working one day on one scene, then disbanding forever.
"I had never seen `The X-Files` and had no idea what the hell it was all about," Haglund recalls. "But we said our lines and got out of there, happy it was all done before lunch so we could have the rest of the day off."
Much to his surprise, Haglund was called back - along with Harwood and Braidwood - the following season for three more episodes. They have done at least a half-dozen shows per year ever since, and the "X" producers started developing "Gunmen" two years ago as a response to heavy viewer interest.
"It`s pretty bizarre," he says, laughing, "but here we are, eight years later, with our own show, starring in 13 episodes."
And he finally has a handle on his straw-haired ("I never got around to cutting my hair and that`s the way I showed up for the first audition") character.
"If you want to be Freudian about it, Byers is the superego, Frohike is the ego and Langly is the id," Haglund explains. "He is the emotional, irrational and somewhat impulsive guy fighting against `The Man` as a computer hacker. I like to think he is the fighting spirit behind the team."
The pride of tiny Oakbank, Manitoba, which is separated "by many wheat fields" from Winnipeg, is the youngest of four children born to an iron-willed homemaker and a hard-working mechanic for Canadian National Railways. Both parents are officially retired, but his father still works for various foreign aid organizations as as a senior quality control consultant on distressed railroad systems that take them from Bosnia to Bangladesh for years at a time.
"I still have fond, fond memories of summer train trips across Canada and the U.S. when I was a kid," he says. "We met a lot of people - and it was a cheap way for us to travel."
Passing up a certain amount of job security, Haglund decided to become a professional class clown during his very first semester in school. He began private acting studies at the age of 12 and, two years later, made his professional debut as Uncle Sam ("They decided my long blond hair looked gray and gave me a beard") in a "badly done multi-cultural event" at an obscure Winnipeg theater. It was enough to whet his appetite for more punishment.
Majoring in theater and minoring in modern dance, he earned a bachelor`s degree in fine arts and performing arts in 1991 from Vancouver`s Simon Fraser University.
"I was in a couple of dance shows - it was standing room only," he says, delivering a bald-faced lie. "They were real esoteric productions involving running around in rubber boots and so on. The audience was composed mostly of fellow performers who also ran around in rubber boots doing similar shows."
Haglund started his long, slow climb toward financial solvency with guest shots on U.S. shows produced in Canada, including "The Commish," "Sliders," "MacGuyver," "Honey, I Shrunk the Kids" and "Lonesome Dove: The Outlaw Years." Since dividing his time between Southern California and British Columbia ("We are what you call `West Coast International`"), the laid-back actor added such Hollywood-based shows to his resume as "V.I.P." and "Instant Comedy With The Groundlings."
Between straight acting gigs, Haglund adds to his retirement fund by voicing cartoon characters in the TV series "Robocop" and "The Big Guy" - and he provided his vocal chords to Sid in the animated feature film "Tom Sawyer." But he is most animated while doing his stand-up comedy act at clubs and college venues all over North America when "The X-Files" and "The Lone Gunmen" go on hiatus. Hence, "home" is where his laundry is.
Married for eight years to a woman "who likes her name out of the press" and runs his two TV production companies (that shall remain secrets), there are no children involved yet and thus plenty of time for play.
"We love the outdoors and I`m into mountain biking and kayaking," says the fitness freak. "For rest and relaxation, I`m also a cartoonist, published quite a few times in The X-Files magazine. I have samples on my Web site. Want to buy a cartoon?"
(c) Copley News Service
Article continues below
---
advertisement


---
Author:
Eirik Knutzen
Archives
---
Elisa Donovan
Heather Paige Kent
Greg Kinnear
Julian McMahon
Emily Procter
Robert Guillaume
Steve Irwin
Jerry Stiller
Chazz Palminteri
Richard Belzer
Alexondra Lee
Dan Futterman
Serena Scott Thomas
Camryn Manheim
Ed O`Neill
More Articles