Home & Garden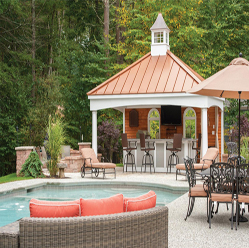 ...From the pages of House and Home Magazine...
KEEP THE PARTY GOING
Summer is prime time to entertain
With the sun shining brightly, there's nothing quite like enjoying time outside—except when it rains. But there's no reason unexpected showers have to put a damper on your outdoor party plans. With the help of partial roofs, awnings, sail shades, pavilions and more, you can find respite from the rain or even have a great place to cool off in the shade. 
Full coverage
Vinny Ignatowicz, senior deck advisor and designer for Carl's Fencing, Decking & Home Improvement, says that the whole idea of "staycations"—or vacationing at home—continues to drive the popularity of outdoor living areas. And as homeowners spend more time outside, they want structures like pergolas and pavilions that will allow them to get the most out of that space. 
Ignatowicz says they design and build custom structures that suit the homeowner's needs. Pavilions can be built either attached to the home or as an entirely separate structure. They typically include a custom bar and sometimes even a complete outdoor kitchen. Pavilions take that sense of outdoor living and up the ante with what feels like an actual outdoor room.
Sean McAleer, owner of Deck Remodelers, says that covered structures can keep the space totally dry and allow you to enjoy it even during inclement weather. Add-ons like ceiling fans and lighting really help complete the feeling of an outdoor room.
Deck Remodelers installs Equinox Motorized Pergolas, which really give the best of both worlds. They can be opened on sunny days so that you don't lose sunlight as you would with a fully covered structure. But they can provide protection from the elements when you need it.
"It really extends your season," McAleer adds. "You could be spending nine months out of the year outdoors by adding this structure."
Ashley White of Pleasant Run Structures —which does everything from sheds and structures to kids' play systems—says that they've also been doing a lot of pool houses. These can really run the gamut. They can be as simple as a small covered bar area or as complex as a space that includes a bathroom and changing area and maybe even an outdoor kitchen.
"Pool houses that mimic guest houses are very popular," White says. "They can provide all the comforts of your home in your backyard."
Dan Stoltzfus, owner of Country Tyme Sheds, agrees. He says that pool houses that include a changing room and other amenities really enhance your enjoyment of time spent outside. You don't need to go in and out of the house to get things when you have everything available in the yard.
"Plus, adding a structure to your pool area can double as storage space," Stoltzfus says. "At the end of the season you can pack away your pool equipment and accessories."
Made for the shade
Article continues below
---
advertisement


---
Shade is one of the big benefits of covering part of your outdoor living area. Though the sun is great when you have a pool to cool off in, it's not as pleasant when you're trying to enjoy an outdoor meal. Pavilions and pergolas certainly add shade to an area but they aren't the only options.
Stationary canopies, made to cover a patio or deck, can also be an aesthetically appealing and highly functional option, says Russ DiBella of RJ Custom Awning Co. They can be custom made to fit any area desired and are completely useful in both sunny and rainy conditions, he says.
"They truly do expand a homeowner's living space, affording more opportunities to comfortably use their patios and decks throughout the summer," Di- Bella says.
Retractable canopies are another option. They offer the convenience of shade when it's wanted but can be opened up manually or by remote control. Retractable canopies are not designed for windy or rainy conditions but are great for shade.
Kester Fireplace installs KE Durasol Awnings to make time spent outdoors more enjoyable. Gerry Kester, owner of the company, says there are a variety of options that can suit homeowners' needs.
"We offer a fully enclosed awning that creates an outdoor room," says Kester. "With bug screens that can drop down, you can be fully protected allowing you to enjoy a meal outdoors with no pests."
DiBella adds they're getting a lot more requests for cus- tom coverings for pergolas.
"It seems that people are getting more creative and asking us to provide guidance on how to make the most of their outdoor spaces—and we're more than happy to assist," DiBella says.
If you've spent the money to invest in a beautiful outdoor living space, chances are you want to get the most out of it that you can. By putting some thought into adding a cover to your space, you can get a lot more enjoyment and use out of it.
RESOURCES
Carl's Fencing, Decking & Home Improvement Toms River, N.J. (732) 831-7108 ByCarls.com
Country Tyme Sheds Colmar, Pa. (267) 834-0211 CountryTymeSheds.com
Deck Remodelers Sparta, N.J. (973) 729-2125 DeckRemodelers.com
Kester Fireplace Willow Grove, Pa. (215) 657-6660 Cape May, N.J. | (856) 816-3418 KesterFireplace.com
Pleasant Run Structures Neshanic Station, N.J. (908) 237-1325 PleasantRunStructures.com
RJ Custom Awning Co., LLC Sicklerville, N.J. (888) 675-2760 RJAwning.com
Stoltzfus Structures Atglen, Pa. (610) 595-4726 MySheds.com
Published (and copyrighted) in House & Home, Volume 17, Issue 13 (July, 2017).
For more info on House & Home magazine, click here.
To subscribe to House & Home magazine, click here.
To advertise in House & Home magazine, call 610-272-3120.
Author:
Lindsey Getz
Archives
---
More Articles