John Barr Still Enjoying Professional Baseball 3.5 Decades Into The Game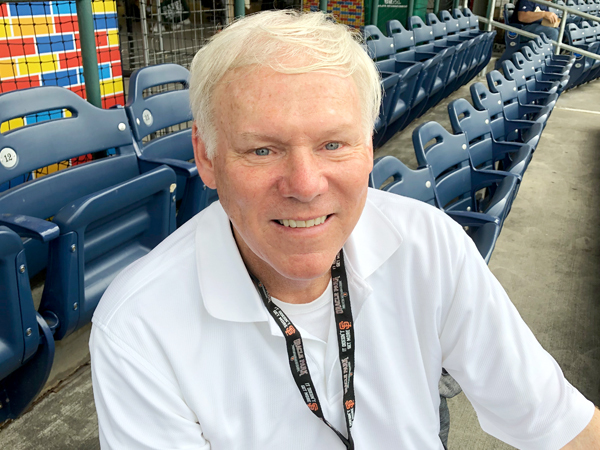 Barr has enjoyed a long-time love affair with the game of baseball, starting from Little League, through high school at Audubon and college at Rider.

Barr has enjoyed a long-time love affair with the game of baseball, starting from Little League, through high school at Audubon and college at Rider.

He is currently a senior adviser for the San Francisco Giants, a team he had a major role in helping them with three World Series titles.

Barr came to the Giants in 2007 and oversaw the drafts for more than a decade. It was a Giants team that became a dynasty, winning three World Series titles in 2010, 2012 and 2014.
"In 2014 probably one of my most enjoyable moments was looking on the field when we made the last out and there were seven home grown players," he said. "To know the whole scouting staff had a part of it was a great feeling."
After graduating from Rider in 1979, Barr served as an assistant baseball coach, first at Mercer County College and then Fairfield.
He began his professional baseball career as administrative assistant for minor leagues and scouting for the New York Mets in 1984. Two years later, the Mets would win the World Series, earning Barr the first of his four World Series rings.
He then became scouting director for the Baltimore Orioles in 1989 and 1990. In 1990 he was responsible for selecting future Hall of Famer Mike Mussina in the first round. He was assistant scouting director for the San Diego Padres (1991-93), scouting director for the Mets (1994-97) and East Coast Supervisor for the Los Angeles Dodgers before joining the Giants.
His best draft choice with the Giants was catcher Buster Posey, selected No. 5 overall out of Florida State in 2008. Posey, was a leader on all three World Series champions and is a six-time all-star.
Barr credits his South Jersey roots for developing his passion for the sport.
"From the time I was in Little League in Audubon through playing for Ralph Shaw in Audubon, playing for Joe Barth (Sr.) and Hank Greenberg, three men who really taught me how to love and appreciate the game," he said.
Shaw coached Barr in the years after Little League and before high school. Greenberg was the legendary Audubon coach and Barth Sr., was the manager of Brooklawn's American Legion powerhouse teams.
He also credits his Rider coach Sonny Pitaro for his baseball development.
Of course with 35 years in baseball, there has been a price to pay for his success.
"It is my 35th year in professional baseball," he said. "All those years over 200 nights a year I was away and that was hard on everybody, including myself. I am in the game because I love the game, but my wife and four children are in the game because they love me."
As senior advisor, Barr remains heavily into his specialty - evaluating talent He was especially busy before the June draft, evaluating players.
He was inducted into the Mid-Atlantic Scouts Hall of Fame in 2008 and the Professional Scouting Hall of Fame and South Jersey Baseball Hall of Fame in 2009.
The work has been difficult, but it has never seemed like a job to Barr.
"I have been blessed," he said. "To be able to make a living in a sport that I love so much, I feel so fortunate."

Article continues below

---
advertisement


---
© SouthJersey.com 2019. All rights reserved. This article or parts thereof may not be reprinted or reproduced by any other party without the express written consent of SouthJersey.com. For more information, please call 856-797-9910.


For more Local Sports features, visit our
South Jersey Sports
page.
Author:
Marc Narducci; Photo by Marc Narducci
Archives
---
Who's Who in Health Care
Crowd Pleaser
Can the Eagles Regain Their Winning Way?
A Bight Future Ahead for Glassboro Football
The Big Impact of Small Businesses
Eagles Need to Reset
Feeling Festive
Another dominating season for Delsea football
Mainland's Historic Football Season
A Rooting Interest
Eagles Continue to Fly High
Raising the Bar
Thanksgiving Football Continues
Hotstovers to honor All-SJ Baseball and new HOF inductees
South Jersey Football Games of the Week
More...