A Seed is Planted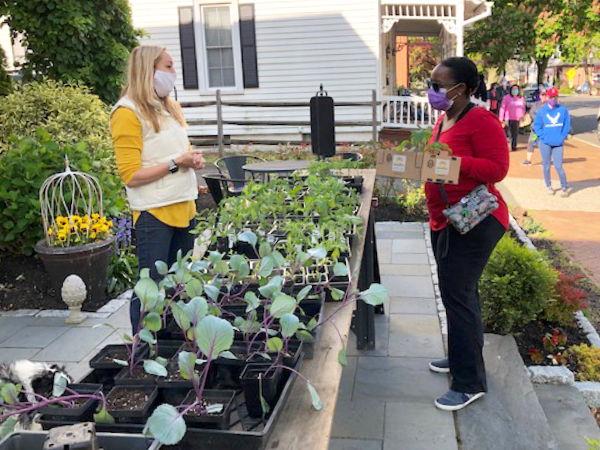 Moorestown's Toni Farmer is helping her community grow in more ways than one.
In spite of the coronavirus pandemic forcing everyone to social distance and stay home, one Moorestown gardener wanted to give her community something to bring them close together. Toni Farmer has been gardening for more than 25 years at her home as well as maintaining the gardens at UrbanPromise in Camden
. So she decided she would spread her knowledge and extra seedling packages to other Moorestown residents so they could grow their own vegetables.
"When you buy a seed packet, you get hundreds of seeds often for a couple of bucks and you don't get to determine how many are in the bag. So when we start planting, we get a ton of seedlings, thinking a bunch won't make it, but end up with too many. So I'll give the rest away," says Farmer. "I've been doing that for years, but this year, when the coronavirus lockdown happened right as I was starting on my garden, I could see the energy around the gardening section at the hardware stores start almost immediately. So I planted hundreds of seedlings and gave away all the extras on Mother's Day and it turned into such a big thing with over 100 people attending. And now I follow up with most of them. They all text me or call or contact me on Facebook and they're like, 'What do I do now?' Or sometimes they just want to brag, 'Look how great it's doing,' which is so fun."
Farmer grows just about every herb you can imagine as well as Jersey tomatoes, green beans, watermelons, squash, okra, raspberries, black tomatoes, asparagus and more. Of late, she has been offering free tutorials and how-to videos on her social media pages to encourage others to continue gardening.
"I love my community. I love to serve my community. I've been doing it in many capacities for years, and I thought this will be just a great opportunity," Farmer says. "Right now I post videos all over Facebook. Every day I post a different one on various topics like how to transplant your tomatoes or how to build a raised bed or what you should know if you want to raise chickens in your backyard."
Gardening not only allows people to discover a new hobby during the coronavirus lockdown but it also encourages a healthier lifestyle since they will have fresh produce that is so easily accessible.
"When you garden, you can pick what you need out of your backyard. It's also really relaxing. There are even studies out there that talk about how there are micro organisms in the soil that boost endorphins in human beings. So just getting your hands dirty can be good for your mental health," Farmer adds.

Article continues below

---
advertisement


---
© SouthJersey.com 2020. All rights reserved. This article or parts thereof may not be reprinted or reproduced by any other party without the express written consent of SouthJersey.com. For more information, please call 856-797-9910.


To receive special deals directly from SouthJersey.com,
subscribe here.
For more Health information
visit our South Jersey Health page.
Author:
Sydney Kerelo
Archives
---
Who's Who in Health Care
Former Shawnee star Doolittle Calls It A Career
Camden County College welcomes Baseball Hall of Fame
South Jersey Football Games of the Week
Out & About
QB Ronnie Borden is Back in the Game
Should fans be worried for the Phillies bullpen?
South Jersey Football Games of the Week
A look at South Jersey's Top H.S. Girls' Soccer Teams
Out & About
Eagles will be fine after close call in opener
High School Football Games of the Week
Is it Super Bowl or bust for the Eagles?
What's New in South Jersey?
From New Jersey to Nashville
More...