College Football Faces Hurdles in Return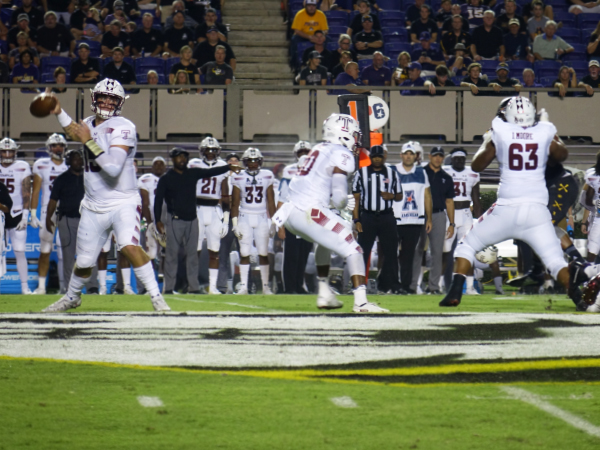 Like any sport in these times of COVID-19, college football faces extreme challenges in returning. Yet it appears as if we will see college football in the fall, even though there have been recent reports about positive COVID-19 tests.

The University of Alabama, one of the most dominant programs, has reportedly at least eight players test positive for the virus.

Alabama competes in the SEC, which has allowed the return to campus for voluntary practice since June 8.

BamaInsider first reported that Alabama had five players test positive before reporting for voluntary workouts. Then last week #3ManFront reported that three more Alabama football players tested positive. The report said the three players who tested positive were asymptomatic and it was part of the 2nd round of tests conducted on the players.

Oklahoma State, which competes in the Big 12, announced that of the 150 staff, administrato and football players, tested, three athletes had asymptomatic positives.
Article continues below
---
advertisement


---

Iowa State, also from the Big 12, confirmed that two of hits positive tests among athletes were football players.

The University of Houston, which competes in the American Athletic Conference, announced it has suspended all voluntary workouts for student-athletes,
after six symptomatic UH student-athletes tested positive for COVID-19

along with the increase in the number of positive tests in the greater Houston area over the last week.

It did not specify if any of the six athletes were football players.

This is noteworthy locally since Temple also competes in the AAC. Temple has still not been given the go-ahead for voluntary workouts.

Earlier AAC commissioner Mike Aresco said it's possible that there could be a season even if all 11 schools aren't cleared to play.

Also in the AAC, Central Florida announced that thee football players have tested positive.

According to Central Florida on its official Twitter account, the three individuals were tested as part of the return this month of 60 football student-athletes to campus for voluntary workouts.

Of all the college football sports, football appears more susceptible to COVID-19, due to the volume of players and the close quarters they occupy.

In many football programs there are more than 100 players, including walk-ons that participate. Plus, this is a sport where there is contact and players in close quarters, especially the linemen, on every play. It's not a sport that lends itself to social distancing.

There are several other programs that have announced that players have tested positive.

Nobody knows for sure whether this will be an ongoing situation, but it also shows the obstacles that college football faces.

The guess is that we will see some version of college football this fall. Whether every team will participate remains speculative, but for those who think we are past a major hurdle, these positive tests show that there is still a long way to go.


© SouthJersey.com 2020. All rights reserved. This article or parts thereof may not be reprinted or reproduced by any other party without the express written consent of SouthJersey.com. For more information, please call 856-797-9910.


To receive special deals directly from SouthJersey.com,
subscribe here.
For more Local Sports features,

visit our South Jersey Sports page.
Author:
Marc Narducci; Photograph by Marc Narducci
Archives
---
Who's Who in Health Care
Former Shawnee star Doolittle Calls It A Career
Camden County College welcomes Baseball Hall of Fame
South Jersey Football Games of the Week
Out & About
QB Ronnie Borden is Back in the Game
Should fans be worried for the Phillies bullpen?
South Jersey Football Games of the Week
A look at South Jersey's Top H.S. Girls' Soccer Teams
Out & About
Eagles will be fine after close call in opener
High School Football Games of the Week
Is it Super Bowl or bust for the Eagles?
What's New in South Jersey?
From New Jersey to Nashville
More...