Phillies Ready to Start Sprint of a Season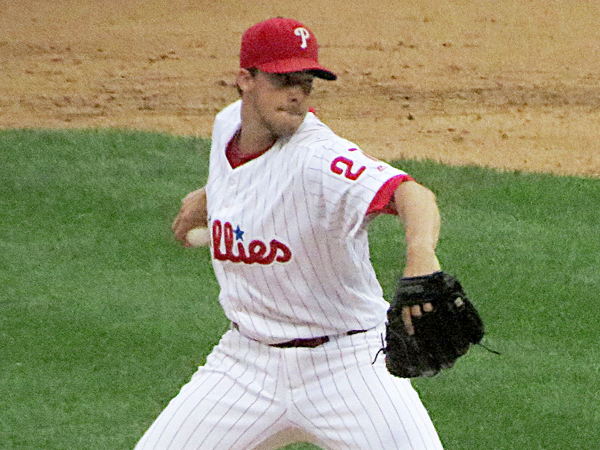 It's hard to believe, but the Phillies will make their 2020 debut on Friday when they host the Miami Marlins.
This baseball season will be a sprint instead of the usual 162-game marathon. Teams will play 60 games. The Phillies will play 40 games against the National League East and 20 against the American League East.
They Phillies will play 10 games each against their NL East rivals, the World Series champion Washington Nationals, New York Mets, Atlanta Braves and Miami Marlins. The 20 games with the A.L. East will break down this way, Toronto Blue Jays (6 games), New York Yankees (4), Boston Red Sox (4) Tampa Bay Rays (3) and Baltimore Orioles (3).
Teams in the NL and AL East arguably have the toughest schedules. For instance, The Phillies have only three games against Baltimore the worst team they will face.
Nobody knows how this season will play out but in the first of the Phillies three practice games, Aaron Nola pitched like the ace he is, with five scoreless innings in a 7-2 win over Washington.
Any chance of a playoff berth and the Phillies certainly have a good chance, will likely rest on Nola pitching to the level of 2018 when he finished third in the CY Young Award with a 17-6 record and 2.37 ERA. He had 224 strikeouts in 212 1/3 innings.
Last season Nola was solid (12-7, 3.87) but he didn't approach his 2018 level. At 27, he is entering the prime of his career.
The Phillies should be able to hit with a lineup that is led by Bryce Harper. A key will be having a comeback season from Rhys Hoskins who struggled mightily over the second half of last season and batted just .226 for the season.
Newcomer Didi Gregorius should not only provide solid defense at shortstop, but should be another productive offensive player.
In new manager Joe Girardi, the Phillies won't have to worry about the managerial gaffes that happed during the two-year tenure of Gabe Kapler.
There will be some new rules instituted for this season.
There will be a universal designated hitter. The American League adopted the DH in 1973 but the National League has resisted all these years. This was implemented to avoid overtaxing pitchers by having them hit. Quite frankly it should bring some extra offense to the National League.
Many have suggested that if the universal DH isn't adopted for next season, it could when the next MLB labor contract is negotiated. The current one runs out after the 2021 season.
The biggest controversial rule is that every half inning after the ninth inning will begin with a runner on second base. This is to avoid those 17-inning games that drain a pitching staff. According to MLB.com, here were 208 extra-inning games last season, 8.56 percent of all games.
There are other new rules, but these two will impact the game the most.
One thing about a 60-game schedule is that every contest will have greater meaning.
The Phillies and all teams will need to get off to a good start. There will be great urgency to the season. Most of all, it will bring something for sports fans to look forward to and with so few games, very few teams can be counted out.
Article continues below
---
advertisement


---

A two-week hot streak for any team could be the ticket to a postseason berth.

© SouthJersey.com 2020. All rights reserved. This article or parts thereof may not be reprinted or reproduced by any other party without the express written consent of SouthJersey.com. For more information, please call 856-797-9910.



To receive special deals directly from SouthJersey.com,

subscribe here.



For more Local Sports features,

visit our South Jersey Sports page.
Author:
Marc Narducci
Archives
---
Who's Who in Health Care
Out & About
QB Ronnie Borden is Back in the Game
Should fans be worried for the Phillies bullpen?
South Jersey Football Games of the Week
A look at South Jersey's Top H.S. Girls' Soccer Teams
Out & About
Eagles will be fine after close call in opener
High School Football Games of the Week
Is it Super Bowl or bust for the Eagles?
What's New in South Jersey?
From New Jersey to Nashville
Frustrating times for Millville's Mike Trout
High School Football Games of the Week
Hammonton's Kenny Smith off to a quick start
More...