St. Augustine OT Jake Ketschek Looking to Get Started Early at Vanderbilt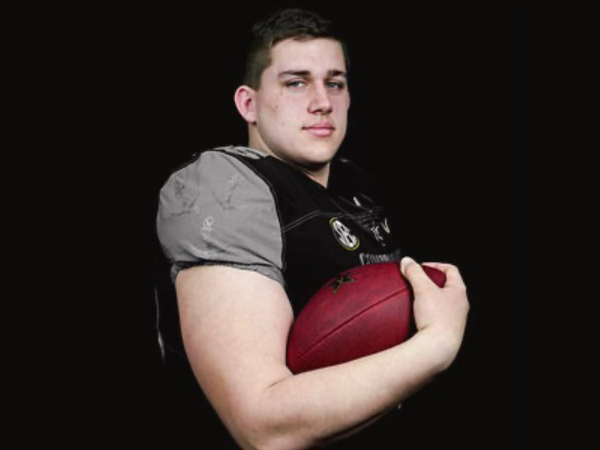 St. Augustine senior offensive lineman Jake Ketschek is looking forward to the next level and he will begin his journey soon.
Ketschek accepted a football scholarship to Vanderbilt, competing in the country's top conference, the Southeastern Conference.
He is enrolling early, something that has become common for many high school recruits, who want to get a leg up on the competition.
By enrolling as a student in January, he will be able to participate in spring practice, which is a huge advantage for any first-year player.
"I knew wherever I went that I wanted to be an early enrollment student," Ketschek said in a phone interview.
Ketschek, who took the needed courses in the summer to help accelerate his early graduation from St. Augustine, will be leaving next week for the Nashville, Tennessee campus.
It's been an interesting recruiting period for Ketschek, a 6-foot-5, 320-pound tackle at St. Augustine, who is projected to play guard at Vanderbilt.
He made an unofficial campus visit in the second week of March, just before the pandemic put the world on hold.
At the time he made a verbal commitment to attend Vanderbilt.
Ketschek was excited, having such a big decision over and not having to worry about recruiting his senior season at St. Augustine.
Then on Nov. 29, Vanderbilt fired coach Derek Mason. Vanderbilt would eventually hire former Notre Dame defensive coordinator Clark Lea as head coach. Lea is a Vanderbilt graduate and former fullback on the football team.
About an hour after Mason was fired, Ketschek received a phone call from Vanderbilt athletic director Candice Storey Lee.
"She called and wanted to reassure me the school still wanted me," Ketschek said.
"I love the academic reputation and was committed as much to the school as I was to football," Ketschek said.
This season was cut short to just three games for Ketschek. He tore his meniscus in the summer and after three games, had to get an operation. He now says he is 100 percent.
St. Augustine coach Pete Lancetta says Vanderbilt is getting a great player and person.
"He comes from a great family and was a leader by example," Lancetta said. "He is a great quality kids who loves to work out."
As nice as a person as Lancetta said that Ketschek is, it is the opposite when he is on the football field.
"He has a nasty streak and was able to use that to really dominate as a blocker," Lancetta said.
The St. Augustine coach said that Ketschek got better by going up against great competition, especially in practice. When he was a junior, he battled with St. Augustine defensive lineman, Isaiah Raikes, currently a freshman defensive lineman at Texas A&M.
"That turned out to be great competition for both players," Lancetta said.
And in the SEC, Ketschek will be seeing that type of competition all the time.
"I am ready and excited," Ketschek said. "I can't wait to get down there and start working."

Article continues below

---
advertisement


---
© SouthJersey.com 2021. All rights reserved. This article or parts thereof may not be reprinted or reproduced by any other party without the express written consent of SouthJersey.com. For more information, please call 856-797-9910.


To receive special deals directly from SouthJersey.com,
subscribe here.
For more Local Sports features,

visit our South Jersey Sports page.
Author:
Marc Narducci
Archives
---
Who's Who in Health Care
Out & About
QB Ronnie Borden is Back in the Game
Should fans be worried for the Phillies bullpen?
South Jersey Football Games of the Week
A look at South Jersey's Top H.S. Girls' Soccer Teams
Out & About
Eagles will be fine after close call in opener
High School Football Games of the Week
Is it Super Bowl or bust for the Eagles?
What's New in South Jersey?
From New Jersey to Nashville
Frustrating times for Millville's Mike Trout
High School Football Games of the Week
Hammonton's Kenny Smith off to a quick start
More...