A look at the Eagles' first-round picks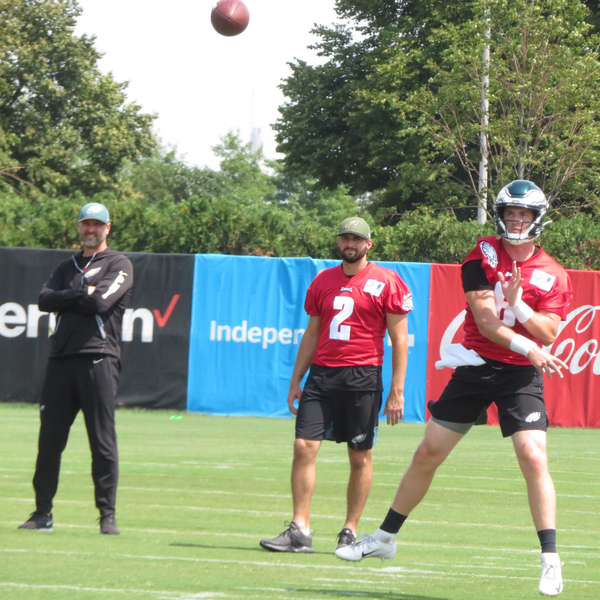 The NFL draft has become among the most popular sports events in the country, one of great intrigue and suspense, a true reality show-like event.
In all sports, the lifeblood of a team is drafting well. It's especially important for a team like the Eagles, who are looking to rebuild and rebound from a disastrous 4-11-1 season that few saw coming.
The first round is Thursday, followed by rounds 2-3 on Friday and rounds 4-7 on Saturday. The Eagles select 12th in the first round. Looking back over the past decade, they have had plenty of hits and misses in the first round. Here is a look.
2011 - Danny Watkins G, BYU (23rd overall). This was one of the worst picks in franchise history. Watkins only lasted two seasons with the Eagles, making 18 starts before being cut. He was picked up by Miam but only played one game with the Dolphins before being out of football for good.
2012 - Fletcher Cox, DT, Mississippi State (12). This was a major home run. Cox has developed into one of the top interior lineman in the NFL. He is a six-time Pro Bowl selection and is trending toward a Hall of Fame career.
2013 - Lane Johnson, OT, Oklahoma (4). This was another home run. Johnson has become one of the top right tackles in the NFL and has been a three-time Pro Bowl selection. The only negative is he has struggled in recent seasons with injuries, but like Cox, was a vital part of the Super Bowl winning team.
2014 - Marcus Smith, LB Louisville (26). Another pick that didn't work out. He lasted just three seasons with the Eagles. It was later learned that Smith has suffered from depression, something he revealed after his five-year NFL career ended.
2015 - Nelson Agholor, WR USC (20). This is a tough one, because in most of his career with the Eagles he underperformed, but Agholor had a big season in 2017 when the Eagles won the Super Bowl. That season he had 62 receptions for 768 yards and eight TDs, and added 15 receptions for 167 yards in three postseason games. After a strong season last year with Las Vegas, he signed a free agent deal with New England.
2016 - Carson Wentz, QB North Dakota State (2). This one started great and ended poorly. Wentz likely would have been the MVP in 2017, but suffered a season-ending knee injury in the 13th game and watched Nick Foles lead the Eagles to the Super Bowl title. Injuries hurt him early in his career and ineffective play late. Last year he led the NFL with 15 interceptions even though he was benched just past the midway point of the 12th game. He was traded to Indianapolis in the offseason and has been reunited with his former offensive coordinator Frank Reich, the head coach of the Colts.
2017 - Derek Barnett, DE, Tennessee (14). He has 19.5 sacks in his first four years and has made some big plays, but his problem has been durability and inconsistency. He hasn't been a bust, but a little more has been expected out of Barnett, who will forever be known for recovering the fumble of Tom Brady late in the fourth quarter of the Super Bowl win over New England.
2018 - Dallas Goedert, TE, South Dakota State (49). This was another home run pick. The Eagles didn't have a first round pick, so getting Goedert in the second round was great value. Entering his fourth season, there appears to be a next gear he can reach and is expected to do that this season.
2019- Andre Dillard, OT, Washington State (22). So far he has been disappointing. Dillard missed all of last season with a biceps injury. He made four starts as a rookie and didn't distinguish himself and there are rumblings that he may not regain his starting spot this season.
2020 - Jalen Reagor, WR TCU (21). He missed five games as a rookie due to injury and ended with 31 receptions for 396 yards and 1 TD. He has potential, but is often judged by the fact that the Eagles chose him over Justin Jefferson, who was selected one pick later by Minnesota at No. 22 and went on to earn a Pro Bowl berth as a rookie.
Article continues below
---
advertisement


---
Author:
Marc Narducci
Archives
---
Who's Who in Health Care
Former Shawnee star Doolittle Calls It A Career
Camden County College welcomes Baseball Hall of Fame
South Jersey Football Games of the Week
Out & About
QB Ronnie Borden is Back in the Game
Should fans be worried for the Phillies bullpen?
South Jersey Football Games of the Week
A look at South Jersey's Top H.S. Girls' Soccer Teams
Out & About
Eagles will be fine after close call in opener
High School Football Games of the Week
Is it Super Bowl or bust for the Eagles?
What's New in South Jersey?
From New Jersey to Nashville
More...