Eagles QB Jalen Hurts snubbed in preseason rankings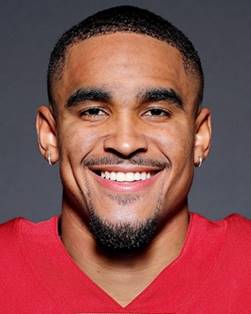 Eagles quarterback Jalen Hurts will have plenty of incentive to prove the doomsayers wrong and the most recent bit of motivation was provided by former NFL quarterback Chris Simms.
Now working for NBC sports and Profootballtalk.com, Simms ranked the top 40 NFL quarterbacks before training camps begin.
This year Hurts didn't find his name among the top 40.
Hurts has been slighted so much before that he probably pays little attention to it.
Simms ,in a recent interview, indicated that Hurts has missed many simple throws.
Hurts saw scant playing time last season as a rookie until being inserted in the third quarter of the 12th game of the season against Green Bay for a slumping Carson Wentz.
That Eagles lost 30-16 but that went on Went's record.
Hurts then started the last four games, winning the first one in an upset 24-21 victory against the New Orleans Saints and then losing the last three.
In his first season, Hurts completed 52 percent of his passes for 1,060 yards, six touchdowns and three interceptions.
He also rushed for 354 yards (5.6 avg.) and 3 TDs.
Eagles fans are among the most passionate and while this is only one person's opinion, albeit somebody who knows what he is talking about, it has caused plenty of discussion.
And while ratings don't mean much, the actual performance is the tell-tale sign, one can see how people can take exception to Simms' rankings, especially when concerning Hurts.
First off Simms placed Miami's Tua Tagovailoa at No. 34. Tagovailoa was the player who beat Hurts out for the job at Alabama after Hurts had been a starter for two seasons. Hurts would later transfer to Oklahoma and finish second in the Heisman Trophy race during his one season with the Sooners.
Tagovailoa, who was selected No. 5 overall in the 2020 draft, showed very little in his first season with the Dolphins. He was benched on a few occasions and didn't look like the confident passer he was while competing for Nick Saban at Alabama.
One could argue Hurts over Tua, but that wasn't the single biggest error.
Simms had six rookie quarterbacks ranked in the top 40, despite waiting to take their first NFL snap.
While one can see having somebody like No. 1 overall pick Trevor Lawrence (who Simms ranked 28th), Texas A&M QB Kelly Mond, a third round pick of the Minnesota Vikings was No. 37.
As for Wentz, who had the worst season of any NFL QB last year, he was ranked No. 18.
Again, Simms is somebody who really knows the position but he also had seven-time Super Bowl winning QB Tom Brady ranked No. 10.
After what Brady did in leading Tampa Bay to the Super Bowl title, it's hard to keep him out of the top five.
Eagles fans will have a lot to get riled about but Hurts. Yet Hurts, in all his public comments, appears more than confident enough in taking over as the full-time QB.
Article continues below
---
advertisement


---
Related Articles
---
Author:
Marc Narducci
Archives
---
Eastern and Cinnaminson are top girls' and boys' seeds in South Jersey Soccer Coaches Tournament
South Jersey highschool football games of the week
Ready to Take Flight
Bishop Eustace's Danny O'Rourke a model of stability
South Jersey Football Games of the Week
Eagles saved their season with win over Carolina
Phillies wasted lights-out seasons from Bryce Harper and Zack Wheeler
Another strong season for Olympic American Girls' Soccer
Egg Harbor Township Football Showing Great Improvement
Phillies face a difficult, but not impossible final week
South Jersey H.S. Football Games of the week
Colonial Liberty is highly competitive in South Jersey Girls' Soccer
South Jersey Football Games of the Week
Still way too early for Eagles conclusions
Sixers and Ben Simmons have plenty of training camp intrigue
More Articles