Phillies not in a bad position at the All-Star break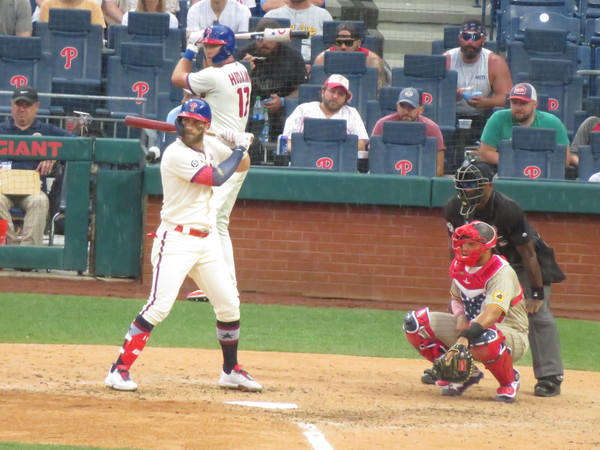 Considering all the adversity the Phillies have faced, the fact that they are 44-44 and 3.5 games behind the first place New York Mets in the National League East, should be looked on as a positive situation. The Phillies made up some ground by going 5-2 on their road trip leading up to the All-Star break, going 3-1 at Wrigley Field against the Chicago Cubs and 2-1 at Fenway Park against the Boston Red Sox. Sunday's 5-4 win over the Red Sox was another instance of overcoming adversity.
On Saturday night, third baseman Alec Bohm tested positive for COVID-19. Due to contact tracing, teammates Aaron Nola, and relievers Connor Brogdon and Bailey Falter were also placed on the COVID-19 restricted list. Nola was supposed to start on Sunday. Instead, the Phillies beat the hard-hitting Red Sox with a group of relievers. The winner was Christopher Sanchez, who allowed one run in three innings. More impressively, he was called up Sunday from Triple-A Lehigh Valley.
The game ended with Ranger Suarez earning a 2 inning save, gutting it out by throwing 45 pitches. Suarez has been one of the bright spots of the first half with a 0.77 ERA. So the Phillies have to feel better about things. Their offense broke out in a big way during the seven-game road trip.
What the Phillies can also bank on is that they didn't have a consistent offense in the first half. If it develops consistency, they could be a dangerous team. Players like Bryce Harper and J.T. Realmuto, the best two position players, didn't have dominating first halves. It says something that Harper had an .891 OPS in the first half, batting .278 with 15 home runs and 34 RBI, and is capable of producing much more.
Realmuto battled early-season injury, but he still earned an All-Star berth and like Harper, projects to have a better second half of the season. Rhys Hoskins had 20 home runs and 55 RBI, but also 93 strikeouts. He has been streaky, but also the type of player who can carry a team for 10 days. What the Phillies need to do is get more consistent pitching. The bullpen has been among the worst in baseball, but has been improved as of late. As for the starters, Zack Wheeler has been one of the best pitchers in baseball.
He earned his first All-Star selection with a 2.26 ERA. Yet Wheeler has thrown 119.2 innings. Can he duplicate this in the second half after throwing just 71 innings in last year's shortened season? The guess is there might be some drop-off, which means pitchers like Nola (6-5, 4.53 ERA) will have to step up. Zach Eflin (4-6, 3.88) had a solid first half but like Nola, will need to have a better second half.
The Phillies will also have to play better defense, but as poorly as things went in the first half, to be within a reasonable distance of the first place Mets, that is probably all they could ask for. At the least, there should be plenty of meaningful baseball in the second half for the Phillies.
Article continues below
---
advertisement


---
Author:
Marc Narducci
Archives
---
Who's Who in Health Care
Former Shawnee star Doolittle Calls It A Career
Camden County College welcomes Baseball Hall of Fame
South Jersey Football Games of the Week
Out & About
QB Ronnie Borden is Back in the Game
Should fans be worried for the Phillies bullpen?
South Jersey Football Games of the Week
A look at South Jersey's Top H.S. Girls' Soccer Teams
Out & About
Eagles will be fine after close call in opener
High School Football Games of the Week
Is it Super Bowl or bust for the Eagles?
What's New in South Jersey?
From New Jersey to Nashville
More...