Eagles Enter a Season with Justified Optimism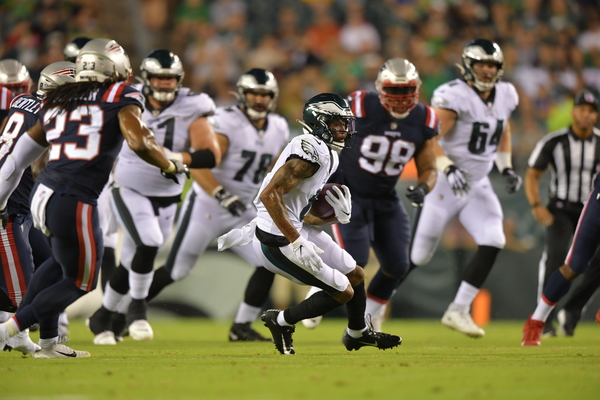 The national pundits are not giving the Eagles much of a chance this season, and coming off a 4-11-1 campaign, that could very well be justified, but there is a feeling locally that the team could overachieve.
Playoffs?
It is not out of the question, simply because the NFC East doesn't have a dominating team. Remember, this was a division last season won by The Washington Football team with a 7-9 record.
There is natural skepticism about whether Jalen Hurts can step in during his second year and be a viable quarterback, but every other team in the NFC East has questions at the position.
Even Dallas quarterback Dak Prescott has questions.
He suffered a season-ending ankle injury in the fifth game last year, then hurt his shoulder this season. While Dallas is saying all is fine with the shoulder, Prescott was held out of playing in the preseason. The Cowboys were so concerned about the shoulder that they consulted medical staffs from the Texas Rangers and New York Yankees. Plus their best lineman Zack Martin, will likely miss the opener due to a positive COVID-19 test.
The offensive line in Dallas remains a major question, even with Martin.
As for the Washington Football Team, coach Ron Rivera has a defense that could be among the best in the NFC. The question is offense and specifically at quarterback with veteran Ryan Fitzpatrick. Now in his 17th season, Fitzpatrick has made 146 starts, but is considered better in a backup role. He has never appeared in a single playoff game.
The New York Giants are hoping for improvement from third-year quarterback Daniel Jones. He has 29 fumbles and has thrown 22 interceptions in 27 career games.
Jones actually has a chance to be a solid quarterback if he can cut down the turnovers, but that is a big if. The Giants offensive line, however is a major question mark.
In fact, one of the reasons the Eagles may be able to be competitive in the NFC East is the offensive line.
If healthy (another big if), the Eagles by far have the best offensive line in the division. If former Pro Bowlers Brandon Brooks and Lane Johnson can rebound from injury, and left tackle Jordan Mailata develops as well as many expect, this will be among the top lines in the NFL.
The Eagles are also expected to have one of the top defensive lines, led by perennial All-Pro Fletcher Cox, so if a team is strong in the trenches they have a real shot to be competitive.
Much of it comes down to the development of Hurts. There is also the unknown of having a first-year coach in Nick Sirianni, who has never been a head coach at any level.
He has gotten high grades during training camp for his enthusiasm, attention to detail and innovation, but again, the real test will come when the games are played.
If receiver DeVonta Smith, who was banged up early in training camp, can stay healthy, he might challenge for Rookie of the Year. That is how potentially explosive the Heisman Trophy winner from Alabama is.
So there is a lot to like about the Eagles.
On paper, the Washington Football Team should probably be the NFC East favorite, but it says here that the Eagles will be in the hunt for the division title.
Article continues below
---
advertisement


---
Author:
Marc Narducci
Archives
---
Colonial Liberty is highly competitive in South Jersey Girls' Soccer
South Jersey Football Games of the Week
Still way too early for Eagles conclusions
Sixers and Ben Simmons have plenty of training camp intrigue
South Jersey Coronavirus (COVID-19) Developments (September 16)
Best of Home and Garden
Top Physicians 2021
Back to School
Former Ocean City standout Delaney Lappin making her mark at Drexel
South Jersey Coronavirus (COVID-19) Developments (September 13)
South Jersey Football Games of the Week
Despite opening loss, Burlington City football showing true grit
Wayne's Way
South Jersey football Games of the Week
Super Kids
More...