Phillies face a difficult, but not impossible final week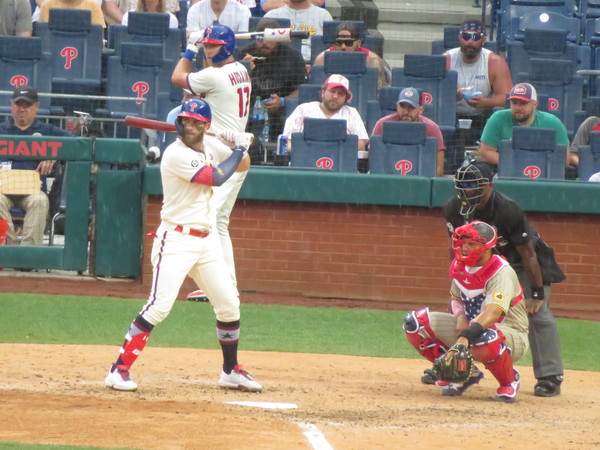 Nothing has been easy for the Phillies, including their September schedule which was supposed to be full of punching bags.
The Phillies had some tough losses to some poor teams, but made serious run, winning five in a row to get withing 1.5 games of the Atlanta Braves in the National League East.
Then came Sunday's 6-0 loss to the lowly Pirates in a bullpen game, where the Phillies didn't have a fifth starter worthy of going more than three innings and saw their relievers shelled.
So here is the scenario for the final week of what has been a crazy season which will begin with a crucial three-game series in Atlanta against the division leading Braves.
The Braves (83-72) lead the Phillies (81-75) by 2.5 games.
This week the Braves host the Phillies three games Tuesday through Thursday. Atlanta then will host the New York Mets (73-82) for three games. Atlanta also has a game that may or may not be made up with Colorado that was postponed Sept. 16. The game will only be made up, if either the Braves or Phillies haven't clinched the division by the final game of the season.
Speaking of Colorado, it was the Rockies who won three of four in Philadelphia earlier this month. Before that series, the Rockies had only won 18 road games, so if the Phillies do fall short, that series will definitely play a major role.
The Phillies are on the road for the final six games. Besides the three games in Atlanta, they finish the season against the Miami Marlins (64-91).
The Braves' magic number is five. Any combination of five Braves wins or five Phillies losses would clinch a fourth straight division title for Atlanta.
While the Phillies won't be eliminated if they don't sweep the Braves, it would be advised.
The Braves walked a tightrope in winning 4-3 at San Diego on Sunday, which was a crushing blow to the Phillies.
In the ninth inning the Padres loaded the bases with three walks against closer Will Smith with one out. Smith then struck out the next two batters to end the game.
So now comes the big series with Tuesday having the aces of both teams ready to go.
The Phillies will send Cy Young candidate Zack Wheeler (14-9, 2.79 ERA) against Charlie Morton (13-6, 3.53) in a game featuring dominating righthanders. Both have been big strikeout pitchers with Wheeler striking out 240 and Morton 203.
Probable pitchers for Wednesday are Aaron Nola (9-8, 4.64 ERA) against Braves lefthander Max Fried (13-7, 3.12).
Thursday's probably pitchers is again a matchup of righthanders, Kyle Gibson (10-8, 3.60) against Atlanta's Ian Anderson (8-5, 3.60).
The Phillies will probably need Bryce Harper to continue his MVP-type performance this final week. In the past 30 games Harper has an outrageous slash line of .382/.508/.814.
At the least, the Phillies are playing meaningful baseball in the final week of September and early October.
For a team that hasn't been to the postseason since 2011, that is progress, but if the Phillies don't finish the deal in what has been a mediocre division, there will still be plenty of disappointment and regret for not taking advantage of a division with no dominant teams.
Article continues below
---
advertisement


---
Author:
Marc Narducci
Archives
---
Eastern and Cinnaminson are top girls' and boys' seeds in South Jersey Soccer Coaches Tournament
Healthy People, Healthy Business
South Jersey highschool football games of the week
Best of Home and Garden
Back to School
Ready to Take Flight
Bishop Eustace's Danny O'Rourke a model of stability
Who's Who in Real Estate
Special Delivery
South Jersey Football Games of the Week
Eagles saved their season with win over Carolina
A Difficult Loss
Top Physicians 2021
Phillies wasted lights-out seasons from Bryce Harper and Zack Wheeler
Another strong season for Olympic American Girls' Soccer
More...