Eagles saved their season with win over Carolina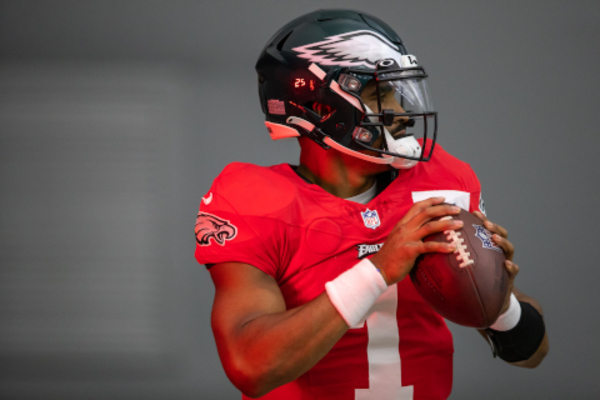 It's not too dramatic to suggest that the Eagles saved their season with Sunday's 21-18 win at Carolina against the Panthers.
The Eagles entered the game 1-3 and if they lost, they would have been 1-4 with having to face defending Super Bowl champion Tampa Bay at Lincoln Financial Field before traveling to Las Vegas to meet the Raiders.
Instead of being 1-4, the Eagles are 2-3 and have a bounce in their step. After two straight games allowing 40 or more points, the Eagles' defense had a sensational performance, which included two interceptions by Darius Slay and the first sack of the season by Fletcher Cox.
It was the third time that Slay has recorded multiple interceptions in a game and first with the Eagles.
All told, the Eagles intercepted San Darnold three times.
Cox, who was the subject of talk radio criticism, played his best game of the season. The sack was the 55th for his career, most ever by an Eagles defensive tackle.
Yet as well as Cox played and despite his all-star resume, the best defensive lineman for the Eagles this season has been Javon Hargrave. Against Carolina, he recorded his sixth sack, most in the NFL by a defensive tackle.
Jalen Hurts overcame a rough beginning to guide the team to victory. His statistics weren't overly impressive, but Hurts did run for two touchdowns and didn't panic when the Eagles trailed 15-3 late in the second quarter. Overall he completed 22 of 37 for 198 yards and one interception and had nine carries for 30 yards and the two scores.
Quick question?
Which quarterback would you rather have – Darnold or Hurts?
Darnold, once the third overall pick in the draft, had three mostly frustrating seasons with the New York Jets. Many felt that if he got out of a dysfunctional situation that he faced with the Jets, that Darnold would blossom.
Yet he is still making ill-advised plays and he was the No. 1 reason the Panthers lost. Right now Hurts, a second round pick, is trending more upwards than Darnold.
Now the Eagles face the challenge of attempting to stop the Super Bowl champs and the incredible Tom Brady.
Recently named the No. 1 football player all-time in a series by The Athletic, Brady is playing as well at the age of 44 as ever.
In Sunday's 45-17 win over the visiting Miami Dolphins, Brady completed 30 of 41 for 411 yards and five touchdowns. He has now not been intercepted in 203 consecutive passes.
Antonio Brown, who had two touchdowns against the Dolphins, has revived his career since joining Brady in Tampa last season. Mike Evans, who also had two touchdown receptions against Miami, remains among the top receivers in the NFL.
Is Tampa's offense as good as Kansas City's, which put up 42 points against the Eagles?
The Bucs' offense certainly more consistent at the moment than the Chiefs.
Yet the Eagles seemed to learn a lot from their 42-30 loss to the Chiefs. Their zone defense was burned. Against Carolina the Eagles played more man to man and mixed things up well defensively.
They should perform better, but will need to against Brady and company.
Still, the Eagles are playing with house money, should be care-free while playing at home against the defending Super Bowl champs and have to be revived after saving their season with Sunday's win.
Photo Courtesy: Philadelphia Eagles
Article continues below
---
advertisement


---
Author:
Marc Narducci
Archives
---
Eastern and Cinnaminson are top girls' and boys' seeds in South Jersey Soccer Coaches Tournament
Healthy People, Healthy Business
South Jersey highschool football games of the week
Best of Home and Garden
Back to School
Ready to Take Flight
Bishop Eustace's Danny O'Rourke a model of stability
Who's Who in Real Estate
Special Delivery
South Jersey Football Games of the Week
A Difficult Loss
Top Physicians 2021
Phillies wasted lights-out seasons from Bryce Harper and Zack Wheeler
Another strong season for Olympic American Girls' Soccer
'You Do Not Have to Suffer'
More...