South Jersey Thanksgiving Games of the Week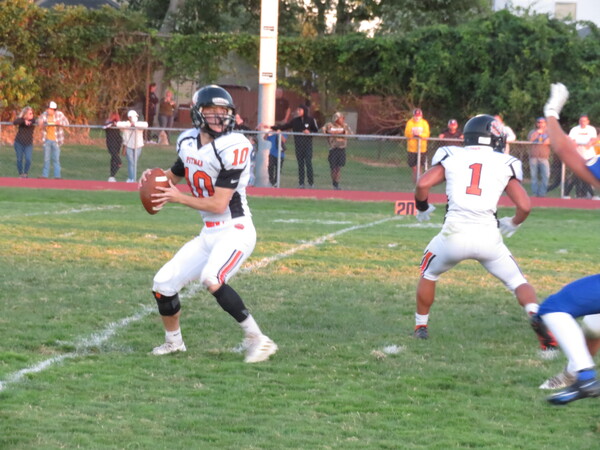 Vineland (2-9) at Millville (10-1), 10:30. Actually on paper, this should not be much of a game, but it is included because it is the longest rivalry in New Jersey. The first game in this series dates back to 1893. Millville is coming off a 40-3 rout of Ocean City to win the South Jersey Group 4 title as quarterback Nate Robbins threw for 197 yards and three touchdowns. Will Millville be looking past this game and to its Group 4 South/Central Regional championships on Dec. 5 against Winslow Township? It's doubtful in this rivalry. Vineland has a young team, led by freshman quarterback Daniel Russo, son of the coach, who has thrown for 709 yards and six touchdowns.
Salem (10-1) at Woodstown (8-3), 10:30. This has a chance to be among the top games of the day. It's a series with great history, having started in 1911. Salem earned a 13-12 win over Paulsboro on Saturday to win the Central Jersey Group 1 championship. The difference was a 31-yard field goal by Nathan Wilson with 4:05 left. The Rams will now face Woodbury in the South/Central Regional Group 1 title game on Dec. 5 at Rutgers. What is interesting is that the winner of this Thanksgiving game will clinch second place in the WJFL Diamond Division. Paulsboro, which went 5-0 in the division, earned the Diamond title. Included was a 25-17 win over Salem and a 35-8 triumph over Woodstown in the regular season. Sophomore James Hill has rushed for 1,224 yards and 13 touchdowns for Woodstown, which lost to unbeaten Woodbury, 8-6 in a South Jersey Group 1 semifinal.
Pitman (4-4) at Clayton (5-4), 10:30. This is a series that began in 1925. Even though last year was an abbreviated schedule due to the pandemic, these two did play on Thanksgiving, with Pitman winning, 13-12. The player to watch in this year's game is Clayton senior Justin Pessoa, who has rushed for 1,060 yards and 14 touchdowns. Pitman senior quarterback Charlie Spaeth has thrown for 601 yards and five touchdowns and run for 172 yards and another five scores.
Woodrow Wilson (8-3) at Camden (5-4), 11. Few rivalries are more spirited than this one, where city bragging rights are at stake. The series began in 1933. Wilson (8-2) has won six in a row after claiming its third straight sectional title with a 28-6 win over Rumson Fair-Haven in the Central Jersey Group 3 championship. Camden has won three of its last four games. The Panthers were prohibited from competing in the NJSIAA tournament due to accumulating too many ejections in a game against Pleasantville. Any team with a player or coaches accumulating three or more disqualifications for flagrant, unsportsmanlike conduct prior to the tournament, is banned. Camden unsuccessfully appealed. So this will be like the Super Bowl for the Panthers. Camden senior quarterback Luis Ward has thrown for 1,493 yards and 19 touchdowns and has run for 226 yards and three scores. He will be looking to go out in style in his final game. Wilson has one game after Thanksgiving, the South/Central Regional Group 3 title game against Cedar Creek (12-0) on Dec. 4 at Rutgers.
Haddonfield (9-2) at Haddon Heights (5-4), 11. This is a series that dates back to 1902. Haddonfield is coming off a dominating 28-7 win at Raritan in the Central Jersey Group 2 championship. The Bulldogs will meet Pt. Pleasant Boro (10-1) in the South/Central Regional championship on Dec. 4 at Rutgers. Will Haddonfield overlook Heights? That is doubtful, but this Heights is well rested after losing, 28-14 to Nottingham in a South Jersey Group 2 quarterfinal on Nov. 6. Heights senior Jackson Ferrante enters with 963 yards rushing (5.5 avg.) and 15 touchdowns and classmate Ryan DiOrio has thrown for 1,111 yards and 11 touchdowns and run for 213 yards (4.0 avg.) and three scores. Haddonfield's Bobby Hahn rushed for 136 yards and two scores in the win over Raritan.
Article continues below
---
advertisement


---
Author:
Marc Narducci
Archives
---
Who's Who in Health Care
Former Shawnee star Doolittle Calls It A Career
Camden County College welcomes Baseball Hall of Fame
South Jersey Football Games of the Week
Out & About
QB Ronnie Borden is Back in the Game
Should fans be worried for the Phillies bullpen?
South Jersey Football Games of the Week
A look at South Jersey's Top H.S. Girls' Soccer Teams
Out & About
Eagles will be fine after close call in opener
High School Football Games of the Week
Is it Super Bowl or bust for the Eagles?
What's New in South Jersey?
From New Jersey to Nashville
More...