Observations of the South Jersey Football Teams in championship play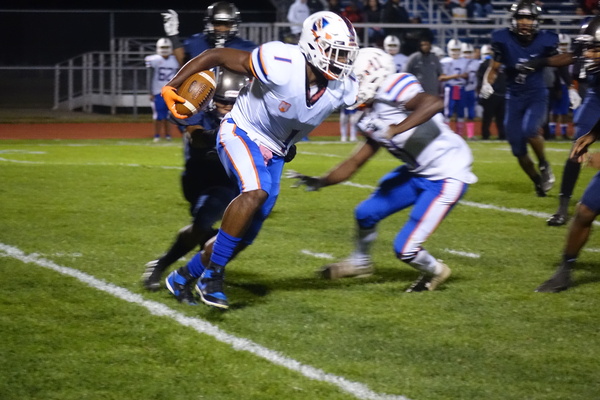 Millville a true power. What looked to be one of the more competitive games, turned into another rout for Millville's football team. The Thunderbolts were expected to be seriously challenged by Ocean City in the South Jersey Group 4 title.
Millville entered the game 9-1, with the lone loss to South Jersey's top team (at the time and possibly still) St. Augustine, 31-17.
Ocean City was 11-0 and had won every game by at least two touchdowns.
Yet the final wasn't close – Millville 40, Ocean City 3.
Ocean City had no answer for LeQuint Allen, Millville's senior, who has committed to Syracuse. Allen rushed for 136 yards and two scores and he certainly put in yet another bid to earn South Jersey Player of the Year Honors.
Millville still has to play rival Vineland on Thanksgiving and then faces Winslow Township (9-2) in the South Group 4 Regional championship to end the season.
On paper, it appears as if Millville vs. Winslow Township could be a competitive game, but the way Millville has played lately, who knows for sure? Millville won its three South Jersey playoff games by a combined 148-18 score.
Most interesting stat of the final. This comes courtesy of Joe Zedalis of NJ.com, who covered Salem's 13-12 win over Paulsboro in the Central Jersey Group 1 championship. In the first half, Salem rushed for 191 yards compared to one yard for the normally potent Paulsboro rushing attack. For the game, Salem outgained Paulsboro, 270-60 on the ground. The fact that Paulsboro remained competitive is a testament to the Red Raiders' determination, plus a prolific passing attack that accounted for 359 yards. So Paulsboro and Salem each will have at least one title. Paulsboro beat Salem, 25-17 in the regular season en route to winning the WJFL Diamond Division title. Besides winning the CJ Group 1 title, Salem will go for the Regional Group 1 championship when it meets unbeaten Woodbury on Dec. 5 at Rutgers.
Great job by Wilson. Woodrow Wilson had a new coach in Brandon Bather after Preston Brown resigned to become Temple's director of player personnel. Brown was named in the second week of July, so Bather, who had been on the staff, did a good job this season while having a relatively short time to prepare for his new assignment. The Tigers gradually got better each week and have now won six in a row. Most impressive is that Wilson defeated Rumson-Fair Haven, 28-6 in the Central Jersey Group 3 championship. That was against a Rumson team that averaged 35.5 points in its previous four games. One of the standouts was sophomore defensive back Julius Dominguez, who rounded out the scoring with a 64-yard interception return. In three playoff games, Wilson allowed a total of 13 points. The Tigers have now won three consecutive sectional titles.
Passing fancy. The South Jersey Group 3 championship consisted of undefeated teams, Cedar Creek and Delsea, which both took 11-0 records into the game. Cedar Creek, a team known for his passing attack, earned a 30-13 victory as quarterback JC Landicini threw for 349 yards and five touchdown passes. To show how explosive Cedar Creek is, the Pirated trailed 13-12 before scoring the game's final 18 points. JoJo Bermudez had 12 receptions for 235 yards and two touchdowns. The Pirates are a team that is dangerous on the ground and in the air, and this time it was the passing attack that carried them to the title.
Article continues below
---
advertisement


---
Author:
Marc Narducci
Archives
---
Dick Allen a glaring omission in recent Hall of Fame vote
One Last Thing: Off the Ice
The Long Journey in a High School Football Season
South Jersey Coronavirus (COVID-19) Developments (December 7)
Sandwich Supremacy
Four South Jersey Regional Football Champions
A Familiar Voice
Men of The Year 2021
Joining the Family Business
Giving Kids a Shot
Deck the Halls
High School Football Regional Championship preview
South Jersey Coronavirus (COVID-19) Developments (December 1)
There is still a place for Thanksgiving football
Eagles soap opera continues
More...