Four South Jersey Regional Football Champions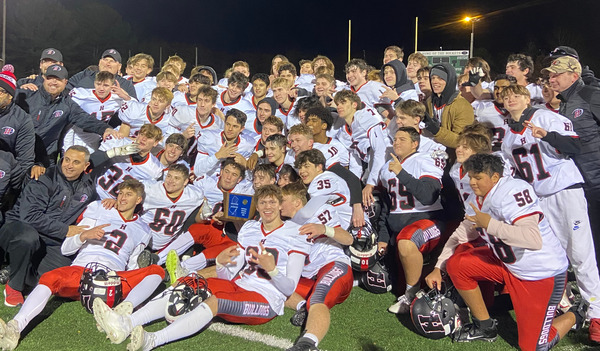 Next year will be the first time that there will be NJSIAA state championships for public schools. While Non-Public schools have been competing for state titles since 1993, the public schools have only been able to win sectional titles until a few years ago.
A few years ago, Regional championships have been introduced, which locally, would be the South Jersey champion against the Central Jersey champ.
Next year, this will serve as a state semifinal, with the winners advancing to the state championship game.
This year, four teams from the seven-county South Jersey area won titles in the South vs. Central Regional championship games.
Here is a look at the four South Jersey regional champions.
Group 2: Haddonfield 28, Point Pleasant Boro, 27
Haddonfield rebounded from a 36-13 Thanksgiving loss to rival Haddon Heights to win its second regional championship.
Quarterback Carson Wolff's 15-yard scoring run in the fourth quarter that gave Haddonfield a 28-21 lead, proved to be the difference.
Wolff rushed for one TD and passed for another while Bobby Hahn rushed for 101 yards and two scores. Those two have been the main offensive performers this season for Haddonfield and the two seniors went out in style in their final game.
Group 3: Cedar Creek 35, Woodrow Wilson, 34
This game between two South Jersey schools was the wildest of events. Cedar Creek overcame a 22-0 deficit to win and finish 13-0.
With seconds left in the game, Cedar Creek tackled Woodrow Wilson inside the 1-yard line on fourth down to secure the win.
JC Landicini threw five TD passes for the winners. The fifth, a 49-yard connection to Zac Ricci, gave the Pirates a 35-34 lead with under four minutes left.
These two teams were in the same division, the WJFL Memorial. During the regular season, Cedar Creek beat Wilson, 21-8, but the rematch was arguably the most exciting of all the statewide regional competitions.
Group 1: Salem 34, Woodbury, 8
It wasn't surprising that Salem won, but the margin of victory was shocking. Woodbury entered the game 12-0. The Thundering Herd beat Woodstown, 8-6, to win the South Jersey Group 1 title.
Meanwhile, Salem lost a 20-14 decision on Thanksgiving to that same Woodstown team.
So this regional final looked to be a tight game.
And it was close through two and a half quarters, with Salem holding a 14-8 lead. The Rams then finished matters with three touchdowns, an 18-yard TD pass from Jahki Coates to Ramaji Bundy, Jessiah Gildersleeve's 12-yard run and a 2-yard run by Coates.
A junior, Coates passed for 57 yards and two touchdowns and ran for 101 yards and a score in helping Salem finish 11-2.
Group 5: Millville 45, Winslow Township 35
Millville entered the game averaging more than 46 points per contest and the Thunderbolts' offense lived up to its billing.
Workhorse LeQuint Allen rushed for 243 yards and one touchdown on 40 carries and quarterback Nate Robbins threw for 243 yards and three scores for the winning Thunderbolts.
Na'eem Sharp scored on a 6-yard third quarter run to break a 35-35 tie.
Winslow Township (9-4), with a high octane offense, had quarterback Hamas Duren, throw for 283 yards and two touchdowns.
Milllville finished 12-1 with the only loss a 31-17 defeat to St. Augustine.
Article continues below
---
advertisement


---
Author:
Marc Narducci
Archives
---
Just Getting Started
Shawnee's Joe Kessler Continues his amazing run
Sixers offer hope for Philadelphia sports fan
On the Horizon
New key rules for seeding high school boys & girls basketball teams
2022 Annual Resource Directory
Setting the Standard: Top CEOs/CFOs 2022
Tax-Saving Tips
Early story lines in the South Jersey boys' basketball season
South Jersey Soccer Coaches Association names the best of the best
Is Jalen Hurts the Eagles QB of the Future?
South Jersey Coronavirus (COVID-19) Developments (January 14)
Big Season for Timber Creek grad Devin Leary of N.C. State
Camden-Lenape highlights the best of South Jersey boys' basketball
Just Getting Started
More...