Eagles look like the class of the NFC East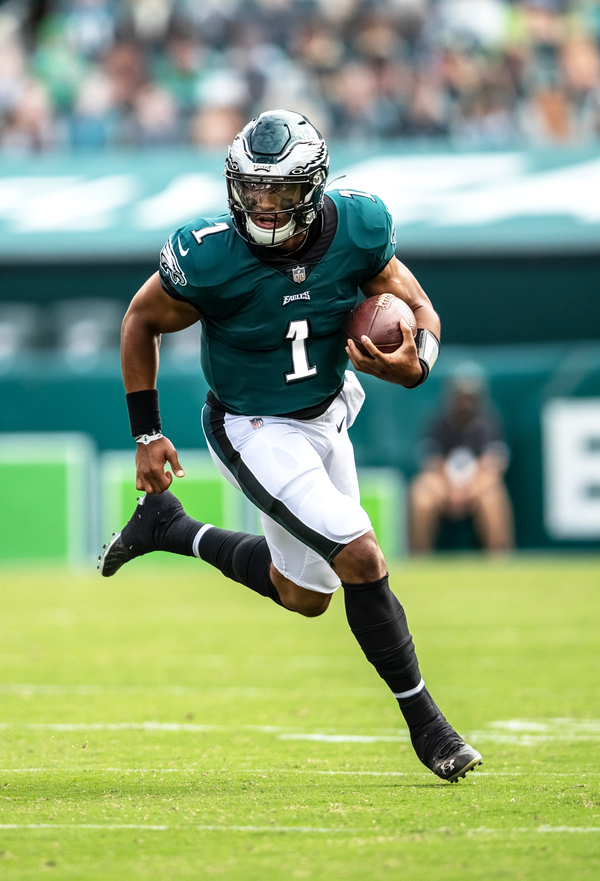 Since the New York Giants won the NFC East title in 2005, no team has repeated as division champion, a streak that should stay intact this year.
The Eagles were the last team to capture consecutive NFC East crowns, winning four straight from 2001-2004.
While the Dallas Cowboys are the defending champion, the Eagles appear to be the team to beat. Here is a look at all four NFC East teams and the predicted order of finish.
Eagles
Last year: (9-8, second in the division, lost to Tampa Bay, 31-15 in NFC wild card round).
Coach: Nick Sirianni (2nd season, 9-8)
Biggest questions: (1) Can Jalen Hurts, now in his third season, become a franchise quarterback, or will the Eagles be looking for an upgrade after this season? (2) Will former Haddon Heights player Haason Reddick, who had 23.5 sacks the last two years in Arizona and then Carolina, improve the Eagles pass rush? (3) Can coach Nick Sirianni build off a successful first season?
Outlook: GM Howie Roseman has built a roster that is not only good enough to win the division, but could be a Super Bowl contender in the watered-down NFC. So much depends on Hurts and his development, but Roseman has assembled a top roster.
Dallas Cowboys
Last year: (12-5, won division, lost 23-17 to San Francisco in the NFC wild card round).
Coach: Mike McCarthy (3rd season in Dallas, 18-15; overall, 143-92-2).
Biggest questions: Is QB Dak Prescott, capable of carrying an offense? He will need to with all the injuries the team has faced. (2) Will Prescott be running for his life behind what is now a suspect offensive line? The Cowboys are thin on the offensive line, especially with the knee injury to perennial Pro Bowler Tyron Smith, that is expected to force him to miss the majority, if not all the season. (3) Can anybody other than Micah Parsons provide a consistent pass rush? (4) Does running back Eziekel Elliott have much left?
Outlook: Owner Jerry Jones should fire general manager Jerry Jones because he isn't capable of building a Super Bowl contender. While this won't happen, the Cowboys will continue to struggle. Not too long ago this team had one of the best WR and OL groups in the NFL and now both are substandard. Unless Prescott can perform above expectations, the Cowboys should take a step back this year.
Washington Commanders
Last year: (7-10, third place).
Coach: Ron Rivera (third season, 14-19; overall, 90-82-1).
Biggest questions: (1) Will old friend Carson Wentz be the answer to a revolving door at quarterback for the Commanders. Will Wentz continued to be haunted by his accuracy issues? (2) Will Washington show improvement on what is a suspect offensive line? (3) Top pass rusher Chase Young will miss the beginning of the season as he recovers from his ACL injury. Can he return to the form he displayed as a dominating rookie in 2020?
Outlook: So much depends on Wentz, whose record is 12-16-1 over the past two seasons. While nobody expects him to return to his 2017 form, Wentz needs to show that he can produce in the big moments, something he failed to do last year and the reason his tenure with the Indianapolis Colts lasted just one season.
NY Giants
Last year: (4-13, fourth place).
Coach: Brian Daboll (first year).
Biggest questions: (1) Can Daniel Jones, now in his fourth season, prove to be a viable NFL quarterback? (2) Will the Giants show improvement in an offensive line that has failed to adequately protect Jones. (3) Can Daboll get more production from a highly paid, but unproductive receiving corps.(4) Can the defensive line be the best in the division and will the defense be able to compensate for what looks like a below average offense? (5) Can Saquon Barkley be a major factor on offense?
Outlook: As with Washington and Wentz, so much depends on the play of Jones. He has had his moments, but his lack of ball security and his inconsistency, has marked his first three seasons. The Giants should be improved, but contending for the division appears to be a reach.
Article continues below
---
advertisement


---
Author:
Marc Narducci
Archives
---
Who's Who in Health Care
Former Shawnee star Doolittle Calls It A Career
Camden County College welcomes Baseball Hall of Fame
South Jersey Football Games of the Week
Out & About
QB Ronnie Borden is Back in the Game
Should fans be worried for the Phillies bullpen?
South Jersey Football Games of the Week
A look at South Jersey's Top H.S. Girls' Soccer Teams
Out & About
Eagles will be fine after close call in opener
High School Football Games of the Week
Is it Super Bowl or bust for the Eagles?
What's New in South Jersey?
From New Jersey to Nashville
More...