Eastern and Haddon Township win South Jersey Soccer Coaches Tournaments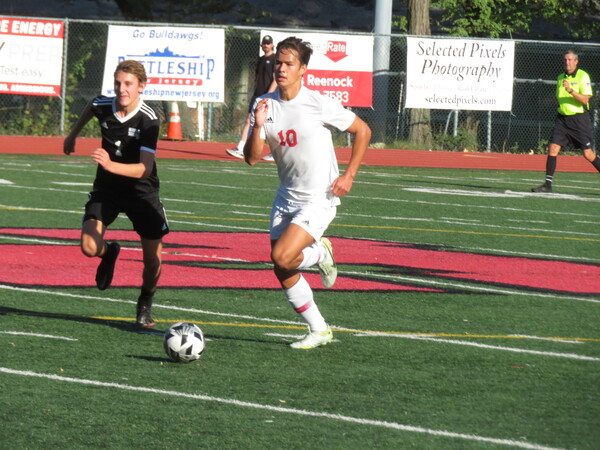 The winner of the South Jersey Soccer Coaches Tournament doesn't always end up No. 1 in South Jersey, but the champion certainly has a good argument.
The 16-team single-elimination tournament invites the top teams in South Jersey, regardless of Group size.
Now, Eastern's girls' soccer team and Haddon Township's boys have added a significant item to their resume.
Eastern, the No. 1 seed earned a 1-0 victory over Shawnee to win the girls' title. It was the sixth Coaches Tournament for the Vikings. The girls' Coach's Tournament has been played since 1984.
Haddon Township, the No. 7 seed, defeated Shawnee in a penalty kick shootout for the boys' title. The teams tied 1-1 through regulation and two, 10-minute overtimes and then the Hawks earned a 4-3 advantage in the penalty kick segment.
Haddon Township became the first Group 1 team to win the Coaches Tournament since Riverside in 1981. The boys' Coaches' Tournament has been played since 1971.
Special mention should go to Shawnee, having both its girls' and boys' soccer teams reaching the final.

Article continues below

---
advertisement


---

Eastern's six Coaches Tournament girls' titles are second in South jersey to Lenape, which has won 13.
Meanwhile, Haddon Township earned its first title.
Eastern has won all six of its titles since 2012. Each title came under the guidance of coach Jamie McGroarty.
The Vikings have won four of the past five Coaches Tournament titles.
Eastern sophomore Audrey Benfield scored the game-winner against Shawnee on an assist from senior Faith Quinn. Ava Clark made three saves for the shutout.
Eastern opened the tournament with a 5-1 win over Kingsway and then beat Delsea, 2-0 and Cherokee, 2-0 in the semifinals.
What is interesting is that Eastern faced three of its Coaches Tournament opponents earlier this season, defeating Kingsway, 3-0, losing to Cherokee 2-1 and beating Shawnee, 1-0.
There is a chance that Eastern could meet two of those teams, Kingsway and Eastern again, in the South Jersey Group 4 playoffs.
Per the latest power points list on NJ.com, Eastern was No. 1 in SJ Group 4 and Cherokee was No. 2. Kingsway was No. 6.
Shawnee was the No. 1 team in South Jersey Group 3.
Few teams play as tough a schedule year in and year out as Eastern, making its success more impressive.
Haddon Township also plays a difficult schedule, and the Hawks are an annual contender in South Jersey Group 1, having won the South Jersey title last year.
In the Coaches Tournament, the Hawks beat Group 4 Cherry Hill East, 5-0, Group 4 GCIT, 6-0, Group 2 West Deptford, 3-2 and Group 3 Shawnee in the final.
In the final, Haddon Township got its goal in regulation from senior midfielder Luke Chatten, among the top players in South Jersey.
Keeper Cole Johnson not only made a key save in the penalty kick shootout, but he scored one of the PK's as well.
Township is the top seed in power points in South Jersey Group 1 and the Hawks will be as difficult to beat in the postseason as they were in the Coaches Tournament.

Author:
Marc Narducci
Archives
---
Who's Who in Health Care
Out & About
QB Ronnie Borden is Back in the Game
Should fans be worried for the Phillies bullpen?
South Jersey Football Games of the Week
A look at South Jersey's Top H.S. Girls' Soccer Teams
Out & About
Eagles will be fine after close call in opener
High School Football Games of the Week
Is it Super Bowl or bust for the Eagles?
What's New in South Jersey?
From New Jersey to Nashville
Frustrating times for Millville's Mike Trout
High School Football Games of the Week
Hammonton's Kenny Smith off to a quick start
More...