Former Temple coach Matt Rhule is back in the college game at Nebraska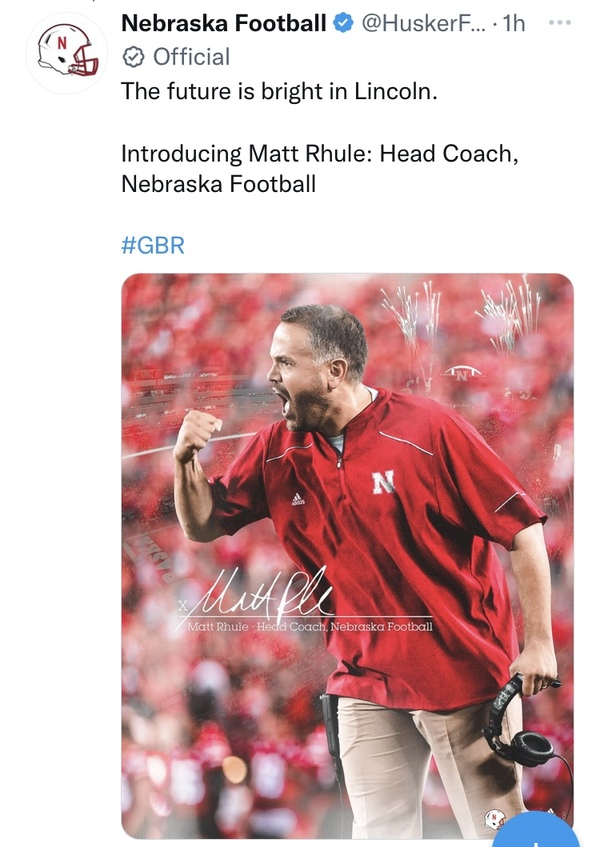 When Matt Rhule was the head football coach at Temple, what he did to turn the program around was often obscured by the fact that Philadelphia is a big pro city and colleges don't get anywhere near the same publicity.
Yet it was difficult not to notice the turnaround Rhule produced at Temple.
He did the same thing at Baylor before earning a seven-year contract with the Carolina Panthers.
Rhule didn't enjoy success in the NFL, going 11-27 in less than three seasons. He was 1-4 this year when he was fired.
He had plenty of guaranteed money left from a seven-year, $62 million contract he signed with the Panthers.
In fact, with that contract, Rhule wouldn't have to work another day in his life, but he jumped back into the fray by signing a lucrative long-term deal to become the head coach at Nebraska.
The NFL Network reported that he signed an eight-year, $72 million deal with Nebraska.
If it weren't for Temple, it's likely none of this success would have come Rhule's way.
He took over a program that was 4-7 the year before his arrival while playing in the Big East. After that 2012 season, the Big East folded in football and the remaining teams joined the new American Athletic Conference.
Temple went just 2-10 in Rhule's first season. The next year Temple went 6-6 and was bowl eligible, but never got invited to a bowl game. That put a giant-sized chip on the program's shoulder and Temple then had two seasons under Rhule where the Owls went 20-8, and earned two trips to the American Athletic Conference championship, winning in 2016.
In 2015, the season began with a 27-10 home upset of Penn State. Later that season Temple lost a 24-20 decision at a sold-out Lincoln Financial Field to then No. 9 ranked Notre Dame.
Temple would lose to Houston, 24-13 in the AAC title game and Rhule had chances to leave, but he stayed at Temple.
The next season he guided the Owls to the AAC championship, beating Navy, 34-10.
That would be Rhule's final game as a Temple coach. He left for Baylor and former Cherry Hill East graduate Ed Foley served as Temple's interim coach for its final game, a 34-26 loss to Wake Forest in the Military Bowl.
As with Temple, Rhule had a tough first year at Baylor. He took over a Baylor program in the aftermath of a sexual assault scandal. During Rhule's first season, Baylor went 1-11.
Just like at Temple, he had the team bowl eligible in his second season. Baylor did indeed earn a bowl bid, beating Vanderbilt, 45-38 in the Texas Bowl to finish 7-6.
In his third and final season, Rhule guided Baylor to an 11-3 record. Baylor lost to Oklahoma, 30-23 in the Big 12 championship and then fell to Georgia, 26-14 in the Sugar Bowl.
That was his last college game. Now he is back and takes over a Nebraska team that was among college football's best programs in the '70s, '80s and '90s. The Cornhuskers won five national championships in this span in 1970, '71, 1994, '95 and '97.
While moving to the Big 10 in 2011 has proved to be a great financial move, Nebraska hasn't enjoyed the same national success and the program took a steep decline under its most recent coach Scott Frost.
The Cornhuskers were 4-8 this year and have had six consecutive losing seasons.
Rhule has shown he can build difficult situations into winners at two college stops. He also showed that if you don't have a quality quarterback it's hard to win in the NFL and that was his biggest undoing at Carolina.

Article continues below

---
advertisement


---

Now he gets a chance to restore his image as a winner, something that got its beginning at Temple.
Author:
Marc Narducci
Archives
---
Who's Who in Health Care
Former Shawnee star Doolittle Calls It A Career
Camden County College welcomes Baseball Hall of Fame
South Jersey Football Games of the Week
Out & About
QB Ronnie Borden is Back in the Game
Should fans be worried for the Phillies bullpen?
South Jersey Football Games of the Week
A look at South Jersey's Top H.S. Girls' Soccer Teams
Out & About
Eagles will be fine after close call in opener
High School Football Games of the Week
Is it Super Bowl or bust for the Eagles?
What's New in South Jersey?
From New Jersey to Nashville
More...