The Sports world saddened by the passing of Franco Harris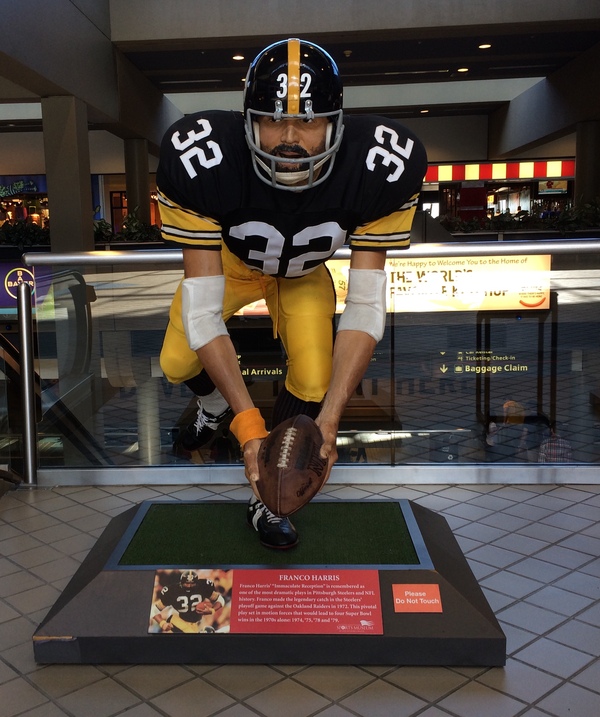 So many people felt a major sense of loss when Franco Harris passed away last week at the age of 72.
Harris was beloved by so many different sports fans. He was a South Jersey hero at Rancocas Valley, class of 1968. Over the years, the people at Rancocas Valley spoke so highly of Harris, who never forgot his roots and was a proud alum.
Harris then starred for three years at Penn State. (Back then freshmen were ineligible for varsity). He was part of one of the legendary college backfields with Lydell Mitchell (a graduate of Salem High School).
Harris didn't put up outlandish numbers in college, but they were impressive, nevertheless. In three seasons Harris rushed for 2,002 yards (5.3 avg.) and 24 touchdowns. Penn State went 29-4 in those three years, including 11-0 in his sophomore season in 1969.
Harris was then the No. 13 overall selection in the first round of the 1972 NFL draft, going to the Pittsburgh Steelers. At the time, the Steelers were among the most unsuccessful teams in NFL history. An NFL franchise since 1933, Pittsburgh had only appeared in one playoff game and lost that one contest. As a rookie in 1972, that all changed, with Harris serving as the catalyst.

Article continues below

---
advertisement


---

Harris rushed for 1,055 yards (5.6 avg.) and 10 touchdowns. (Those were the days of 14-game NFL seasons).

Then in the postseason, during his first playoff game, Harris made what has been termed the most memorable play in NFL history. This is the 50th year anniversary of the Immaculate Reception when Harris caught a ball that was hit off by defender Jack Tatum. Harris ran 60 yards for a touchdown with five seconds left to give Pittsburgh an improbable 13-7 win over the Oakland Raiders.
Could a team have a more memorable first-ever playoff win?

Pittsburgh would lose its playoff game the next week against Miami, but that win changed the fortunes of the franchise that would win four Super Bowls in six years beginning in the 1974 season.
Harris was named the MVP of the Steelers' first Super Bowl victory, a 16-6 win over the Minnesota Vikings. In that game, he rushed for 154 yards and a touchdown on 34 carries.
Inducted into the NFL Hall of Fame in 1990, Harris rushed for 12,120 yards (4.1 avg.) and 91 touchdowns in 13 seasons, 12 with Pittsburgh. He also had 307 receptions for 2,287 yards and nine touchdowns (giving him exactly 100 career TDs.).
In the playoff, he rushed for 1,556 yards (3.9 avg.) and 16 touchdowns. He was known as a better person than he was a football person, which is saying something about a Hall of Famer both on and off the field.
Author:
Marc Narducci
Archives
---
Who's Who in Health Care
Former Shawnee star Doolittle Calls It A Career
Camden County College welcomes Baseball Hall of Fame
South Jersey Football Games of the Week
Out & About
QB Ronnie Borden is Back in the Game
Should fans be worried for the Phillies bullpen?
South Jersey Football Games of the Week
A look at South Jersey's Top H.S. Girls' Soccer Teams
Out & About
Eagles will be fine after close call in opener
High School Football Games of the Week
Is it Super Bowl or bust for the Eagles?
What's New in South Jersey?
From New Jersey to Nashville
More...