Eagles set for Super Bowl run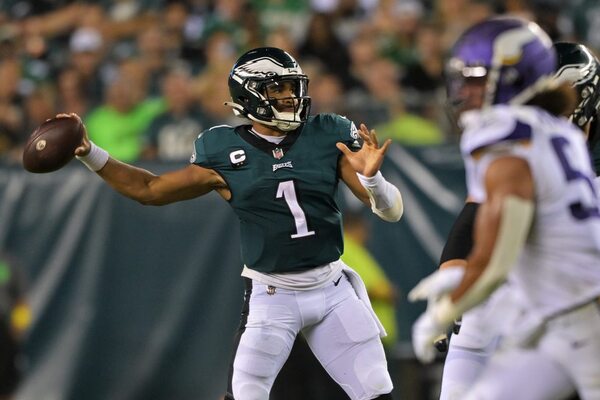 The Eagles got the much coveted top seed and only NFC first-round playoff bye and now are set to make a serious Super Bowl run.
Eagles fans often seem pessimistic. No doubt the skeptics will point out to the less than stellar end of the regular season that included a 40-34 loss at Dallas, a 20-10 home loss to the New Orleans Saints and a less than inspiring 22-16 home win against a New York Giants team that decided to play its JV since its playoff spot couldn't be changed with a win or a loss.
No doubt the Eagles weren't at their best in the final three games, but quarterback Jalen Hurts missed the first two with a sprained right shoulder and he returned against the Giants, but the Eagles were cautious with him.
He completed 20 of 35 for 229 yards, no touchdowns and one interception. His passer rating was just 65.1 Hurts also rushed nine times (six if you exclude three kneel-downs at the end of the game) for 13 yards.
What was important was he shook some rust and now with the bye will have two weeks of rest.
So will other injured Eagles including right tackle Lane Johnson, arguably the second or third most important offensive player after Hurts.
We don't know who the Eagles will play in the NFC semifinal. Unlike many other leagues, the NFL doesn't use a fixed bracket system. The lowest remaining seed in each conference will travel to the first seed.
So the Eagles will face the lowest seed left.

Article continues below

---
advertisement


---

Here are the seeds
(1)Eagles (14-3) bye
NFC wild-card round schedule
Saturday, Jan. 14
(7) Seattle Seahawks (9-8) at (2) San Francisco 49ers (13-4), 4:30 p.m. (Fox)
Sunday, Jan. 15
(6) NY Giants (9-7-1) at (3) Minnesota Vikings (13-4), 4:30 p.m., FOX
Monday, Jan. 16
(5) Dallas Cowboys (12-5) at (4) Tampa Bay Buccaneers (8-9), ESPN
Here is the question to ask – Is there any team to fear for the Eagles?
Obviously, San Francisco is a tough team, one that has won 10 games in a row, but six of those games were against teams with losing records. If this matchup happens it would be in the NFC championship and the 49ers would have to travel to Philadelphia.
As for the Eagles' first opponent, which will be on either Jan. 21 or 22, it likely will be the winner of the Tampa-Dallas game.
Yes, the Eagles lost to Tampa last year in the playoffs, 31-15, but this is a different Buccaneers team. The Bucs have a banged-up offensive line and will struggle at home against Dallas. Cowboys fans must have misgivings over Dak Prescott, who has thrown 15 interceptions – in 12 games.
Most of all the Eagles have two weeks to heal their wounds and fine-tune things offensively and defensively. The last time they were the No. 1 seed in 2017, they won the franchise's first Super Bowl. They will be looking for history to repeat and they have a good chance of doing it.
Photo courtesy of Philadelphia Eagles
Author:
Marc Narducci
Archives
---
Who's Who in Health Care
Out & About
QB Ronnie Borden is Back in the Game
Should fans be worried for the Phillies bullpen?
South Jersey Football Games of the Week
A look at South Jersey's Top H.S. Girls' Soccer Teams
Out & About
Eagles will be fine after close call in opener
High School Football Games of the Week
Is it Super Bowl or bust for the Eagles?
What's New in South Jersey?
From New Jersey to Nashville
Frustrating times for Millville's Mike Trout
High School Football Games of the Week
Hammonton's Kenny Smith off to a quick start
More...