Rancocas Valley's Corrado earns milestone win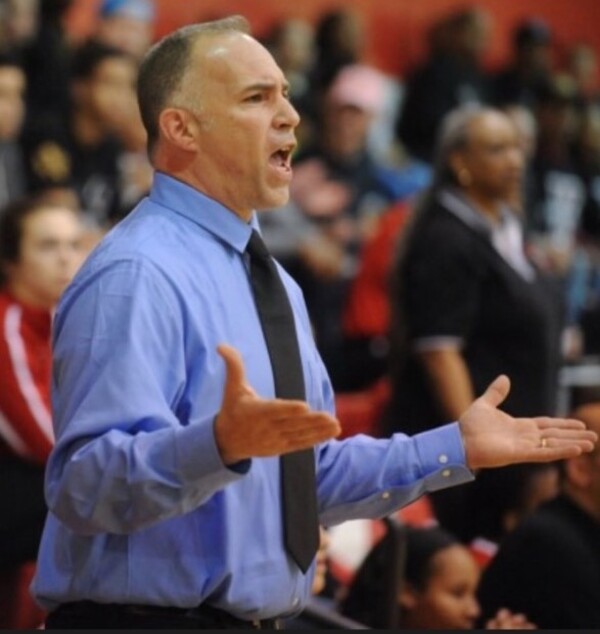 Anthony Corrado didn't get much notice when he began his head coaching career for Rancocas Valley's girls' basketball team.
It was 22 years ago and Corrado, who had been an assistant girls' basketball coach at Haddon Heights, was told he had the job at Rancocas Valley on Thanksgiving of 2001.
The only problem was that basketball practice began the next day. So much for having an offseason to prepare for your first job.
Yet what Corrado accomplished during the season was a harbinger of things to come. Taking over a team that was 5-16 the previous year, Corrado led the Red Devils to a 14-12 record during that inaugural season in 2001-2002.
As the years went by, the wins and titles began multiplying. In 2011 and 2013 Rancocas Valley won the state Group 4 championships. The 2013 team was 30-2 and advanced to the Tournament of Champions final before losing to Shabazz. There were many other big wins along the way, and they have added up.
Recently Corrado reached another milestone by earning his 400th career win during Saturday's 37-27 win over West Windsor Plainsboro South. That improved his career record to 400—176.
"I am humbled to be able to coach here so long and coach so many great players," Corrado said.
Corrado credits two coaches in particular who helped him along the way. He played for legendary grammar school coach Joe Cogan at the Samuel S. Yellin School in Stratford.
Later, Corrado would serve as an assistant boys' basketball coach to Cogan. He then coached four seasons under Kenny Hamburger with the Haddon Heights girls' program.
Joe Cogan and Kenny were such great mentors to me," Corrado said.

Article continues below

---
advertisement


---

What has helped elevate the Rancocas Valley program is that Corrado has always tried to schedule the best competition.
Up until this season, the Red Devils competed in the Burlington County Scholastic League. The competition in that league has always been good, but Corrado sought even better teams in rounding out his non-league schedule.
"You talk to all the good coaches and they tell you the same thing – you don't get better by playing cupcakes," Corrado said. "You've got to play a hard schedule and that is a pride thing that we don't duck anybody."
He said he has gotten to know some of the better coaches in the state by playing top programs such as St. John Vianney, Red Bank Catholic and Manasquan.
"Those are programs you want to model yours after," he said. "It has made me a better coach going up against those programs and has made our players better players competing against them."
This season is a rebuilding year for the Red Devils, who are in the first season competing in the Olympic Conference American Division, which means two games each against Cherokee, Eastern, Lenape and Cherry Hill East. Year in and year out it is among the deepest divisions in South Jersey.
Rancocas Valley's addition only makes it stronger. This is a season in which the Red Devils may not be contenders due to their relative youth.
They began the week 3-5, but were 12th in SJ Group 4 power points where the top 16 teams will make the playoffs.
Regardless of what happens this year, Rancocas Valley will remain highly competitive with a coach who always wants to play the best and over the years has been among the top programs in South Jersey over the past two decades.
Author:
Marc Narducci
Archives
---
Who's Who in Health Care
Former Shawnee star Doolittle Calls It A Career
Camden County College welcomes Baseball Hall of Fame
South Jersey Football Games of the Week
Out & About
QB Ronnie Borden is Back in the Game
Should fans be worried for the Phillies bullpen?
South Jersey Football Games of the Week
A look at South Jersey's Top H.S. Girls' Soccer Teams
Out & About
Eagles will be fine after close call in opener
High School Football Games of the Week
Is it Super Bowl or bust for the Eagles?
What's New in South Jersey?
From New Jersey to Nashville
More...